What To Do if You Miss a Payment on Your Bills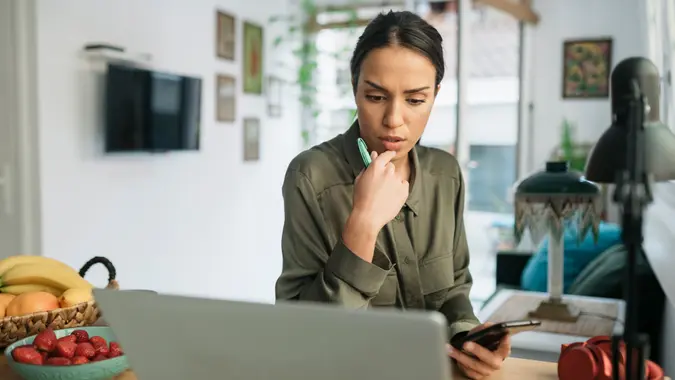 Brothers91 / Getty Images
It occasionally happens, even to the most organized bill payers: You accidentally miss the payment deadline for something like a credit card or a utility bill. Don't panic about this kind of oversight. Once you realize you missed the payment due date, take these steps to ensure a one-time late payment doesn't become a recurring issue.
Reach Out
Let's start by using the example that you missed a payment due date with a utility company.
Matthew Robbs, founder of Smart Saving Advice, recommends reaching out to the company as soon as possible so you can make a payment immediately. Reaching out quickly will halt any negative proceedings, such as your utilities being shut off, from proceeding since the payment has now been made.
Ask If the Late Fee May Be Waived
If this is your first time missing a payment, Robbs said it's worth asking if the company will waive the late fee for you. Not every company does this, but some representatives may have the ability to waive these fees.
"Be sure to mention how long you've been a loyal customer and that you've never missed a payment (assuming you haven't) before asking if there is anything they can do," said Robbs.
Is it possible to waive a late fee if you miss a credit card payment? Nathan Grant, senior credit industry analyst at MoneyTips, said you can contact your credit card issuer to try and negotiate waiving the late fee if you have a clean payment history. This is sometimes referred to as a goodwill adjustment.
Similar to utility companies, credit card issuers are under no obligation to waive late fees, but you can always explain your mistake and see what they can do.
Make the Payment ASAP
As soon as you realize that you've missed a payment and are in contact with the lender, your next step will be to make the payment as soon as possible. This includes any late fees you might be charged that the company was unable to waive.
Contact Your Creditor
Carter Seuthe, CEO of Credit Summit, said your next step should be to call your creditor and explain the situation. 
If you don't normally miss payments, your creditor may be able to help you in a few ways. Similar to contacting your lender, they may be able to waive your late fees. Creditors may also wipe the late payment from your record with the company or they may wipe the late payment from information that gets reported to credit rating agencies.
What if My Payment Was Late Because of Too Many Due Dates?
You might not have meant to miss the deadline for your payment. Instead, you might be juggling too many credit cards that each have their own due dates.
If you find that this sounds like your financial situation, Grant recommends consolidating your credit card debt. You can do this with a loan or balance transfer credit card that helps simplify your monthly bill obligations. Read the fine print associated with your credit card to determine which option is best for you.
What if the Late Payment Is Inaccurate?
What if you have not made late payments, but you found an inaccurate late payment on your records?
"You can dispute the late payment by verifying which credit reports the late payment appears on and contacting the creditor to see if they'll correct the mistake and notify the credit bureaus for you," said Grant.
Pro Tip: Always Pay Your Bills on Time
Moving ahead, remember to pay your bills on time. You can set up autopay on credit card statements with the minimum amount due. This ensures you don't accidentally forget to make the payments and minimizes potential damages to your credit score.
Amanda Wallace, head of insurance operations with MassMutual, said paying bills on time does more than help build responsible financial habits — it also helps build a strong credit score. The history of making on-time payments has a significant impact on your credit score. Those that let their credit dip into a low credit score may struggle to secure a loan or experience high interest rates.
Finally, don't wait the next time you think you might have difficulty making a bill payment by its deadline. Wallace recommends contacting the lender before the payment is due to see if other arrangements can be made.
More From GOBankingRates