Where Do Mark Cuban and These Other Big Names Get Their Money Advice? Dad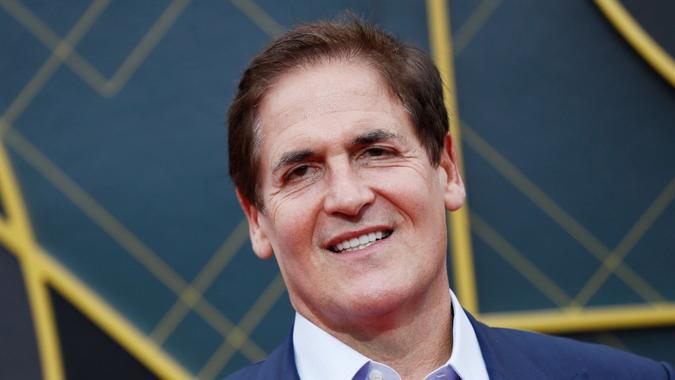 ETIENNE LAURENT/EPA-EFE/Shutterstock / ETIENNE LAURENT/EPA-EFE/Shutterstock
Even the most successful people in the business and finance world had to start from somewhere, and many of them turned to a very familiar source to get their best financial advice early on — their dads. In honor of Father's Day, I asked entrepreneurs like Mark Cuban and personal finance pros like "Rich Dad Poor Dad" author Robert Kiyosaki to share the money advice their fathers gave them that still impacts them today.
Find Out: Just How Rich Are Elon Musk, Donald Trump and These Other Big Names?
Read More: 20 Genius Things Mark Cuban Says To Do With Your Money
Here's some fatherly advice that may help you with your finances, too.
Mark Cuban, Serial Entrepreneur, Dallas Mavericks Owner and 'Shark Tank' Shark
"My dad didn't teach me a lot about money, but he encouraged me to learn as much as I could about business and supported me in every endeavor I ever had. He taught me that with continuous effort I could create and be successful with companies that I started."
Related: Mark Cuban's Top Investing Advice
Robert Kiyosaki, Educator, Investor, Entrepreneur and Author of 'Rich Dad Poor Dad' and the 'Rich Dad' Series of Books
"As the 'Rich Dad Poor Dad' story goes… I had two dads. Two men with very different points of view when it came to money. One was an employee and focused on a paycheck. The other was an entrepreneur who built and bought assets. My poor dad put value on his degrees and diplomas; rich dad focused on his financial statement. Very different perspectives on the same subject: money. They taught me that there are always two sides to every coin and that intelligence is found on the 'edge' — where we can see both sides and decide what's best for us. From a young age, I knew that I didn't want to depend solely on a job or paycheck and that the path to financial freedom — true freedom — was about assets and investing… not income from a paycheck."
More From Kiyosaki: You Should Never Say 'I Can't Afford That'
Carrie Schwab-Pomerantz, Board Chair and President at Charles Schwab Foundation
"I received my first 'real world' investing lesson from my dad when I was 22 and living in Washington, D.C. I went to my dad and asked for advice thinking he'd give me a hot stock to pick. Instead, I was surprised and a little disappointed by his advice — he said, 'Just pick two equity funds and split the money.' Being in my early 20s, I thought for sure he'd tell me the hot stock to pick, and I was going to make a load of money right off the bat. Decades later, this remains among the best advice I've ever received and why I consider my dad a 'money mentor.' Investing isn't about the hot stock, but rather participating in the equity markets, starting early and being a lifetime saver-investor."
Discover: Experts Weigh in on 10 Top Personal Finance Topics Redditors Love To Debate
Sharon Epperson, CNBC Senior Personal Finance Correspondent
"The best money lesson my father taught me was to make sure to always have 'mad money' on me at all times. He meant he wanted me to have a $20 bill in my wallet at all times so that I never had to ask anyone else to pay for my taxi ride home or get me something that I needed in an emergency. And I still remember his money advice and keep a $20 bill in my wallet. Even though it may be easier now to pay with a debit or credit card or a mobile payment app, I always try to have a little cash on hand. You never know. Thanks, Dad, for your terrific advice!"
Terry Rasmussen, President and CEO at Thrivent
"My dad was incredibly instrumental in my life, including shaping my perspectives on money. Growing up on a farm, there was never a lack of chores, and my father turned them into a learning opportunity to teach me about the importance of being a good steward of my resources. It was through the process of preparing, planting, tending and harvesting that my father helped lay the foundation for what it means to use money as a tool to live a meaningful life: to spend, save, share and invest money wisely. Because of my father's mentorship, I've been able to achieve clarity with my finances enabling me to live a life of meaning and gratitude. My dad left a legacy of wisdom, instilled through the years in his children and grandchildren, and I'm grateful for the lessons he taught me about money."
Charles Payne, Host of 'Making Money' on FOX Business Network
"My father was an indirect money mentor. As a military man, he believed in efficiency and disliked waste. He believed in quality above quantity. He told me at an early age I would have to get out in the world and make my way once I graduated from high school, so I knew I would have to earn my own money. He was a great saver, which rubbed off on me — even if it was a little frustrating when it came to asking for something special. (He mostly would give us a hard time but relent — we took care not to ask too often, however.) I learned I had to earn, save and make smart buys and investments."
Chalmers Brown, Former CTO at Due
"When I was a preteen, my father started giving me an allowance. He also gave me a piggy bank of sorts that had a side for spending money and a side for savings. Early on, he drilled in me the importance of setting aside 25% of what I earned to be put into savings. That percentage has fluctuated over the years as bills entered the picture, but I always make sure to add something to savings with every paycheck."
"As a young teenager, my dad sat down with me and showed me how to write checks and balance a checkbook. He would actually have me write the checks for bills and add them to the check ledger to make sure I knew what I was doing. This is just one example of how he showed me how to track my finances as I started to earn my own money. Few people use checks these days, but it was a foundation he gave me for watching where my money went and it's helped me budget ever since."
See: The Top Reasons You Can't Get Your Finances in Order — And How To Fix Them
Cammie Doder, Chief Marketing Officer at Aspiriant
"My dad taught me a lot about money. (1) Always be saving — you never know what tomorrow will bring. (2) Don't spend beyond your means — you never want to be a burden on someone else because you haven't been fiscally responsible. (3) Always have some cash in your wallet — you never know when you'll need it (yes, even when we can pay digitally)."
Steve Gickling, Founder of ETLrobot
"My pops taught me that I could earn more by not paying taxes right away. Instead of having taxes taken out of every paycheck, he'd set aside money every month and let it grow in a high-interest account. He would then use that money to pay taxes when April rolled around, and he'd have money left over to put into a retirement account or savings."
Read: 29 Careless Ways Retirees Waste Money
Misty Larkins, President at Relevance
"My father taught me how to rub two pennies together. We'd go dumpster diving together, fix things up instead of throwing them out and drive our cars into the ground. His philosophy was that it didn't matter so much how much money you were making; it mattered more what you were doing with your money. That's been a helpful lesson to remember, especially as our culture has become more consumeristic."
Learn: How To Make Your Paycheck Last Longer
Yenn Lei, Head of Engineering at Calendar
"I remember one summer my dad took me to a bank and talked his financial advisor into giving us a tour. As a young kid, it was so cool getting to peek into the vault and see the gold bars. I learned how tellers counted money and watched the bank drive-thru for a bit. Then his financial advisor talked to me about the importance of having a plan for my money. It was several years before I took that advice to heart, but I'll never forget that day or the unique experience my dad gave me."
Find Out: 25 Ways To Save Yourself From Your Debt Disaster
Timothy Sheehan, Co-Founder and CEO at Greenlight
"My father was a big financial mentor in my life. When I was a kid, he taught me the fundamentals of personal finance and the importance of saving and investing. Those lessons have stuck with me. For example, when I was younger, my dad bought me 'The Wall Street Journal Guide To Understanding Money & Investing,' which is still one of my favorite books today. It's a vertical, narrow book with pictures and various facts, and it's not super dense so it's a great book for kids. I had never heard of investing until he bought me that book. My dad teaching me how to invest is probably the most profound thing he could have done to affect my life. It completely transformed my life because I learned how to invest at a young age. My dad would also teach my brothers and sisters and me about compound interest by rewarding us for our savings out of his own pocket. He would match every dollar for a dollar — so every dollar we saved as kids he contributed $1 to our savings account."
Stacey Watson, SVP and Head of Life Events at Fidelity Investments
"My dad was big on defining priorities. He taught me that if you know what's most important to you, it's easier to plan to afford it. He also taught us to keep spending in check even as income grows. Invest for the future and protect your assets. And I can still hear him saying, 'Turn the lights off — money doesn't grow on trees.' Funny, the things we remember."
Discover: Women Who Are Changing the Landscape of Finance
Beth Wood, SVP and Global Chief Marketing Officer at Principal Financial Group
"My father and I had a very traditional father/daughter relationship. Without knowing it, he taught me about budgeting and emergency savings. Every Friday, he would go to the bank and cash a check — that was his cash for the weekend. I curiously watched him pay for everything with cash and he would always keep $20 aside for emergencies, tucked in his back pocket. He was meticulous about what he spent and where he spent it. Today, while I have the requisite emergency savings fund for me and my family, I also have an emergency $20 stashed away in a pocket in my bag at all times; it has certainly come in handy a few times. Lessons learned: paying with cash makes it easier to stay on budget, debit cards make it easy to overspend and always keep an emergency $20 — just in case."
Gabrielle Olya contributed to the reporting for this article.
More from GOBankingRates: