Why Getting Rich Is Easier Than You Think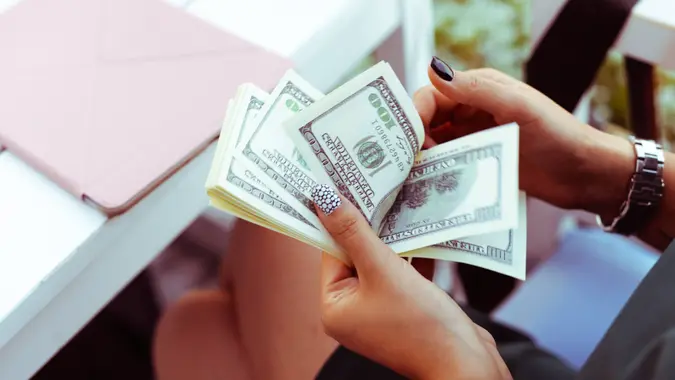 Sheviakova kateryna / Getty Images/iStockphoto
When you think about making lots of money, it might seem really hard, but there are a few strategies that make getting rich easy. Or, at least easier than you thought before.
GOBankingRates reached out to wealth experts to hear their easiest methods for getting rich.
Know the Life You Want To Live
One big question to ask yourself before you embark on getting rich is: why? Jay Zigmont, PhD, CFP, and founder at Childfree Wealth says the key to being rich is first to figure out what life you want to live, then figure out the finances to match it.
"Being 'rich' is not necessarily about your total net worth or how much money you have in the bank. Truly rich people have flexibility in their lives to achieve their goals. You can be rich and make very little money or rich and have millions. You may have to make sacrifices, but if you focus on the things that bring joy to your life, then finances become less important."
Take Our Poll: What Are You Worth to Your Company?
Make Goals
Once you've nailed down why you want to be rich, make goals that correlate with your ideal life. Matt Gellene, head of consumer investments at Bank of America, says to dream big but plan accordingly.
"Ask yourself: What are my top financial priorities? What is my ideal timeline? Is this goal realistic? Starting with these questions will help you build out an actionable plan to begin achieving these goals, including how much you want to invest."
Prioritize Savings
One tip Jon Ekoniak, a wealth advisor at Bordeaux Wealth Advisors, suggests when building up funds is to make sure you are taking your income and giving it back to yourself in some way. Here are the three buckets Ekoniak encourages everyone to put all of their spending into:
Nondiscretionary expenses/living expenses — rent, utility bills, food, etc.
Discretionary expenses — eating out, entertainment, travel, etc.
Savings — emergency savings fund, retirement plan savings, investment accounts, etc.
The trick is to always fund the savings bucket first.
"It's a change in mindset from what most people do," Ekoniak says. "Most people put the savings category last and therefore the savings rate is very volatile, often falling by the wayside. If savings comes first, the discretionary consumption-driven portion then becomes automatically limited by what is left over, but the important savings goal is preserved."
Gellene agrees with this, saying, "Treating savings and investments as a 'bill,' just like other essential expenses, can help accelerate an individual's wealth-building efforts and make the process of achieving your financial goals feel more attainable." 
Gellene suggests building savings by contributing to an IRA, a savings account and, if available, a 401(k) plan.
"Doing these as early as possible takes advantage of the power of compounding interest and leaves you with much more money in the end," Gellene says.
Meet With a Financial Advisor
If you're serious about getting rich, Gellene recommends meeting with a professional.
"A financial advisor can provide you with personalized advice and guidance to help you achieve your unique financial goals and build your wealth, as well as provide you with access to educational tools and resources to help you make more confident decisions about managing your money and future investments," Gellene says.
He adds that after meeting with a financial advisor, make sure you schedule regular check-ins to track your progress and review if your plan still works for you.
Ignore Self-Doubt
Along the journey to getting rich, you're going to have moments where it doesn't seem possible. Chelsea Clarke, founder and owner at HerPaperRoute, says you have to keep believing in yourself. 
"One of the key differences between a successful person and an unsuccessful person is that the successful person has learned to ignore self-doubt. While you will likely experience self-doubt as a beginner, it's vital to acknowledge these doubts, accept them and then set them aside," Clarke says.
More From GOBankingRates