Check Your International Bills and Coins — They Could Be Worth Big Money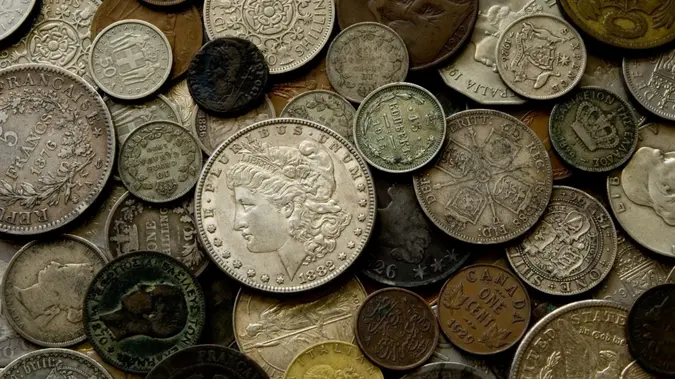 leezsnow / Getty Images/iStockphoto
According to Liberty Coin & Currency, most foreign money isn't worth more than face value — except for the memories you built while collecting international coins and bills during your travels.
But there are some exceptions.
For example, the "Big Maple Leaf" is a Canadian coin with a $1 million face value and an actual value closer to $6 million. The biggest coin in the world, it weighs 100 kilograms and is made from the purest gold bullion ever refined. Only 15 were ever made.
In 2020, one of only three known gold examples of the Brutus AV Aureus from Ancient Rome — minted in 44 B.C. to commemorate the assassination of Julius Caesar — sold for $3.5 million.
So, it might be time to visit an appraiser if you happen to notice a gold disc weighing 220 pounds or a coin from the Age of Antiquity with the image of the guy who orchestrated the murder of history's most famous emperor mixed in with your pocket change.
More commonly, however, foreign coins and bills of value aren't always so easy to spot. Here are some real-world examples that can help you understand what to look for.
Make Your Money Work Better for You
1911 Chinese Silver 'Long Whisker Dragon' Dollar
With fewer than 25 known examples in the world, the fabled "Long Whisker Dragon" dollar is one of the most coveted coins in China and the world. In 2022, a collector paid twice the highest pre-auction estimate of $1.5 million to own one.
According to Liberty Coin & Currency, coins don't have to be ancient to be valuable, but anything over 100 years old is much more likely to command a high asking price. This coin qualifies, but its rarity and historical significance are more important. Look for anything from the first or last year of a significant historical event, production run or governmental reign.
For example, the Long Whisker Dragon was minted during the final year of the Qing Dynasty.
Take Our Poll: Are You Concerned About the Safety of Your Money in Your Bank Accounts?
1927 100-Pound Palestine Bank Note
This list is packed with currencies that were printed or minted in limited production runs by transitional governments, and the 100-pound Palestine Bank Note is no exception. The Palestine Currency Board was responsible for money in the territory from 1927 — nine years after the Allied forces defeated the Ottoman Turks in World War I — until 1952, four years after the founding of Israel.
Make Your Money Work Better for You
In 2022, a collector paid 168,000 pounds — about $208,000 — to own the fourth known and only previously unrecorded copy in existence.
1659 German Karl Kaspar Gold 6-Ducat Coin
In 2021, a 1659 6-ducat German gold coin fetched more than three times its estimated pre-auction sale price of $40,000. Part of its worth comes from its age — more than 360 years of history can add value to just about any coin.
But like so many of the currencies profiled here, it was issued by a government that — along with its coins and banknotes — was doomed not to last. The coin dates from a time when scattered German states issued their own currencies before Otto von Bismarck unified them around Prussia to form the German Empire in 1871.
1948 One-Million-Pound British Bank Note
Although it was never legal tender, the last known surviving copy of only nine one-million-pound British bank notes ever issued is obviously incredibly rare — and that makes it valuable.
They were issued in 1948 as part of the Marshall Plan to help Great Britain avoid bankruptcy after World War II. In 2011, a collector paid 69,999 pounds — more than $85,000 in today's dollars — for the unique specimen. According to the Daily Mail, the industry was shocked that it commanded so little, considering its rarity and historical value. 
Make Your Money Work Better for You
You probably don't have one lying around, but according to Liberty Coin and Currency, anything that was part of a limited special-issue run like this has the potential to bring in big bucks.
1826 Argentinian 8-Escudos Coin
Coins from the Spanish and Portuguese colonial period in Latin America are valuable because — like most on this list — they were issued by governments whose time was limited. But just as currency issued by the authorities on the way out can be worth big money, so too can the first ones issued by the governments that replace them.
In 2021, one of more than 100 8-escudos coins from the famous Oro del Nuevo Mundo Collection sold for more than $25,000. One of the collection's earliest examples, the 1826 coin dates to the earliest days of Argentinian independence.
More From GOBankingRates
Make Your Money Work Better for You
Make Your Money Work Better for You