20 Best Part-Time Jobs for Extra Income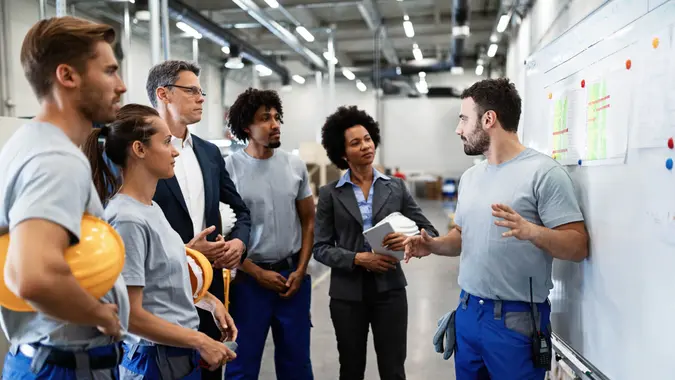 Drazen Zigic / Getty Images/iStockphoto
You can find a well-paying part-time gig if you have the right skills and education.
These Are The Best Part-Time Jobs That Can Make Extra Money
Below is a list of 20 part-time positions and how much you can earn on average annually.
1. Recreation and Fitness Worker
Job: Recreation and fitness workers bring fun to their job. Some of the activities you can help facilitate include martial arts, yoga, dancing, horseback riding and overseeing public park and recreation facilities. Positions include camp counselors, aerobics instructors and recreation and park directors.
Location: Community centers, parks, cruise ships and summer camps
Pay: $30,490
Requirements: High school education; great communication, social and problem-solving skills
2. Plumber
Job: Plumbing professionals develop structural blueprints for fitting pipes and fixtures. They work individually, as apprentices or with a team to install, connect and repair piping and fixtures, and ensure that water is being supplied to sinks, toilets, baths and showers, as well as water heaters.
Location: Plumbing company, commercial and residential sites
Pay: $55,160
Requirements: High school education; troubleshooting skills; plumber's license
Make Your Money Work Better for You
3. Maintenance and Repair Worker
Job: Maintenance workers do odd jobs including plumbing and carpentry. They often lift heavy objects and work with manual and power tools. The job can require standing for long periods, stooping and squatting.
Location: Commercial and residential sites
Pay: $39,080
Requirements: High school education; great problem-solving skills and creativity
4. Driver
Job: These days, the driving profession has extended beyond taxi and limo drivers to popular rideshare drivers such as Uber and Lyft. Drivers pick up and drop passengers off to destinations like airports, hotels and train stations.
Location: Cities, suburbs, businesses, campuses and other locations
Pay: $31,340
Requirements: Driver's license, vehicle, smartphone
5. Nail Technician
Job: Nail technicians give manicures and pedicures, consisting of cleaning, filing, trimming, repairing and polishing clients' fingernails and toenails.
Location: Nail salons, spas and barbershops
Pay: $25,770
Requirements: Postsecondary certification; cleanliness, politeness and good customer service skills
6. Physical Therapist Aide
Job: Physical therapist aides assist physical therapists with patient care. They usually clean and sanitize treatment areas and equipment, perform administrative tasks and wash linens.
Make Your Money Work Better for You
Location: Physical therapy practice, hospital or nursing care facility
Pay: $27,000
Requirements: High school education; patience and a passion for helping people
7. Massage Therapist
Job: Massage therapists skillfully handle patients' muscles to relieve stress, heal injuries and alleviate pain. Expertise includes acupressure, deep tissue, reflexology, sports and orthopedic massage.
Location: Chiropractor's offices, spas, sports teams, clients' homes, offices and hospitals
Pay: $42,820
Requirements: Postsecondary certification; license; good people skills
8. Translator and Interpreter
Job: Translators and interpreters use signed or spoken language to help non-English speakers and the hearing impaired to communicate.
Location: Schools, hospitals, business offices, conferences and courtrooms
Pay: $51,830
Requirements: Bachelor's degree; language fluency
9. Dental Hygienist
Job: These dental facility workers clean patients' teeth before dentists perform dental exams. They also educate patients on oral healthcare and products.
Location: Dentists' offices, emergency rooms and medical clinics
Pay: $76,220
Requirements: Associate's degree; great communication skills
10. Restaurant Cook
Job: Culinary skills are the name of the game for restaurant cooks. They grill, braise, garnish and plate food. They also use imagination to create dishes in collaboration with other kitchen staff.
Make Your Money Work Better for You
Location: Restaurants, diners and hotels
Pay: $27,790
Requirements: Ability to think fast and perform under pressure
11. Rehabilitation Counselor
Job: Professional rehabilitation counselors help people with physical and emotional disabilities learn to live independently. They coordinate therapy programs and administer patient evaluations and treatment plans.
Location: Clinics, private practices
Pay: $35,950
Requirements: Master's degree; compassion
12. Ophthalmic Medical Technician
Job: These technicians complete the initial part of a patient's eye exam, including recording a patient's medical history, checking visual acuity, assessing pupils and administering other visual tests.
Location: Ophthalmology practices
Pay: $36,940
Requirements: Postsecondary certification; on-the-job training
13. Exterminator
Job: Exterminators remove pests, inspect areas and use barriers and chemicals to make sure that pests do not return.
Location: Homes, buildings and other property
Pay: $37,330
Requirements: High school education; protective gear, including goggles and gloves
14. Esthetician
Job: These skincare specialists cleanse, exfoliate, moisturize, wax and laser skin and apply makeup to enhance customers' appearance.
Location: Salons and spas
Pay: $34,090
Requirements: Postsecondary certification; knowledge of skin problems and treatments
15. Medical Assistant
Job: Medical assistant work includes answering phones and emails, handling insurance claims, drawing blood and obtaining patients' medical histories.
Make Your Money Work Better for You
Location: Doctors' offices and hospitals
Pay: $34,800
Requirements: Postsecondary non-degree; people skills; organizational skills
16. Home Health Aide
Job: These aides give care to patients unable to do certain chores for themselves, such as laundry, bathing, changing clothes and dressing wounds.
Location: Patients' homes
Pay: $25,280
Requirements: High school education; patience with and empathy for others
17. Landscaper
Job: Landscapers perform horticultural maintenance, including planting shrubbery and trees, watering grounds and applying fertilization treatments.
Location: Facilities, grounds, homes, cemeteries, parks and gardens
Pay: $30,440
Requirements: Entrepreneurial skills and a green thumb
18. Substance Abuse Counselor
Job: These counselors treat and support persons struggling with drug and alcohol addiction, behavioral problems and eating disorders, as well as discuss with families about the treatments available.
Location: Mental health clinics; outreach programs
Pay: $46,240
Requirements: Bachelor's degree; emotional intelligence
19. Marriage and Family Therapist
Job: These professionals help families resolve conflicts and manage and overcome emotional and mental disorders. Usually, a marriage and family therapist works with couples, but it is becoming more common to also see individuals as well.
Make Your Money Work Better for You
Location: Therapy practices and counseling centers
Pay: $49,610
Requirements: Master's degree; compassion, communication skills
20. Personal Care Aide
Job: These aides help people with physical and mental disabilities and chronic illnesses perform daily tasks, such as getting dressed and preparing meals.
Location: Homes, residential facilities and group homes
Pay: $25,280
Requirements: High school education; compassion
Good To Know

The salaries listed in this article equate to full-time work, typically 40 hours a week. If you want to calculate your projected part-time pay, you can adjust the salaries for the jobs listed. Simply divide the annual salary by two to get an idea of what you would make part-time for 20 hours a week.
Whatever your motivation is for earning extra income, consider these 20 best part-time jobs to help you reach your personal and professional goals.
Our in-house research team and on-site financial experts work together to create content that's accurate, impartial, and up to date. We fact-check every single statistic, quote and fact using trusted primary resources to make sure the information we provide is correct. You can learn more about GOBankingRates' processes and standards in our editorial policy.