Get the Raise You Deserve in 2024: Expert Says Now's the Time, and Gives 5 Tips To Make It Happen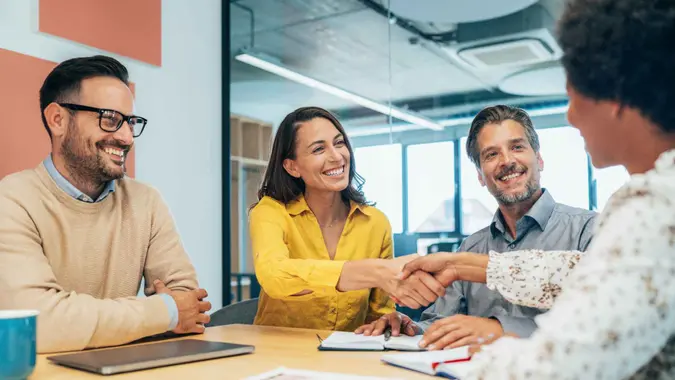 filadendron / Getty Images
Businesses often evaluate their budgets in the fourth quarter of the year, assessing their personnel needs and how much they need to spend to hire or retain employees. That makes November and December the perfect time to negotiate for a salary increase.
Plus, with interest rates continuing to rise and inflation scarcely slowing down, a raise for the new year could help make your holiday season a little brighter.
Whether you've been in the workforce for decades or just starting out in your first job, it's never too late — or too early — to ask for a raise. In fact, Gen Z workers should seriously consider asking for more money to help cover increasing living expenses.
"Young people have enough to deal with — fear for the future of our planet, the pressure of social media, and rising global tensions — without having money worries hanging over their heads," said Ksenia Hubska, data lead at EduBirdie, in a press release. "Gen Z is on track to become the most educated generation ever. Yet, financially, they find themselves the worst off. With the cost of living, Gen Zs may have to take out a mortgage to cover their basic needs in the years ahead, never mind buying a place of their own."
The company recently surveyed 2,000 young people in North America and found that many work while attending college to make ends meet. The survey found that 72% need money for essentials, while 47% want money for entertainment and 22% are helping support their parents. Respondents could choose more than one selection.
Make Your Money Work Better for You
With 56% of young people unhappy with their current salary, a raise could help turn the tides for many Gen Z workers. Yet, 72% of Gen Z respondents said they weren't taught how to negotiate a salary.
On the heels of the study, EduBirdie's chief communications officer, Avery Morgan, shared tips in an email to help people of any age — but especially those new to the workforce — negotiate a pay raise.
Know Your Value
College students should be adept at research, as that skill will come in handy as they prepare for salary negotiations. You should know what other companies in your field are paying, and what people in your position are receiving. "Take a look at websites such as Indeed, Glassdoor, and LinkedIn to figure out what other companies are offering for your level of expertise. If your pay is below the average, you now have a fair figure to aim for," Morgan said.
Be sure to keep in mind your location — as companies in cities with a higher cost-of-living often pay more — and perks like a hybrid or remote workplace, when you decide how much you want to ask for.
Present the Facts
"Prepare a short deck that outlines the responsibilities you've taken on, the deals you've closed, and the profits you've generated," Morgan said, pointing out that most people respond better to visual stimuli. "That way," she added, "you're not just asking for a raise, you're showing why you're worth investing in."
It may not be easy to get that data in every workplace, but you may want to ask your supervisors for some specific metrics, mentioning that you want to get a feel for how you're doing so you can work harder to improve.
Make Your Money Work Better for You
Share Your Strengths
Treat a salary negotiation the same way you would a job interview, and be prepared to sell your strengths, Morgan recommended. Even if you've only had a few months under your belt to show your employers where you shine, make a list of all your skills and positive traits. "Make it clear what you excel at and where you're hoping to improve," Morgan pointed out.
Increase Your Education
If you've recently graduated college, you may not be looking forward to hitting the books again. But seeking out additional certifications in your field or even learning new software, apps, or skills, can help improve your prospects of a raise.
Morgan recommended looking for holes in your company that you may be able to fill. "Seek out underserved roles, research the skills required, and then get to work learning. The more use you offer and the more competition there is for your skillset, the more valuable you will be to your employer," she said.
Apply for New Jobs (Even If You Don't Want to Leave Your Current Company)
Keep your interviewing and negotiation skills sharp by searching the job boards and applying to positions that interest you. "Interviews offer great practice ahead of salary negotiations and, if you happen to land an offer, chances are your employer will be more willing to meet your demands," Morgan said.
After all, one Gallup poll found that it can cost one-half to two times an employees' annual salary to replace them, so it's in your company's best interests to try to keep you as long as you are doing a good job.
With this in mind, Morgan advised, even if your request for a raise is turned down right now, "Don't let your productivity slip — undoubtedly, your hard work will ultimately be rewarded."
Make Your Money Work Better for You
More From GOBankingRates