18 Jobs That Will Pay For Your Housing in 2023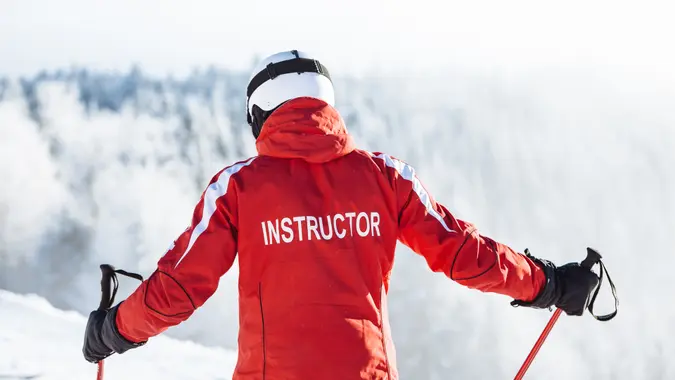 4maksym / Getty Images/iStockphoto
When looking for a job, you have to make sure the salary you're receiving will cover a host of costs, including housing, which is comfortably the most expensive monthly household bill for the average American.
Luckily, there are some jobs and career paths that offer housing-related benefits or allowances as part of their compensation packages. These benefits can take various forms, such as employer-provided housing, housing stipends or housing allowances.
Jobs that include housing are typically positions where the employee's presence on-site or in a specific location is essential for the job's successful performance.
Careers with included housing are most common in the hospitality and camping industries, but there are also many seasonal and site-specific positions that almost always include accommodations for workers.
The following is a list of 18 jobs that frequently provide housing to their employees.
1. Personal Chef
Perhaps not as demanding as being the top dog in a high-end kitchen, personal chefs often receive free room and board as part of the job in exchange for an exacting set of expectations. Responsibilities include planning, preparing and serving meals, some of which will be gourmet meals, dinner parties or accommodating to special dietary restrictions.
2. Educators In-Residence and Resident Advisors
Some universities have teaching professionals living on-campus to mentor and provide a resource to students, in addition to their teaching duties, per Money Crashers. Faculty members are provided housing and a generous salary in return. Outside of the classroom but still on campus, resident advisors in college dorms or student housing facilities often receive free or subsidized housing in exchange for their support and supervision of students.
Make Your Money Work Better for You
3. On-Site Property Managers/Building Superintendents
On-site property managers often receive housing as part of their compensation, particularly when managing apartment complexes or residential communities. Superintendents are often required to stay on site because they're in charge of the building's maintenance 24/7 and are first line of contact for residents.
4. Cruise Ship Employees
If living among co-workers at a camp or resort gets on your nerves, you can always walk away to be by yourself. On a ship, you can only walk so far. The upside to working on a cruise ship is free room and board and the opportunity to travel while you work (although there is usually little free time on shore). Like resorts and camps, hospitality jobs are plentiful on a ship.
5. Seasonal or Ski Resort Jobs
Easy to secure, resorts employ a huge number of seasonal employees every summer and winter. At ski resorts, those experienced on skis or a snowboard can train to become instructors, but the majority of ski lodge hires will help out in hospitality roles and, if on the mountain, as lift operators.
6. Park Rangers/Wilderness Guides
Park rangers patrol their parks, offer guided tours, coordinate park support to trees, animals or ecosystems and prevent wildfires. Because their full-time job is to protect national or state parks, they're often provided housing within those parks. Working as an outdoor guides or trip leaders often comes with free housing.
7. Au Pairs and Nannies
An au pair provides child care for a foreign host family in exchange for free housing, board and cultural exchange. As an au pair, you'll be expected to do a variety of household tasks such as making meals, doing laundry, transporting kids and shopping. A live-in nanny will take care of the kids, including making sure they get to and from school, helping with homework and providing healthy meals. Some full-time nannies are granted sick or personal days and health care options, per The Penny Hoarder.
Make Your Money Work Better for You
8. Campground Hosts/Camp Counselors
Campground hosts, responsible for overseeing and maintaining campsites and recreational areas, often receive free or discounted camping accommodations. At sleep away camps, counselors may get private rooms or share with other employees. Meals are included too.
9. Live-In Caretakers/Caregivers
Live-in caretakers, especially for the elderly or individuals with disabilities, are frequently offered housing as part of their job package.
10. Clergy/Religious Leaders
Clergy houses frequently serve as the administrative office of the local parish, as well as a residence. They are normally located next to, or at least close to, the church their occupant serves. Housing is typically provided for any religious leader who teaches the faith, leads services and acts of worship and provides guidance to the community they serve.
11. Fruit Pickers/Tree Planters
Exchanging crop and land work for a place to stay for free and meals, seasonal tree planting and fruit picking jobs don't pay well (some don't pay at all!). The bonus is you won't spend much on site, enabling you to leave at the end of your term with a load of cash. 
12. Military Personnel
Joining the military provides a sense of responsibility and duty to one's country, steady training and employment in a wide range of positions and the bonus of respectable housing options. Most military positions include housing or offer affordable accommodation for all active duty members, whether living on base or off.
13. Remote Research Stations or Field Scientists
Researchers or scientists working in remote locations — oceans, environmental and biological field stations, the Arctic/Antarctica, outer space — receive housing accommodations for the grueling on-site work performed.
Make Your Money Work Better for You
14. Oil Rig Workers
Workers on offshore oil rigs may have their accommodation and meals provided while they are on the rig. While the work is hard and dangerous at times, salaries for these positions are often very good. As The Penny Hoarder notes, oil companies hire mechanics, engineers, scuba divers and general management.
15. Farm Workers/Ranch Hands
Ranches hire wranglers but, similar to lodges and retreat centers, the bulk of their employees are hospitality, maintenance and customer service workers. Some ranches also hire activities staff for guest events and tours.
16. International Civil Engineers
Civil engineers often receive free housing and even free roundtrip flights home every year when working abroad in places where skilled demand is high and projects constant, like Dubai and Singapore. Completing an engineering degree takes a lot of hard work, so jobs are paid generously.
17. Circus/Summer Stock Performers
Have you ever threatened to run off and join the circus? Circus performers and support personnel like cleaners, lighting and sound technicians and cooks can expect room and board, although not to the standard afforded to resort or chalet employees. Summer stock theatre, professional touring companies, offer housing with on- or off-stage employment, according to Wealthy Nickel.
18. International English Teachers
A favorite occupation for those taking a gap year or to gain experience working in education while traveling, English teachers are always needed oversees at schools and military bases and housing (and sometimes airfare) are usually provided.
More From GOBankingRates
Make Your Money Work Better for You