7 Jobs To Pursue If You Want To Become a Millionaire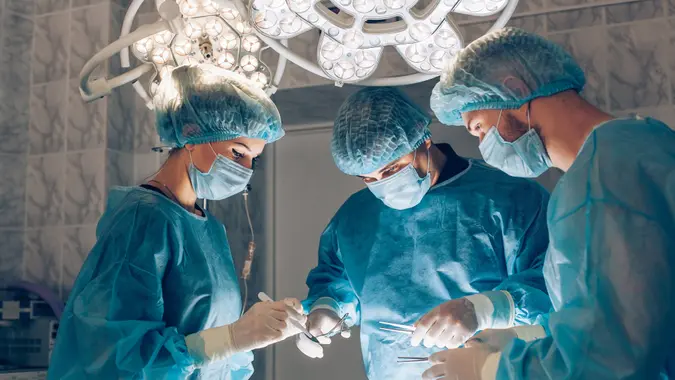 ©Shutterstock.com
There are no shortcuts to becoming a millionaire. You can achieve this goal with patience, discipline or great ideas and businesses. Yet, while there are no easy ways — unless you inherited wealth — there also are some jobs that will help you achieve this goal faster.
"To become a millionaire, it's not only about how much money you make. It's about how much you keep," said Todd Stearn, founder and CEO of The Money Manual. "Think of your spending and taxes versus your growing investments and savings."
With that said, Stearn noted it sure does help to have a high-paying job. Here are a few to pursue if you want to become a millionaire off your job, according to experts.
Sales
Sebastian Jania, owner of Ontario Property Buyers, explained that one high-paying job that will help someone become a millionaire in the long run is a job in sales.
For instance, a job in automotive sales could help you reach that goal. By developing sales skills, you can move into higher-price sales in the future.
"As an example," Jania said, "[you] may start with cars that might be a $20,000 or $30,000 sale with a commission; but, by leveraging these skills over time, [you] can eventually move into business sales where one commission check could get [you] to millionaire status."
Make Your Money Work Better for You
Finance
According to Peter C. Earle, economist at the American Institute for Economic Research, the "right jobs" in finance — such as trading or investment banking — often pay quite well.
"Performance and growing expertise over time tends to come with higher levels of responsibility and proportionally higher earnings," Earle said. "But those are not easy jobs. They are often quite competitive, thankless and prone to boom-and-bust cycles with the broader economy."
Entrepreneur
Earle added that the best way to become wealthy is to be an entrepreneur.
He warned, however, that the failure rate is "astronomical" and you'll be facing long hours and very high levels of stress, whether you make it or not.
"But the grand thing about entrepreneurship is that the only way to be successful, whether or not that means becoming a millionaire, is by providing a good or service that people want," he said. "And, doing so at a price they are willing to pay. I can't think of a better way to serve both your fellow citizens and yourself at the same time."
Earle added that one mistake many people make is pursuing a lot of education, but not the right education.
"An undergrad degree in some engineering discipline or a masters in mathematics is going to go further, in terms of acquiring a lucrative career path, than having a Ph.D. in sociology," he said. "There are exceptions, but to get behind a big desk that comes with high compensation, the key issue is relevant training — not decades of schooling."
Make Your Money Work Better for You
Consulting
Another job you could pursue if you want to become a millionaire is consulting, Jania said. As he said, one inherent benefit of consulting jobs is the ability to get access to people you would otherwise not necessarily be able to get access to and create a broader network — which can broaden opportunities.
"These relationships can create opportunities to make in the millions of dollars," he said.
C-Suite Executives (CEO, CMO, CFO, CTO)
C-suite executives such as CEOs, CMOs, CFOs and CTOs typically have salaries well over $100,000 per year.
Nathan Brunner, CEO at Salarship, said, "However, equity incentives are the means by which C-suite executives can potentially accumulate generational wealth."
For instance, they can earn shares of the company through equity incentives, such as stock options and restricted stock units (RSUs).
"If the company's stock price appreciates over the years," he said, "they can potentially become millionaires (and even sometimes billionaires)."
Surgeons
According to Brunner, there is a chronic shortage of surgeons in neurosurgery, orthopedic surgery and plastic surgery, and it's not uncommon for surgeons in these specialties to be paid north of $500,000 per year.
"Surgeons can also increase their earnings through teaching or private practice ownership," he said.
Software Engineering
Software engineering is a very lucrative profession where one is able to create tremendous value for the marketplace and also make a high-paying wage, Jania said.
"Over time, when one saves their income, they're able to reach the millionaire status," he said. "But, along the way, they may decide to create a startup, which can help them reach that status even sooner if it's successful."
Make Your Money Work Better for You
Stearn echoed the sentiment, saying that working in technology can be lucrative.
"Being a software engineer at a major corporation such as Meta (Facebook) or Amazon pays very well," he said.
Yet, Stearn also pointed out that many corporate jobs that pay $100,000 or more can help you become a millionaire if you invest wisely.
"Remember to not only look at the average salary for your potential career," he said. "Instead look at what the top performers earn."
More From GOBankingRates