Work-From-Home Jobs You Can Get Right Now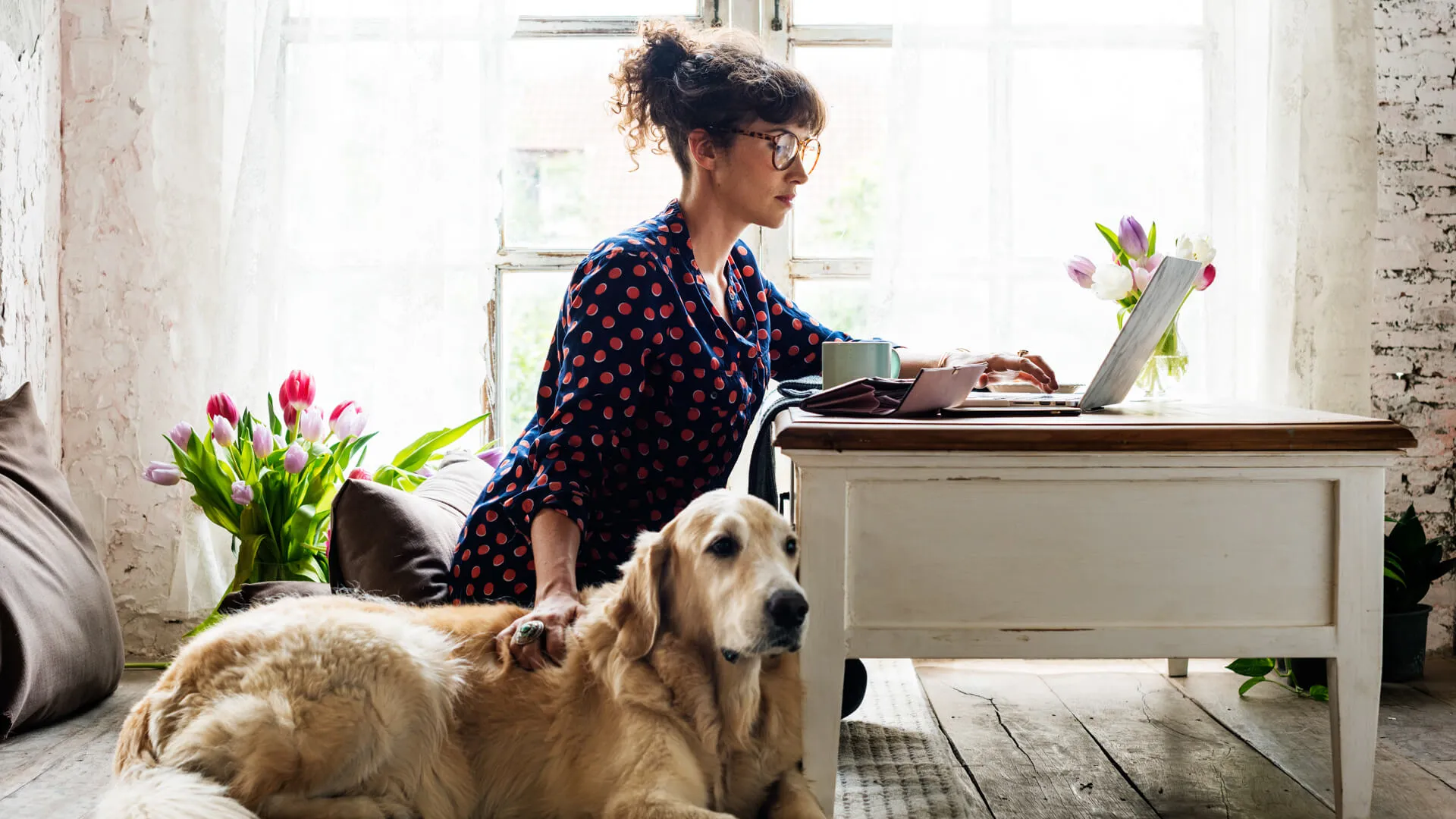 It's becoming the norm to go to work in pajamas and a robe nowadays — well, if you work from home anyway. With the rise and popularity of work-from-home jobs and work-from-home companies, more Americans have the opportunity to make their home their workspace.  According to a 2017 report by FlexJobs, between 2005 and 2015, the number of American workers who spend at least 50% of their work time at home, or some location other than a corporate office, grew by 115%.
To meet the growing demand, many companies now offer remote jobs in a growing number of fields, from tech to even medicine. If you're in the market for contract, part-time or full-time jobs that you can do from home, online jobs or simply work-from-home flexibility, then this job roundup is exactly what you need. Whether they're big or small, all of these companies offer remote positions that will help you make money without having to leave your home.
Aetna
Number of employees: approximately 47,000-50,000
Work-from-home positions include: social worker, Medicare sales executive, QM nurse consultant, dental director
Since 1853, healthcare and benefits provider Aetna has been no stranger to providing Americans and people around the world with everything they need for their individual health history. The Fortune 500 company merged with CVS Health in late 2018 and has since been a major healthcare powerhouse.
Many of the company's jobs can be conducted 100% remotely or a combination of remote and on-site. Some remote jobs with Aetna require you to live in a specific city. For example, a Medicare sales executive position with Aetna was recently advertised as telework, with the exception of some work travel, and there will be multiple positions open but in select cities. The job requires you to develop and cultivate strong relationships with company constituents and maximize sales opportunities.
Make Your Money Work Better for You
Amazon
Number of employees: 647,500
Work-from-home positions include: enterprise architect, senior engagement manager, systems development engineer — U.S.
When Amazon started in 1995 it was dedicated to only the book industry. Now, the digital giant has become one of the world's largest e-commerce companies. It was found that the company has over 400 work-from-home jobs — "virtual positions" as Amazon likes to call them — when GOBankingRates conducted a job search. To qualify for some of these online jobs, you have to live in a particular city or country.
Its employee relations manager must live in Italy to support the employee relations agenda in Italy. The position requires defining and developing strategies to develop employee engagement and support. Candidates should be fluent in Italian and English.
American Express
Number of employees: 55,000
Work-from-home positions include: collections specialist, virtual team leader, virtual platinum customer care professional
American Express started as a freight forwarding company in 1850. By the time the 20th century rolled around, it introduced travel and financial services. American Express has now become one of the largest global payment networks and the company, whose slogan is "Don't leave home without it," also supports work-from-home jobs.
As a virtual team leader for the travel and lifestyle services, you will lead a team of travel consultants who provide leisure travel services to premium card members. American Express frequently coaches virtual employees to help them develop and hone their skills.
Apple
Number of employees: 80,000
Work-from-home positions include: at home advisor, at home team manager, at home area manager
Apple has become one of the most valuable companies in the world. Founded by the late Steve Jobs and Steve Wozniak, the initial business of dealing with computers has now expanded to a company full of tech products. From iPhones to iPads, Apple has done its best to take over the world via tech innovation. The company is also making sure to change the way you work by offering jobs from the comfort of your own home.
Imagine being an Apple representative from your own living space. As Apple puts it, a home advisor is a "friendly, thoughtful, and real" person who people will contact for help. Like many jobs from home, you must be able to stay on task, especially because you'll be the tech support guru for popular products such as iPhones, iPads, MacBooks and desktop Macs.
Make Your Money Work Better for You
Bustle Digital Group
Number of employees: 75 editors, 150-plus contributors
Work-from-home positions include: entertainment news writer, associate product research editor, contributing news editor
Bustle Digital Group is a digital media publisher dedicated to reaching millennial women. The group receives nearly 80 million readers a month through its various publications: Bustle, Romper, Elite Daily and The Zoe Report. Founded by Bryan Goldberg in 2013, the company offers several remote writing positions across all its publications.
If you're interested in entertainment news, its part-time position might be for you. In this role, you will work three six-hour shifts per week and commit to writing articles about pop culture, TV, music and celebrity news. You'll have to have a degree in journalism and two years of reporting or writing experience to get the job.
Dell
Number of employees: 145,000
Work-from-home positions include: data center sales specialist, solutions architect, sales engineer, technology service manager
Founded in the mid-1980s, Dell Technologies has committed its company to providing computer and technology solutions for decades. The company has prided itself on inspiring and empowering multiple workforces with adequate technology.
Like Amazon and Apple, Dell also offers opportunities to work remotely for a major technology company. Some virtual positions are designed for specific areas, such as the systems consultant job with Dell's Global Computer and Networking organization in San Francisco. Employees in this position work in conjunction with the sales team to create sales strategies based on customer requirements and discoveries.
GitHub
Number of employees:  800-plus
Work-from-home positions include: marketing operations manager, director of enterprise account management, data center business operations lead, designer manager
GitHub is a developer company with its headquarter in San Francisco. The company creates software and works on source code management functionalities.
GitHub reports that 65% of its employees work from home, and if you're looking to join the team, the company has several work-from-home jobs available. Plenty of the open positions allow employees to work from anywhere in the U.S. For example, if you're interested in the marketing operations manager position, you won't have to worry about being in a specific state. You will need more than six years of experience in marketing operations and proficiency in Salesforce, though.
Make Your Money Work Better for You
Hilton Worldwide
Number of employees: 300,000-plus
Work-from-home positions include: remote reservation sales specialist
Hilton Worldwide has become a global hospitality company and has nearly 913,000 hotel rooms worldwide. The company manages franchises in a broad spectrum of hotels and resorts.
Do you want an at-home job that gives you some work-life balance? Hilton Worldwide is looking for remote sales specialists for part-time work. You'll be responsible for answering calls, listening to customer needs and matching those needs to a Hilton accommodation. You'll also be expected to meet daily goals.
Humana
Number of employees: 45,900
Work-from-home positions include: medical coding auditor, Medicare sales representative, payment integrity professional
Humana is one of the largest health insurance providers in the country, with about 16.6 million medical members in 2018. The Kentucky-based company also supports work-from-home jobs.
One of its remote jobs is the Medicare sales representative position, which is open in Waipahu and Kapolei, Hawaii. The remote job is open to anyone in these Hawaii areas and is a good fit for someone with great sales skills. In this role, you work on providing proper sales presentations to potential Medicare participants.
Kaplan, Inc.
Number of employees: 31,000
Work-from-home positions include: content specialist, data analyst, KP instructor, Step 2 CS patient note grader
Kaplan is a company based on building a platform of diverse educational tools for students and those who aspire to achieve higher educational goals. The company operates in over 30 countries, has partnerships with more than 1,000 school districts, colleges and universities, and works with over 10,000 corporations and businesses. Kaplan offers a diverse portfolio of job statuses and working from home is one of them.
The data analyst position is under its Kaplan Professional division. As an analyst, you will be tasked with data information from disparate sources, perform exploratory analysis on data sets and build and evaluate predictive data models. And you can do this all from home.
Make Your Money Work Better for You
Salesforce
Number of employees: 29,000
Work-from-home positions include: new logo account executive, product manager, technical consultant, solution engineer
Salesforce is a customer relationship management company that provides enterprise software and tools. The company became popular by its integration of connecting both industries and companies with its customers using cloud, social, mobile and data science technology. Founded in 1999 by Marc Benioff, Parker Harris, David Moellenhoff and Frank Dominguez, the company offers many flexible work options, including full-time telecommuting jobs.
The company recently posted a remote job listing for a new logo account executive position in Wisconsin. In this role, you will be responsible for developing and fostering relationships within its mid-commercial segment employee-based companies.
Sitel Group
Number of employees: 75,000
Work-from-home positions include: work at home solutions associate
Sitel Group, one of the world's biggest providers of outsourced customer service management solutions, currently serves over 400 clients in 70 different countries. The company offers numerous opportunities to work in a home office environment.
As a work at home solutions associate, you'll be responsible for handling customer service calls. These might include billing questions, service or product orders, tech support and account product inquiries. Work-from-home job opportunities at Sitel are currently available in more than half the U.S.
Time Doctor
Number of employees: 80
Work-from-home positions include: software sales development rep, social media marketing manager, lead generation specialist — Philippines
Co-founded by Liam Martin and Rob Rawson in 2012, Time Doctor is a time-tracking monitoring software devoted to remote teams and employees. The company team is also completely remote and has employees in 23 countries.
Working remotely for a digital company like Time Doctor can be a plus, especially if you're into software sales and development. If so, the software sales development rep position is great for you. You will work full time on the research team and manage a pipeline by having at least 50 outbound calls a day. You will need experience in software sales to qualify for the job.
Make Your Money Work Better for You
UnitedHealth Group
Number of employees: 300,000
Work-from-home positions include: senior coder, inpatient coder telecommute, senior healthcare economics consultant, nurse practitioner for house calls
Healthcare giant UnitedHealth Group provides medical benefits to people in all 50 states and more than 130 foreign countries. The company serves millions of people from a wide range of ages through its system of high-quality care. UnitedHealth Group offers telecommuting jobs in specific locations.
For instance, if you're a registered nurse, you can apply for the preservice review nurse position. This job entails performing clinical coverage review for patients plus telephonic discussions with healthcare providers.
Wikimedia Foundation
Number of employees: 300-plus
Work-from-home positions include: senior software engineer, strategy liaison, communications director
The Wikimedia Foundation is a nonprofit organization that hosts online encyclopedia Wikipedia, Wikimedia Commons, Wikidata and other online resources. Founded by Jimmy Wales in 2003, Wikimedia Foundation was created to fund Wikipedia and other Wiki projects in efforts to change the way information is accessed online.
Wikimedia Foundation has positions with remote work options. One of those positions is its contract strategy liaison. In this position, the strategy liaison focuses on building relationships between the Wikimedia community members and the company's core team. If you have great interpersonal skills and efficiency with deadlines then this job will work for you.
More on Jobs
Lia Sestric contributed to the reporting for this article.
The work-from-home jobs that are available are accurate as of April 24, 2019, and are subject to change.
Photo Disclaimer: Please note photos are for illustrative purposes only. As a result, some of the photos might not reflect the companies listed in this article.

BEFORE YOU GO
See Today's Best
Banking Offers