5 Freelance Gigs That Spiked During COVID — Will They Last?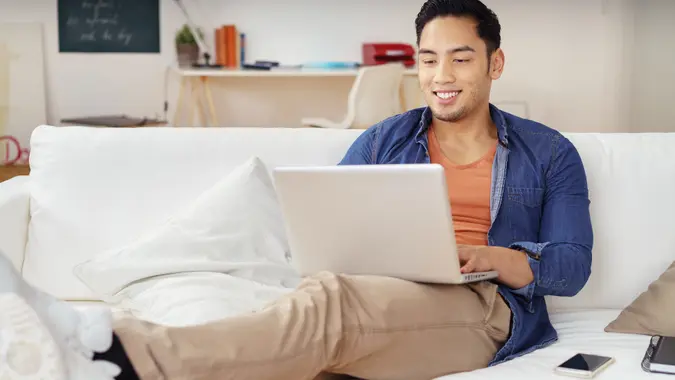 racorn / Shutterstock.com
The workplace landscape has changed since the pandemic, with a rise in remote work and the hybrid workplace. In turn, a reassessment of the meaning of work has ensued as shown by an increase in Americans turning to freelance. An Upwork survey found that in 2022, 39% turned to freelance work or 60 million Americans.
$2,000 Quarter? Check Your Pockets Before You Use This 2004 Coin
Learn: 3 Signs You're Serious About Raising Your Credit Score
"With the current economic uncertainty, along with the rise of movements such as 'The Great Resignation' and 'Quiet Quitting,' many professionals are undergoing a once-in-a-generation reassessment of what it means to have a fulfilling career. Large swaths of the U.S. workforce are questioning the traditional, entrenched ways of working, and are instead seeking out alternate career pathways," according to the Upwork survey.
Yet, while freelancing is on the rise, not all careers fare the same in terms of opportunities. A new Flexjobs 2023 Stare of Remote Freelance Jobs Report analysis where they reside and in which spaces other careers are cooling down.
The rise of remote work has helped freelancing become more accessible than ever before, said Doug Ebertowski, career expert at FlexJobs and Remote.co.
Make Your Money Work Better for You
"But as FlexJobs' 2023 State of Remote Freelance Jobs Report shows, some career categories like communications, bookkeeping, graphic design, accounting and finance, and marketing, have grown more significantly than others," he said. 
Ebertowski recommends and encourages workers interested in freelancing to identify freelance fields with ample opportunities, survey the market with resources like FlexJobs' report and research any competition before setting out in their desired freelance field or service.
"Then, build a strong personal brand to help clients understand your services and expertise. Finally, plan out your finances and business expenses to build a financial cushion. These preliminary steps are critical. As a freelancer, you're responsible for everything, so it's imperative to do sufficient research and planning before getting started," Ebertowski added.
Take Our Poll: Do You Have a Second Job or Backup Plan in Case You Are Laid Off?
Discover: 10 Lucrative Jobs You've Never Heard Of
Here are the remote freelance careers that are cooling down, according to Flexjobs, with the most significant declines in 2022 in education and training, down 26%, customer service, down 21%, and medical and health, down 20%.
Education & Training- down 26% in 2022
Customer Service- down 21% in 2022
Medical & Health-down 20% in 2022
HR and Recruiting
Project Management
More From GOBankingRates
Make Your Money Work Better for You
Make Your Money Work Better for You