Retirement Savings: 4 Best Sources For Retirees To Find Jobs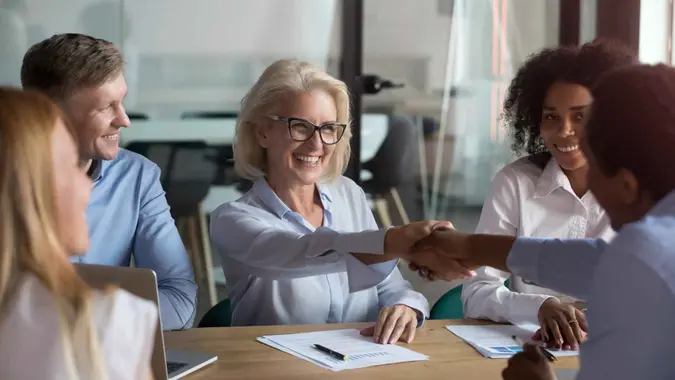 fizkes / Getty Images/iStockphoto
The retirement landscape has changed in recent years, and many seniors either work longer, or decide to re-enter the workforce. While they have various reasons for doing so, such as the desire to remain intellectually or physically active, or simply boredom — one important driver is the income stream it provides once they transition to a fixed income.
Factors such as inflation, soaring rates and a choppy stock market have been taking a toll on retirees. In turn, it's not surprising that many of them are planning to rejoin the workforce. 
And the numbers speak for themselves: A recent Paychex survey found that one-in-six retirees are considering returning to work, and 55% of them went back to work because they needed more money.
"Older workers have plenty of job opportunities in today's work landscape. Specifically with remote work, there are great work-from-home job options across various career fields that can supplement income or support someone in continuing their professional life in a more flexible capacity," said Toni Frana, lead career expert at FlexJobs.
Frana added that if you're an older worker or job-seeker, it may be helpful to refresh your interview skills to include navigating virtual or Zoom interviews, keep career goals in mind and make a strong first impression.
In that vein, AARP compiled a list of websites to help seniors find jobs — here are some of them:
AARP Job Board
This is free and the board has specific features that can assist you in finding your best job match, according to AARP.
Make Your Money Work Better for You
For instance, it has a Veterans Wanted job filter that can help you find companies looking for a specific set of skills former members of the military can bring to the civilian workplace.
Seniors4Hire
This website is free to use as well. While AARP noted that it pulls most of its job postings from ZipRecruiter, there is one difference, however: The site offers a resume-matching service.
"If you post your resume on Seniors4Hire and it fits the skills for a new job opening, Seniors4Hire will notify you to find out if you're interested in applying," the AARP detailed.
FlexJobs
Access costs range from $9.95 per week to $59.95 per year, according to AARP.
FlexJobs offers postings for jobs that allow flexible or remote work-criteria that can appeal to retirees.
In addition, AARP noted that its "Jobs for Retirees section" offers helpful articles.
Rent A Grandma
This site has a $25 registration fee and there's also an app.
"We specialize in placing caring women, possessing deep life experience with families as nannies, babysitters, and in-home care providers, as well as chefs, cooks and highly experienced domestic staff," the website indicated.
According to AARP, part of the $25 registration fee covers a background check. Once the person is approved, workers and employers negotiate their own fees and hours.
More From GOBankingRates
Make Your Money Work Better for You