From Discounts to Low Pay: The Secret Life of a Disneyland Employee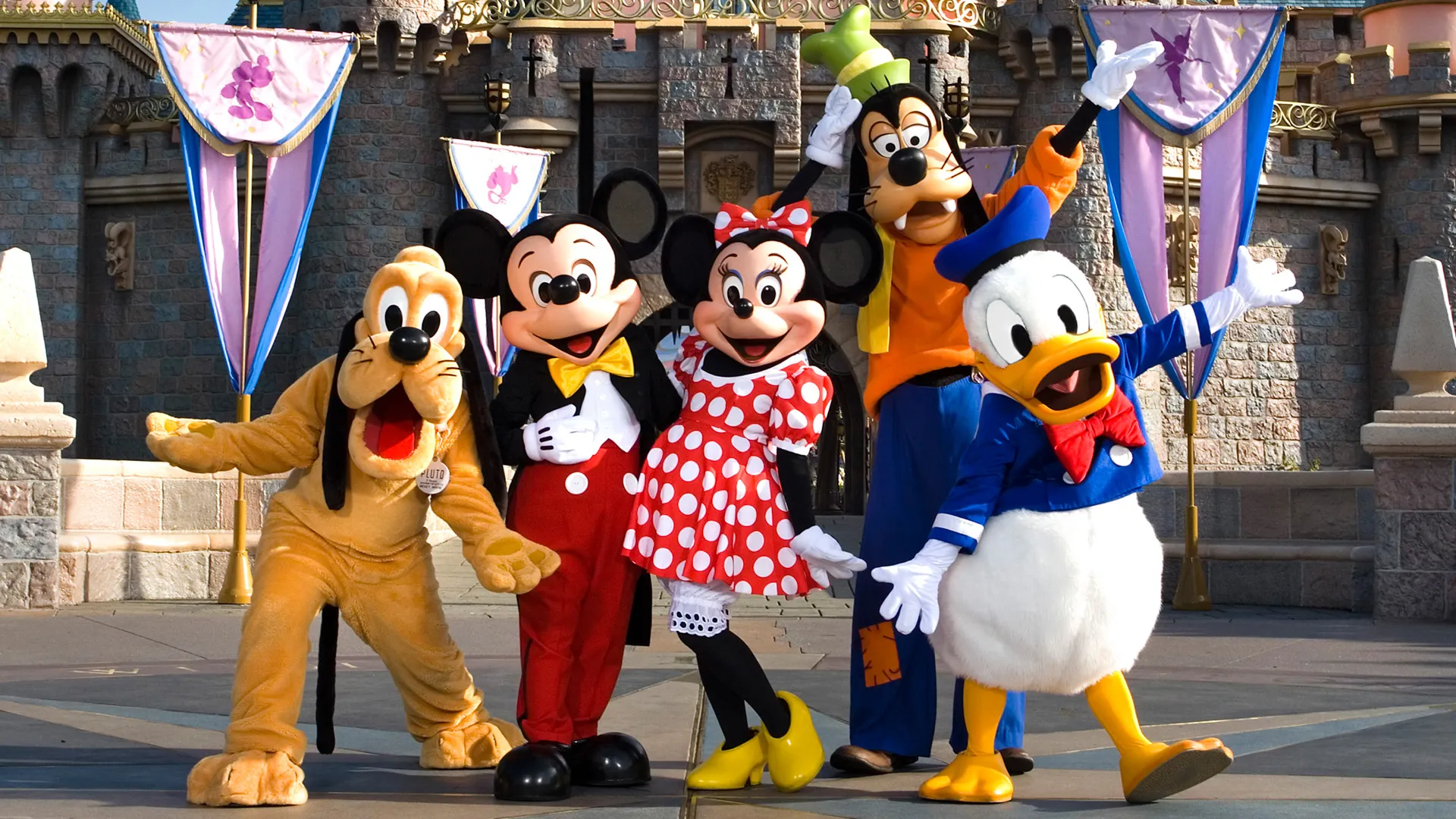 Working at Disneyland might seem like a dream job to Mickey Mouse enthusiasts. But the reality of Disney employment isn't all fun costumes and free rides. In mid-June, more than 35,000 people — including Disney employees — signed a petition asking the company to delay its planned July 17 reopening of the Disneyland park, stating that it could expose Disney cast members and guests to the coronavirus. On June 24, Disney announced that the Disneyland reopening would be delayed, USA Today reported. Now, Disney World employees are asking for a delay to the Florida park's reopening, which is planned for July 11. So far, Disney has not announced any plans to push the opening. Unfortunately, the potential risk of being exposed to the coronavirus isn't the only downside of being a Disney park cast member.
GOBankingRates spoke to a former Disneyland cast member to find out the good, the bad and the ugly that comes with working at "the happiest place on earth." Discover surprising Disneyland insider secrets and see what it's like to work at the world-famous theme park.
Last updated: June 29, 2020
There Are Hidden Doors for Cast Members To Get Around
The next time you visit Disneyland, see if you can spot the hidden doors. Everywhere in the park is considered "on-stage," and cast members are expected to be in full costume and fully into their roles whenever they are seen. To get around the park and travel through the different lands, they travel through a "backstage" area that they access through hidden doors.
"I grew up in California and I'm a long-time pass holder, but I never had seen these doors before," said the former cast member. "On my first day, I had to have so many people point [the doors] out. There [would be] bushes, and then there will be a door [hidden behind them]. You won't see it unless you're looking it."
Make Your Money Work Better for You
New Cast Members Are Paid 'Basically Minimum Wage'
If you want to make a lot of money, you might want to skip working at Disney. The former cast member says her pay was worse than expected. "They pay you basically minimum wage," she said.
"Some roles pay better than others, like my friend who worked in the kitchen made about 50 cents more than me. The more manual labor roles tend to pay more, and the more desirable roles, like merchandising, tend to have lower pay. They increase your pay [the longer you work there], but they definitely start you low."
Disney Cast Members Get Access to Parts of the Park Guests Can't See
You can feel like a VIP at Disneyland and get sneak peeks of upcoming attractions by becoming a park employee. For example, the former employee got a sneak peek at the Star Wars land at Disneyland before it opened — but of course, no photos were allowed.
Employees Get Free Disneyland Tickets — but There's a Limit
One of the most well-known perks that comes with working at Disneyland is the free theme park admission. However, you can only bring three people in with you for free with each visit, and the number of free visits you earn depends on the hours you work there.
"I got 16 [free admission] check-ins, but some people only get five to 10," said the former cast member. If you run out of free check-ins or want to bring more than three people with you, you can get discounted Disney tickets, "but it's not that much of a discount — about 10 to 15%," she said. With Disneyland ticket prices starting at $104 for a one-day pass, that discount still doesn't get you cheap Disneyland tickets.
Make Your Money Work Better for You
The Cast Member Discount Does Not Apply To Churros
All cast members receive an employee discount so they can save money at Disneyland on food and merchandise, which increases in the percent you save based on seniority. However, the discount isn't accepted at a lot of the free-standing carts, which means cast members have to pay full price for popular food items like churros and popcorn.
Cast Members Must Always Point Using Two Fingers
If a guest asks for directions, cast members always use two fingers to point them in the right direction. "They call it the 'two-finger point,' and they train you to do it," said the former cast member. "It took me months to stop [pointing with one finger]."
Cast Members Always Play a Role, No Matter Where They Work
"Guests will try to catch you off guard," said the former cast member. "They'll be like, 'I saw Mickey Mouse over there and then I just saw him over here.' You have to be really quick and be like, 'Oh yeah, he told me he saw you in both places too.' You have to always be playing a character. That's why they call it 'roles.' The whole thing is a performance."
Photos Are Strictly Forbidden in Backstage Areas
"They're really, really strict," said the cast member of the photo policy. This is because they don't want to "break the magic" by giving non-cast members a glimpse at the Disney cast members out of character.
"[Backstage], I've seen Peter Pan walking around without a wig and Cinderella eating a sandwich," she said.
Make Your Money Work Better for You
Cast Members Can't Reveal the Characters They Play
Cast member character roles are confidential, so the person who plays Cinderella, for example, can't reveal the character she plays to others. Instead, she could say she's "friends with Cinderella."
"Or if I'm friends with the cast member who plays Cinderella, I would say, 'I'm friends with Cinderella's friend,'" the former cast member explained. "That's how they talk about it. That's how they preserve the magic."
The Costumes Cast Members Wear Are Rented, Not Owned
All cast members borrow their costumes from a giant costuming warehouse and scan their borrowed items in and out.
Because they're borrowed, they are not custom-made for each cast member, so fit can be an issue. It's like shopping at a "regular store, so sometimes they may not fit right or be flattering to your body," said the former cast member.
Costumes Need To Look Perfect at All Times
Everything from the belt to the shoes must be in place, and costumes must look perfect at all times — even when a cast member is walking to or from their car.
"I had heart-framed sunglasses, and I had worn them with my costume walking from my car, but I've had managers who said I can't wear them," said the former cast member. You can't wear "anything that distracts from the costume."
This also means you can only be seen wearing your costume in the land where it belongs. "The whole point is that when you're in a world, you want to stick to that world. If you're on Main Street and dressed in a costume from Adventureland, it throws off the magic for people," she said.
Make Your Money Work Better for You
Some Cast Members Switch From Land to Land, but Ride Workers Often Stay In One
"If you work in merchandising, you work all over," said the former cast member, who worked in both Disneyland and Disney California Adventure. However, people who operate rides tend to stick with the same ride because you have to receive special training for those roles.
"It's a safety issue," she said. Then there are those cast members who simply enjoy sticking to one ride or land. "I had a friend that worked the submarine ride and he really, really loved it, so he only worked there."
Cast Members Don't Choose Where They Work
When you apply, you are applying for a role rather than a specific land. "You go through the interview process, and you can say where you want to work," but you really don't have a say in where you end up, said the former employee.
However, you can sometimes change where you work once you're hired, so you can end up at one of the crazy theme park attractions Disneyland is known for.
Most Cast Members Aren't Working Where They Really Want To Work
The roles that are the "most coveted really depends on the person, but I would say very rarely do you meet someone who is working the job that they want," said the former cast member. "You meet people all the time that work where they want, but there are more people that are like, 'I would love to work Matterhorn' or 'I would love to be Cinderella.'"
Many Disneyland Employees Aren't Happy
The former cast member said that when it comes to the number of employees who are genuinely happy working at Disneyland versus the number who are simply putting on a happy face, "it's about half and half, which is kind of a bummer. A cast member can make or break a guest experience. You have cast members that view the guests as a nuisance … it's a mixed bag."
With that said, it's natural to have good and bad days, as constantly having to be "on" can be a challenge, she said. "I have sympathy because I see how hard it is to be a cast member. Sometimes at the end of the day, you're so drained and tired. If you have a bad day and you're a door greeter, you still have to smile. The second your smile drops, there's someone on your shoulder."
Make Your Money Work Better for You
Cast Members Must Abide by the 'Four Keys'
Cast members live by the four keys, with the first being the biggest priority. The four keys are: 1) safety, 2) courtesy, 3) show and 4) efficiency.
Guest Compliments Can Help a Cast Member Get a Better Role
"I think there's an issue with pay and benefits, in general," said the former cast member. "There should be more incentives."
Currently, those incentives include getting positive feedback from either a guest or fellow cast member. "You can get 'compliments' if a guest fills out a form," she said. "They go on your permanent record, and they help you to get the roles you want to get. You can also give 'four key cards' to fellow cast members. Those little incentives are important, but there should be more."
It's Hard To Become a Disney Princess
Getting to play a speaking character is one of the hardest roles in the park to land, the former employee revealed. Auditions are held throughout the country for the princess roles, with thousands of people sometimes vying to portray the same character. The audition process is rigorous and involves multiple rounds in which prospective princesses are asked to sing, dance and read lines.
"They cut you based on need, and height and face obviously matter," said the former cast member. "And 90% is whether or not you can fit in the costume."
Nonspeaking Roles Are Based Mainly on Height
"There is an audition, but that's mostly height," said the former cast member. There are different heights that often get thrown around, "Goofy height, Chipmunk height, etc."
More From GOBankingRates