This High-Paying Industry Is the No. 1 Choice for Gen Z — How To Enter the Field and Make Big Money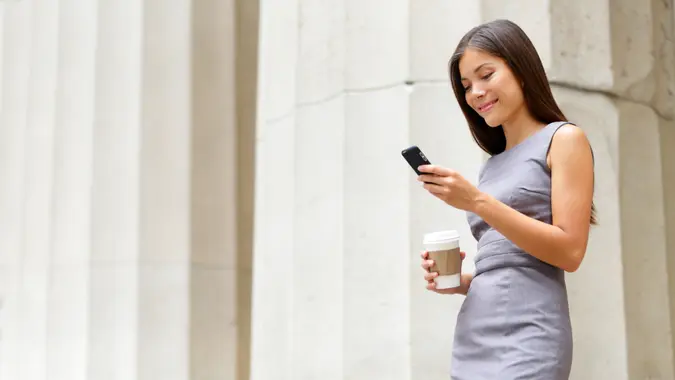 ©Shutterstock.com
Today's young adults have money on their minds.
A new report from the CFA Institute, a nonprofit that certifies investment professionals, revealed that young grads in 2023 worry about low pay above all else, and the fear of being unable to keep up with rising prices is steering them toward the financial industry. The field took the No. 1 spot — up from No. 5 in 2021 — because Gen Zers are attracted to the industry's historically high salaries.
Here's what they need to know to make the big bucks through successful careers in finance.
Career Pros Confirm: Gen Z Is Hot for Finance
The news about Gen Z's evolving career pursuits did not come as a surprise to Anjela Mangrum, president of Mangrum Career Solutions. 
"It's true that a lot of zoomers are pursuing careers in finance," she said. "I believe the COVID crash and recovery, right at the time when Gen Z was entering the workforce, has created an impression that finance makes big money and banks tend to survive financial crises better. Another factor that adds to this industry's appeal is ease since, compared to sectors like medicine and law, the time and money you need to commit is generally lesser."
Corissa Peterson, career expert and staff writer at Resume Genius, is witnessing the same trend among the young job hunters she encounters.
"In June of last year, the keyword 'best paying jobs in finance' peaked at over 71,000 searches per month," she said, citing data from Ahrefs. "Gen Z is taking a bigger interest in careers in finance as the cost of living has soared in recent years. Many see a finance career as a way to ensure financial stability and make home ownership a more realistic goal."
Make Your Money Work Better for You
The Highest-Paying Fields in the Industry
The finance industry is known for high salaries, but different fields deliver different paychecks. Here's a look at the 10 highest-paying specialties, according to the Indeed Career Guide:
Financial advisor: $75,003
Senior accountant: $78,341
Investment banker: $84,509
Hedge fund manager: $86,544
Financial analyst: $95,570
Information technology auditor: $98,026
Financial software developer: $109,117
Private equity associate: $111,388
Chief compliance officer: $137,271
Chief financial officer: $148,750
Wanting a Career Is One Thing — Here's How To Get There
Mangrum and Peterson offered the following insight for Gen Zers looking to land high-paying finance jobs. It's the same advice they give their own young clients seeking to break into the industry. 
Look For Corporate Accounting Roles
"In fields such as audit, demand is high enough to allow you to get hired at the entry level," said Mangrum. "Once you use these positions to get your foot in the door, you can transfer out of them after a year or so to more interesting roles."
Leverage Your Network
"As a recruiter, I can't stress enough how important it is for professionals to socialize more with people in their industry and get the word out that they're looking for employment," said Mangrum. "References can be valuable, especially in the early years of your career when you lack experience."
Use LinkedIn Jobs
"Try using different keywords and being specific with your searches on LinkedIn to find opportunities in your field of interest," said Mangrum. "Enabling job alerts on those keywords will also help speed up your job search. Ideally, you would apply to all relevant postings that are a few days to a week old to maximize your chances of getting a call back. It's also better to use LinkedIn to look for open positions but submit your application via the company's own career webpage."
Make Your Money Work Better for You
Keep Your Options Open
"You might only get job offers for bank teller positions when you have your eye on something far more interesting," said Mangrum. "I would take that opportunity, work hard, pay my bills and use that position to network more and try getting internally transferred or apply at other positions while employed after some time to something closer to my dream job."
Pursue Degrees and Certifications Specific To Your Target Position
"Most jobs in finance have pretty high academic requirements, so if you can show you meet any educational requirements, it'll open the door to many more opportunities," said Peterson.
Master Popular Industry Tools
"If you can demonstrate proficiency in financial software and tools that are commonly used in the industry — such as Excel, Bloomberg and other trading platforms — it'll help set you apart from the competition, especially as an entry-level candidate," said Peterson.
Stay Informed
"Keep yourself updated on the latest market trends, economic developments and financial regulations. Being well-informed will show employers that you're committed and proactive," said Peterson.
Gain Hands-On Experience Anywhere You Can
"Engage in volunteer activities," said Peterson. "Anything finance-related, like joining a nonprofit finance committee or volunteering as part of a financial literacy program. Or take up treasury roles in student organizations to show employers you're motivated and capable."
Build a Professional Online Presence
According to Zippia, 84% of employers recruit candidates on social media," said Peterson. "So leverage that social media savvy and use it to your advantage by building an online presence that showcases your skills, accomplishments and interests."
Make Your Money Work Better for You
More From GOBankingRates