Parents of Gen Z: Here's What the Job Market May Look Like in 10 Years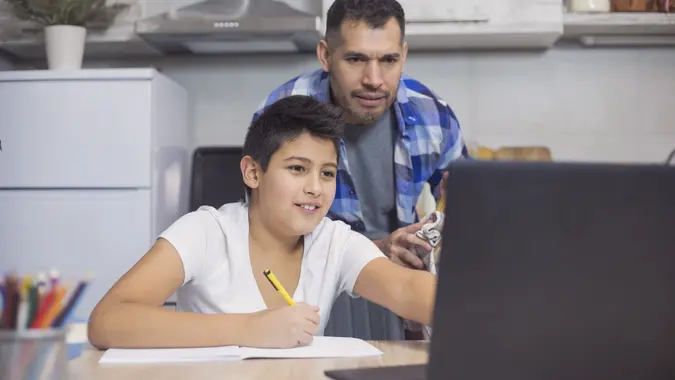 Sladic / iStock.com
The concept of growing up and getting a job remained roughly the same for generations before Gen Z came along. But the Great Recession, the rise of the side hustle, the pandemic, the Great Resignation, the mainstreaming of remote work and the gig economy changed all that. The job market in 10 years will be unrecognizable, and the parents of Gen Z simply don't have the luxury of passing on to their children the lessons they learned from their own moms and dads.
"It's no secret that the job market is constantly evolving," said Oberon Copeland, CEO of Very Informed. "In fact, it's estimated that 65% of children entering primary school today will end up working in jobs that don't even exist yet."
See: 22 Side Gigs That Can Make You Richer Than a Full-Time Job
Cash App Borrow: How To Borrow Money on Cash App
Make Your Money Work Better for You
So, how do today's parents guide their children toward a future with so many unknowns? GOBankingRates asked the experts to help them plan and prepare for career success in the coming decade.
Your Kids Will Work in Tech Even If They Don't Work in Tech
From virtual reality to machine learning, today's emerging technology will be commonplace in industries across the economy 10 years from now, whether those industries have anything to do with tech or not.
Your budding Gen Zer's academic pursuits should reflect that reality.
"It is highly likely that workplaces will be run by avatars and AI," said Sharon Dylan, career coach and co-founder of Management Help LLC. "Hence, it is best to take information technology or any data-management courses to stay relevant in the future. Aside from that, constant upskilling will be more important than tenure."
Several experts who spoke with GOBankingRates touched on the same point — that the future workplace will be one that demands continuing education and the perpetual learning of new skills.
Make Your Money Work Better for You
"With that, there is a need for parents to introduce the concept of constant upskilling to their kids so they won't be surprised by the demand of the workplace in 10 years' time," Dylan said.
POLL: Do You Have a Side Gig or Other Hustle?
Automation Will Send Many Jobs Into Obsolescence
Dylan was not the only expert who pointed to a future defined by artificial intelligence (AI) and automation during interviews with GOBankingRates — and for good reason.
According to The Science Survey, around 40% of the 40 million jobs that were temporarily lost at the peak of the pandemic were permanently lost to automation.
An MIT study makes a convincing argument that robots will replace another 2 million workers in manufacturing alone by 2025.
That's not necessarily a cause for panic. Only some of those people will be standing in the unemployment line. Many others will be Gen Zers who will have to train for something beyond the assembly line.
There Will Be Exciting Opportunities To Market Their Talents and Interests
Over the next 10 years, the rise of automation will continue to farm out a lot of the hands-on work to robots while Gen Zers find their place in the new economy, which has been expanding since before they were born.
Make Your Money Work Better for You
"The shift from industry and services to an information economy is a trend that will only intensify in the coming decade," said Sean Doherty, general manager of Box Genie and a business professional with experience in both the consumer and b2b markets. "Many voices in the space would stress a focus on STEM and technical fields of expertise to be well-positioned in the future job market. This point is not to be ignored as artificial intelligence, blockchain and new technologies integrate more into our work as well as personal lives."
Today's parents shouldn't scare their kids into thinking that robots are coming for their jobs. Instead, the message should be one of optimism — with automated systems doing the hard work and menial tasks, they'll be free to pursue entrepreneurial endeavors based on their passions.
"Children and young students today should focus on their personal interests to develop a skill set that they can later sell on the market," Doherty said. "Creative and diverse work will only become more abundant in the information economy as mundane technical processes and even analytical work are outsourced to artificially intelligent systems. Developing personal interests into professional skills will incentivize success."
Building a Brand and Managing It Will Be the Key to Professional Networking
With robots toiling away at yesterday's manufacturing jobs, Gen Zers will have to network and self-sell their way into the information economy.
"Three things parents can begin to do now to help prepare Gen Z for the future job market are helping them learn how to authentically connect with others, learn what their unique value proposition is and learn how to manage their personal brand," said TED speaker and career development expert Michelle Enjoli. "Networking will always be crucial to obtaining new career opportunities, especially in a rapidly changing business environment that will require the ability to pivot often. When a child understands what value they bring to the world through their talents and passions, this can help guide them in exploring the right career paths for them. As digital natives, personal branding for Gen Z can begin at a very early stage with social media, so helping them understand the importance of their behavior online and offline is crucial."
More From GOBankingRates
Make Your Money Work Better for You