8 Worst Remote Jobs You Should Try To Avoid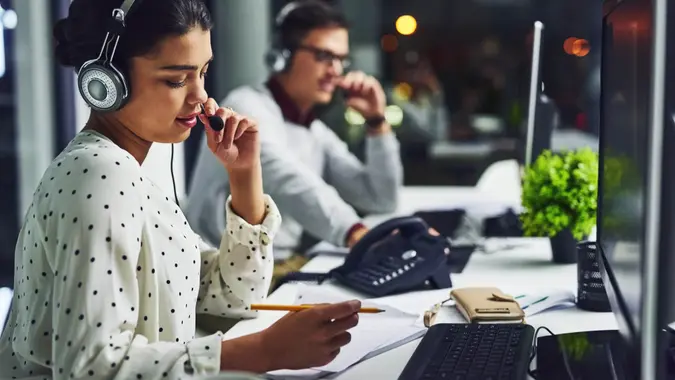 PeopleImages / Getty Images
Remote work has been gaining in popularity for some time; it allows people flexibility and convenience, removes commutes and adds more control over schedules. Remote jobs significantly increased during the COVID-19 pandemic and have remained prevalent in the years following. According to the career site Ladders, by the end of 2022 approximately 25% of all professional jobs in North America were remote, and the number of these jobs will only continue to rise.
That said, not all remote work is ideal. Whether boring, stressful, isolating, tiring or low-paying, the remote jobs on this list are some that experts call the "worst."
1. Data Entry
Data entry jobs are among the worst remote work options, according to Sukhy Dhillon, brand director at E-Careers. "They usually pay little, are boring and call for very little in the way of talent or originality. The task is monotonous and includes inputting data into a computer system or spreadsheet. In addition, data entry work has been linked to conditions including carpal tunnel syndrome, back discomfort and eye strain."
Make Your Money Work Better for You
2. Online Surveys
You should also stay away from online surveys, another undesirable kind of distant work, Dhillon says. "Despite their apparent simplicity, these methods of making money seldom provide more than minimum wage and require a significant investment of effort. Spending a significant amount of time on surveys might result in little payout. In addition, many survey sites online are fraudulent, meaning you might waste your time without receiving any compensation."
Take Our Poll: Are You Concerned About the Safety of Your Money in Your Bank Accounts?
3. Call Center Agent
What could be so bad about sitting on a phone for work? Well, according to Meika Welds, a personal finance blogger and founder of Working Momspiration, "I would avoid this like the plague if you don't like people, hate being on the phone, can't stand repeating yourself — and did I mention if you don't like people? As someone who has worked in the field for more than five years, call center remote jobs can be highly stressful, repetitive and demanding."
Make Your Money Work Better for You
Most of the time, call center work focuses on handling annoyed, upset or irritated customers who are calling with complaints and questions.
"The job requires strong communication skills and the ability to deal with difficult customers, which can be mentally exhausting."
4. Content Mill Writer
Freelance writing itself can be very rewarding and potentially lucrative, however, there is an exception, according to Welds.
"I've worked as a freelance writer for a few years now and really enjoy it. However, without much experience, some writers find themselves working for content mill websites. This happened to me when I started out. You should avoid this kind of remote work because not only is the pay low, you're also expected to produce articles at a rapid pace, which can turn out to be low quality. Content mills also have tight deadlines and the environment doesn't allow you to grow your career as a freelance writer." 
5. Phone Sales
It's hard enough to make sales when you're in person, but imagine trying to do it by phone or Zoom. According to Sean Stevens, director of Immerse Education, "Even when you're not working from home, being in sales may be a challenging profession. This line of work is actually very cutthroat in nature. Just consider how many of your friends on social media are always trying to sell you some kind of product or another. Do you really want to be the kind of person who drives their loved ones and friends completely bonkers with [a] never-ending stream of promotional messages?"
Make Your Money Work Better for You
6. Internet Sales
Jonathan Rogers, founder of Credexel, adds that internet selling is a tough market to work in remotely as well.
"A job in online sales can be quite competitive and takes a significant amount of marketing and promotion effort to be successful. While making sales online, employees also have the responsibility of managing inventory, taking care of shipping and returns and addressing concerns and complaints from customers. This can be a hard task for employees who work remotely. In addition, the volume of internet sales might be highly unpredictable because it can change substantially."
7. Multi-Level Marketing (MLM)
If something sounds too good to be true, it probably is, and MLMs often fall into this category. These sales pyramid schemes work where you make money by recruiting other people into a sales team "below" you, so that you earn commissions not only on your own sales, but on your affiliates' sales.
"The potential earnings from jobs in direct sales are very enticing right from the start," says Joe Troyer, CEO and head of growth for Digital Triggers. "[You can] work from home, have limitless possibilities for earning and be your own boss while maintaining normal(ish) working hours, but you will be responsible for making sales to everyone all the time, which can be a very tiring process. It is also quite difficult to do so in a market that is already very competitive."
Make Your Money Work Better for You
8. Cryptocurrency and Blockchain Jobs 
Cryptocurrency took the world by storm in the past decade or so, seeming to promise exciting financial growth opportunities. However, Marius Grigoras, CEO of BHero — a cryptocurrency launchpad for startups — cautions against the industry.
"Remote jobs in the cryptocurrency and blockchain space are not for everyone. Due to the fast-paced nature of the industry, working from home can often lead to burnout or disengagement. Additionally, the tedious tasks involved in the development of blockchain protocols and cryptocurrency projects can also make it difficult for individuals to maintain their focus and productivity."
More From GOBankingRates
Make Your Money Work Better for You