5 Bingo Games That Pay Real Money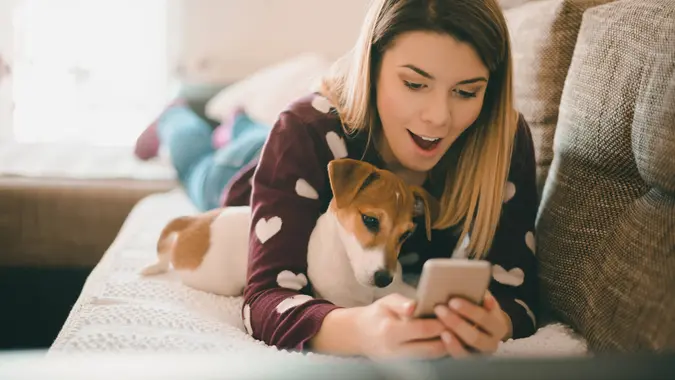 Georgijevic / Getty Images
Earning money and playing games always seem somewhat mutually exclusive. However, there are many game apps that are not only a fun way to keep your brain occupied, but you can also play for cash prizes. When games include this kind of incentive, why would you play anything else?
5 Best Online Bingo Games That Pay
Though parents may have scolded you in the past for rotting your brain with video games, maybe they didn't realize how lucrative it could be. It's time to break out your digital bingo card and get ready to play some bingo games with these five apps to win real money. 
1. Blackout Bingo 
Not only can you play the exciting bingo game Blackout Bingo for fun merch and prizes if you win, but you can also play it for free. It is available for Android or iOS devices and delivers its cash prizes via PayPal. 
The Skillz version of this classic game plays just like you are in a regular bingo room, with deposit bonuses available for speed completion. Whether it is just playing online bingo you enjoy or getting cash or other treasures from the prize pool, playing bingo on Blackout Bingo can be pretty lucrative. In fact, you can pay to enter tournaments for cash prizes of $3,000 or more.
Make Your Money Work Better for You
2. Bingo Cash 
Once you download Bingo Cash for free on your iOS or Android device, you can immediately start playing regular bingo games or even enter some higher-stakes cash tournaments to win real money and cash prizes. It's also just a fun way to earn a little extra cash on the side. 
Though you do have to bring your own cash as a deposit in order to enter and compete in the tournaments against other players, your potential cash winnings are also much higher. 
3. Bingo Clash 
Brought to you by AviaGames, Bingo Clash is fast-paced, fun, free and potentially very financially rewarding. If you win enough games when you compete against other players, you will definitely start earning some cash or prizes. There are different modes of play and you can also be matched with opponents of the same skill level.
4. Bingo Win Cash 
If you are a purist when it comes to bingo, Bingo Win Cash may just be the perfect game app for you. There are social elements where you can play with friends or just participate in classic bingo or slots games for a chance to win cash prizes. It's simple, it's fun and all you have to do is match the numbers on your card with the numbers that are called out. After matching the numbers, just sit back and collect your winnings. 
Make Your Money Work Better for You
5. Cashyy
This free app delivers cash right to your PayPal account. It is a GPT, or get-paid-to, app where you earn money for playing games. Though it is not bingo exclusive, there are bingo game options available you can play to get some free PayPal money. Essentially, when you play your preferred bingo game and complete missions, you earn points or coins that you then cash in for gift cards.
Free Bingo Games for Fun
If you're not one who likes to mix finances and fun, then there are also some great online bingo games you can play just for kicks. The games are free to download and play, so if you love bingo there is really nothing standing in your way. Here are four bingo apps worth checking out if you'd prefer to have a ball on a budget.
Jackpot Bingo
Bingo Blitz
Bingo Frenzy
Bingo Party
Final Take To GO 
Say goodbye to sorting through piles of bingo cards and figuring out when and if your numbers matched. Online bingo games are the best way to spend a lazy day and possibly even earn some money, prizes or gift cards for your trouble. If you are looking to earn a little more money on the side, bingo might just be the name-o of your game-o. 
FAQ
Here are answers to frequently asked questions about what online bingo games pay real money.
Is there a bingo app that pays real money?

There are many online bingo apps and games that pay real money such as Blackout Bingo, Bingo Cash, Bingo Clash, Cashyy or Bingo Win Cash.

How do you win the Bingo Cash game?

To win the Bingo Cash game you simply need to earn more points than your opponent. You do so by matching the numbers five in a row, and you and the person you are playing are given the same bingo balls and cards throughout your game. Every time you match numbers or get a bingo, you will get points.

How long does it take to earn money with Bingo Cash?

The amount of time it takes you to earn money from playing Bingo Cash is directly correlated to the amount of time and energy you put into playing it. How much you financially invest in the game and your personal skill level also factor into your earning timetable.

Is Bingo Cash: Win Real Money legitimate?

Yes, Bingo Cash is a legitimate app where you can play bingo to win real money. It is free to download, however, you do have to put down a cash deposit to enter a tournament where you can play others for a chance to win up to $3,000.
Make Your Money Work Better for You
Make Your Money Work Better for You