I'm Gen Z and I Earn $6K a Month in Passive Income — Here's How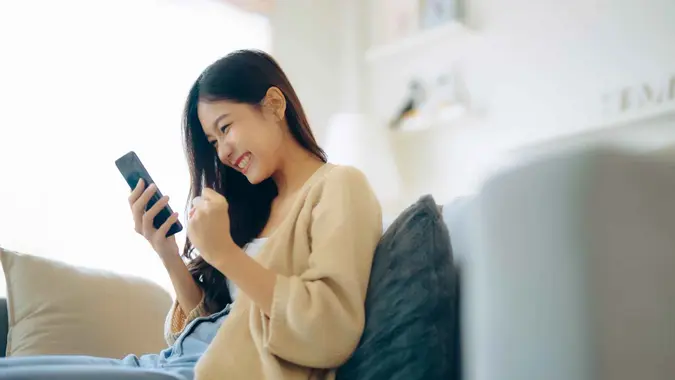 marchmeena29 / Getty Images/iStockphoto
Reuben Lim turned 20 this year and he's earning up to $6,000 a month in passive income.
His golden goose is an angler-focused website, Fishing Sensei, which gets around 25,000 monthly visitors. Lim, who started his venture with just $500, provided identification and detailed financial statements to substantiate his age and earnings.
"I built Fishing Sensei up in just a year from zero to become one of the leading fishing sites," he said.
The site currently ranks No. 1 for many top keywords, which is crucial to his business model, as Lim will explain.
"Basically, every article I write is pretty much guaranteed to rank," he said. "Here's how I did it."
A Passion for Fishing Becomes a Successful Affiliate Marketing Operation
Lim makes money by writing and posting articles with affiliate links for products like fishing rods, reels, lures and other fishing gear.
"For me to make money, of course, the articles have to rank on Google," he said. "So I do search engine optimization (SEO) for the articles to rank, and when visitors click to read my articles and buy the products that I recommend, I earn a percentage of the sale as commission."
Lim also monetizes with ads from Mediavine, a premium ads network. "Though that makes up only 10% of my earnings," he said.
Make Your Money Work Better for You
In the Beginning, There Was Nothing Passive About It
Lim started in 2022 with $500 that he used for web hosting, the domain name, a keyword research tool and some other miscellaneous expenses like purchasing links.
"From there, the first thing I did was build up the website, which took about a week," he said. "This entailed building the home page, choosing the website colors and fonts, building the legal pages and disclaimers and the backend stuff like the content delivery network (CDN) and the domain email setup."
Initially, he worked on the site for six to eight hours per day.
"Next, I spent another month writing my first 10 info articles to populate my site and make it ready for Google," he said. "This took three to four hours per day on weekdays and four to six hours on weekends."
He then spent three to four hours per day on link-building.
"Once that was done, I started on the commercial articles," said Lim. "These were roundup articles. These articles take longer to create because of the research that goes into them. I take roughly a week per article, so I was publishing four per month."
Hours Put in Become Dollars Pulled Out
During this final stage, he spent three to four hours per day on weekdays and six to eight on weekends — but then the hard work started to pay off.
"From March 2022, it took four months for me to make my first bit of money," he said. "It was in July, and I made exactly $153.87 that month. From then on, I simply continued writing and publishing four articles per month and building links along the way."
Make Your Money Work Better for You
Here's a look at how his revenue grew once the site hit its stride:
August 2022: $672.36
September 2022: $951.43
October 2022: $969.87
November 2022: $1,114.14
December 2022: $2,343.97
January 2023: $2,289.64
February 2023: $2,874.43
March 2023: $3,548.39
April 2023: $5,138.07
May 2023: $6,439.73
June 2023: $5,544.36
A Side Hustler Becomes an Employer
Fishing Sensei soon outgrew Lim's capacity as an individual, and he had to expand.
"I was writing all the articles myself every month until January 2023," he said. "I hired a writer, which cost $1,000 per month."
Other expenses are limited only to hosting, domain name renewal, site speed tools, CDN, Google Workspace and link-buying, which adds up to about $1,000 per year.
"It wasn't until around December that I started to spend more money," said Lim. "So, really, it takes less than $500 to start a successful website."
Diligence and Persistence Lead To Hard-Fought Success
You don't need a lot of money, but you must be willing to put in the work, and for Lim, the biggest challenges were time and motivation.
"Having to work and do this at the same time meant that I had to spend all my after-work hours on this," he said. "I made use of every available moment. If I was traveling on the bus or train, I was either researching or writing articles, and once I got home, I would quickly shower, eat and continue the work on my laptop.
"As for motivation, I would say, first of all, it's hard enough having to find the energy to do this after a long day of work. But also, writing isn't exactly a ton of fun, at least not for most people, so I felt quite drained having to juggle work and my website. Nevertheless, I knew it was what it took to succeed, and I forced myself to work and did whatever it took."
Make Your Money Work Better for You
While Fishing Sensei was his first true success, it was not his first attempt at an entrepreneurial endeavor.
"Frankly, I've been a hustler since I was young," said Lim. "Since the age of 16, I've tried selling on Carousell, dropshipping, Bing ads, Facebook ads and even MLMs. None of them worked, and I actually spent close to $5,000 testing all those money-making methods. Each time one method failed, I would jump on to the next because I knew that only by exhausting each method and finding all the ways that wouldn't work would I be able to eliminate them and finally end up with a successful method. So I just kept scouring the internet for a new method each time one failed until I stumbled upon this method, SEO, which was actually just after two failed ventures with MLMs. I wouldn't say I was inspired by anything, but rather, motivated to never give up and just keep trying."
In the end, the perseverance paid off and Lim is catching some very big fish.
"I am making $3,000 per month in my lowest months," he said. "And it took me exactly a year to achieve this."
More From GOBankingRates