Did You Use Google Between 2006 and 2013? You Might Be Owed Free Money — Here's How To Get It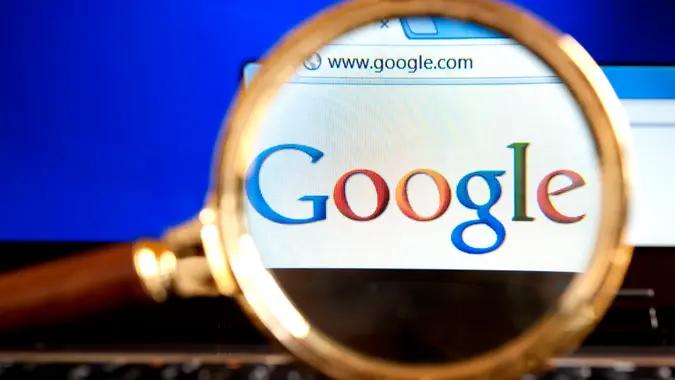 brightstars / Getty Images
With more than 1 billion Google users worldwide today, there's a good chance that most people in the U.S. used the search engine for work, play or school between 2006 and 2013. If you did, you may be eligible for free money as part of a class-action lawsuit between Google and the U.S. District Court for the Northern District of California.
About the Google Class Action Lawsuit
Google has entered into a settlement to avoid litigation and to focus its energy on customer complaints, according to a press release issued by Kroll Settlement Administration.
Google denies any wrongdoing in the case, which alleges that the tech giant improperly shared user search queries with third-party websites and companies.
Anyone who clicked a Google search link between Oct. 25, 2006, and Sept. 30, 2013, can be included in the class-action suit. According to the Kroll Referrer Header Settlement website, each claimant will receive roughly $7.70 if they file an approved claim. That estimate may change as new data regarding legal fees, settlement administration costs and the number of claimants is received.
How to Claim Your Money
You can claim your money by filing online by the deadline of July 31, 2023, or by printing the claim form PDF, filling it out and mailing it to:
Google Referrer Header Privacy Settlement
ATTN: Claim Form c/o Kroll Settlement Administration
Make Your Money Work Better for You
P.O. Box 225391
New York, NY 10150-5391
You can find the claim form at refererheadersettlement.com, a website owned by Kroll.
Claim forms must be postmarked by July 31, 2023, for inclusion in the class-action settlement. Mailed claim forms will receive a paper check sent to the address on the form.
You do not need to show proof of your Google searches, but you must affirm that you submitted a search query to Google and clicked on a search result within the United States during that time frame.
To submit a claim form online, you will need to register to receive a Class Member ID. The process is simple and takes just a few minutes. You'll need your phone number and email address. Once you register, you'll receive an email with your Registration Confirmation and Class Member ID, which is a series of numbers and letters.
Copy and paste that Class Member ID into the website to view your claim form. Fill it out and choose your payment option.
If you want to receive a digital transfer of your money, you will need to submit the claim form online and provide information for a digital deposit via PayPal, Venmo, Zelle or ACH. Direct deposit requires your bank account information. You can also choose to receive a prepaid digital Mastercard compatible with Apple Pay, Google Pay and Samsung Pay.  
The final approval hearing should take place Oct. 12, 2023, which means payments should go out sometime after that date.
What Else You Should Know
As with most class-action lawsuits, you have a choice to opt out.
Make Your Money Work Better for You
If you do nothing, you won't receive any money, but you will waive your right to sue Google regarding claims related to this lawsuit.
You can exclude yourself from the lawsuit by submitting a written request to the settlement administrator, settlement class counsel and defendants' counsel through the settlement website by July 31, 2023. You will not receive money from the class-action suit but will reserve your right to sue the defendant separately.
You also can object to the settlement but still receive funds if you also file a claim form. You can find an objection form under the documents tab of the Kroll Referrer Header Settlement website.
As with claim forms, all paperwork or online forms related to exclusions and objections must be received or postmarked by July 31, 2023.
More From GOBankingRates