I Made Over $1,000 With ChatGPT: Here's How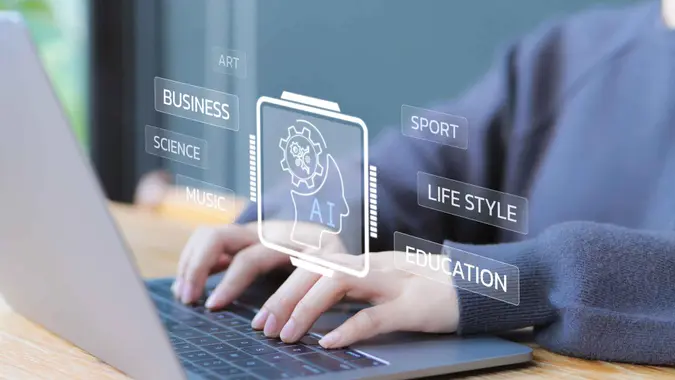 Supatman / Getty Images
Artificial intelligence tools like Google's Bard and OpenAI's ChatGPT seem to be taking the world by storm right now. While there is still much controversy and heated discourse over how AI can and should be used – and even whether or not these tools are truly "intelligent" – the hype surrounding them is everywhere right now.
A big part of that hype, of course, is the opportunity these tools might have to help the enterprising individual or business make money. If you spend much time on social media, Reddit, YouTube, or really anywhere on the internet, you've probably already seen your share of pitches – but will any of them actually work?
Here are some real-world examples of people using ChatGPT to make more money at their job, small business, or side hustle.
Marketing for Small Businesses
Every business owner understands that they need to do marketing – but because many smaller businesses don't have a big budget for it, it's often handled in-house by an owner or employee that may not be very experienced.
Morgan Gist MacDonald, founder and CEO of Paper Raven Books, used ChatGPT to generate ideas for marketing language.
"We run webinars to teach new ideas to writers and to invite them into writing programs with our company," MacDonald said. "Usually, coming up with the title, hook, and bullets that describe the webinar requires days of creativity, assuming the muse strikes." 
Make Your Money Work Better for You
The results were impressive: Their opt-in rate, show-up rate and stick rate all improved by 10% or more.
"When you add all three of those numbers together," she said, "more people registering, more people showing up, and more people staying on live through the pitch, even though our close rate was the same as normal, we actually earned three times what we had anticipated. What we thought was going to be a $6,000 enrollment became a $16,000 enrollment on a quickie test webinar."
Blogging
ChatGPT is great at generating readable text, although hardly perfect — it can often get facts wrong, or reference non-existent people or events, depending on the prompt. However, if you're willing to do the work of editing and fact-checking, it can be an effective tool for automating part of the process of writing effective blog posts.
Blogger Ali Asgar of Infoverses.online did just that, using ChatGPT to drive an increase of over $1,300 in monthly earnings.
"As a blogger, my main source of revenue is affiliate marketing," Asgar said. "So, I also review software and products that I personally use and recommend them to my audience. I effectively utilized ChatGPT to craft compelling copy, which led to higher conversion rates with my affiliate partnerships. But, I generate content just for inspiration. I always make sure to thoroughly edit and infuse my unique voice into the generated content."
Client Onboarding
ChatGPT's uses go beyond just writing text in response to a prompt. For those with the technical knowledge needed to use ChatGPT's Application Programming Interface (API), the possibilities really open up.
Make Your Money Work Better for You
Sudhir Khatwani, founder of The Money Mongers, integrated ChatGPT into the client onboarding workflow for their consulting business and saw revenue increase by over $2,000 a month.
"We've employed ChatGPT to automate initial client communications," Khatwani said, "freeing up significant time for my team while ensuring prompt responses to our clients. This automation enhances client satisfaction, allows us to focus on more strategic tasks, and increases our capacity to handle more clients, leading to a direct boost in our earnings."
Developing Mobile Apps
Despite some of its obvious limitations, ChatGPT is also surprisingly sophisticated in some ways and can do more than write marketing copy or blog posts. It also can write code. Vikas Kaushik, CEO of TechAhead, integrated ChatGPT into the company's mobile app development process, realizing over $1,000 in increased profits.
"The AI-powered tool changed the way we brainstormed and came up with original ideas for our projects," Kaushik said. "As a result, our team was able to continually surpass the expectations of our global clients and offer even more innovative solutions. The result was astounding. We noticed an improvement in customer satisfaction, which encouraged referrals and repeat business.
"This uptick in favorable comments helped us establish ourselves as a reliable partner for digital transformation. But most crucially, ChatGPT assisted us in streamlining our processes and saving crucial time, which ultimately resulted in appreciable cost reductions."
How Will You Use ChatGPT To Make Money?
Whether you're an entrepreneur, manager, blogger or side hustler, there are plenty of use cases for leveraging AI tools to make money – maybe you can use one of these examples, or maybe the most exciting strategies will be the ones you come up with on your own. This is a new technology, and right now the field is wide open.
Make Your Money Work Better for You
More From GOBankingRates