How To Make $1,000 a Week With Uber Eats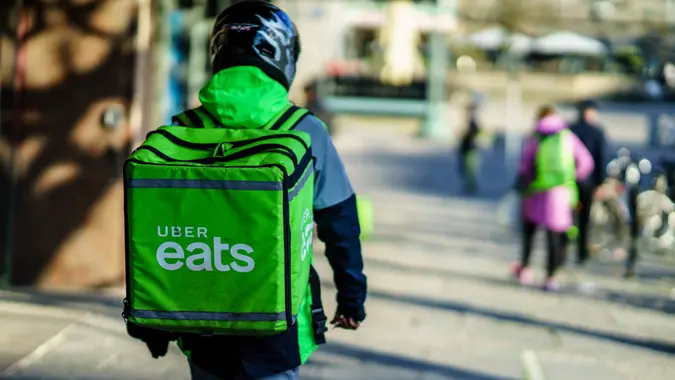 nrqemi / Getty Images
If you're working as an Uber Eats driver for a side gig or a full-time hustle, it makes sense to do everything possible to maximize your earnings in the shortest amount of time. So, how much do Uber Eats drivers make? Keep reading for a thorough look at what the job entails, including strategies on how to make $1,000 a week with Uber Eats.
How Much Can You Earn Driving for Uber Eats?
On average, Uber Eats drivers earn around $20 an hour. Figuring out how to make $1,000 a week with Uber Eats requires some math — but don't worry, you won't have to dust off your high school calculator. Here's a quick breakdown of how much Uber Eats drivers really make.
According to Glassdoor, the median hourly pay an Uber Eats delivery driver can expect is around $22. This figure includes "additional pay," which, for Uber Eats drivers, means tips.
The average base pay is around $19 per hour, with an estimated additional pay of $3 per hour in customer gratuities.
Assuming you can earn around that same amount, that would give you $880 for a 40-hour work week, which is short of that $1,000 goal — especially when you subtract fuel and maintenance costs.
According to Indeed, the median hourly wage for Uber Eats drivers is approximately $18 per hour, though there's no information about money earned through tips.
Assuming you earn the same $3-per-hour tips reported on Glassdoor, you'd pull in about $840 for 40 hours of Uber Eats work, which is still short of that cool thousand.
It's worth noting that the Indeed estimate is based on earnings information provided by Indeed users, and the sample size isn't very large. The site claims 32 data points over the past three years, or less than a dozen Uber Eats drivers volunteering their pay data per year.
Other sources report very similar numbers, so it's safe to assume that, on average, Uber Eats drivers are making around $20, tips included, per hour.
How Many Hours Does It Take To Make $1,000 With Uber Eats?

Earning $1,000 a week with Uber Eats requires patience, hard work and typically around 50 hours of your time. As with almost any moneymaking endeavor, there's no real secret or get-rich-quick gimmick that's guaranteed to work.

For someone who wants to set their own hours, this may be a much better option than a typical office job. If you climb into the driver's seat with a solid strategy, a prime location and the right attitude to earn consistently decent tips, you may be able to maximize your earnings in less time.
Make Your Money Work Better for You
How To Make $1,000 a Week With Uber Eats: 6 Strategies
While pulling in $1,000 a week with Uber Eats is achievable, it may not be a walk in the park. However, there are methods you can use that could help significantly increase your weekly earnings, potentially catapulting you to that $1,000 goal.
Here are six strategies you can use to maximize your Uber Eats earnings:
1. Don't Underestimate the Power of Tips
If you can boost your pay rate past that $20 to $21 average hourly range, you might be able to avoid working longer hours. Even a few well-earned tips can dramatically boost your hourly earnings. Remember that it's not all up to chance or your customer's mood.
Here are some ways to improve your service and your chances of getting higher tips consistently:
Include a well-lit profile picture: Make sure that your profile picture shows your face in clear detail — and don't forget to smile. A smile makes you look friendlier and relatable, and may inspire customers to be more generous.
Show you care: If you can get more napkins, sauces, straws or utensils, go for it. Customers can adjust their tips after you deliver, so a little extra effort may pay off.
Keep your customers looped in: Is the restaurant slow? Did you run into traffic? Tell them beforehand so that they don't blame a slightly delayed delivery on you. The extra communication could translate into extra pay.
Pay attention to detail: Be meticulous when handling customers' food and double-check for any mistakes at the restaurant before setting off for delivery.
Be friendly: This is a bit of a no-brainer, but you catch more flies with honey than vinegar. Greet them with a smile, maintain a friendly attitude and thank them when you make the handoff.
Make Your Money Work Better for You
2. Embrace the Weekends
Friday nights and weekends are a great time to drive for Uber Eats. Order volumes skyrocket, offering more opportunities for surge pricing and peak pay on your deliveries. Weekend orders often cater to gatherings or post-bar hangouts, meaning larger orders and likely bigger tips.
3. Work the Surge
Surge pricing is a game-changer. It kicks in whenever order requests are higher than average, meaning your per-delivery earnings will increase significantly. Best of all, it doesn't require any heavy lifting. The Uber Eats driver app will automatically flag areas where surge pricing is live in your delivery city.
Take advantage of any predictable events, like big sports games or holidays when people gather in each other's homes. Working during these times increases the chances of reaping the rewards of peak pay.
4. Multitask
Running multiple apps simultaneously is a great way to boost your food delivery income. If your ultimate goal is $1,000 a week, it doesn't matter if you get that through Uber Eats or across several delivery platforms.
Many couriers utilize the double-app or multi-app approach, keeping two food delivery apps open to receive multiple order requests. This way, you can cherry-pick the best-paying gigs.
What Other Driving Gigs Can You Do?
Looking for driving gigs beyond Uber Eats? Here are some other options: 
DoorDash: Like Uber Eats, DoorDash offers you the chance to deliver restaurant orders to customers with similar pay and mechanics. Some drivers report more success with DoorDash vs. Uber Eats.
Grubhub: Yet another food delivery option is Grubhub. Sign up, deliver food and get paid — it's as simple as that.
Instacart: If you enjoy grocery shopping, Instacart gives you the opportunity to shop for and deliver groceries to customers. Become an Instacart shopper and turn your shopping time into earning time.
Shipt: Another grocery delivery option, Shipt operates in many U.S. cities. Sign up to shop and deliver groceries while earning money.
Amazon Flex: Deliver Amazon packages and get paid for it. Many people earn as much — or more — than Uber Eats drivers.
Make Your Money Work Better for You
Remember, the best driving gig depends on your location, availability and what you like to do. Take into consideration the driver demand in your area, the pay rates and your schedule flexibility when making a decision.
5. Minimize Expenses
You shoulder work-related expenses like gas and vehicle maintenance as an independent contractor. Finding ways to trim these costs is essential to keeping more dollars in your pocket.
A fuel-efficient vehicle can help you reduce the amount you put in the tank. Hybrids or electric cars are generally an even better option, but for all-electric, be mindful of any charging downtime.
Be sure to keep receipts for fuel, tires and any repairs you might need — they're tax deductible and can make a difference in maximizing your take-home pay.
6. Set Measurable Goals
If your goal is $1,000 a week driving for Uber Eats, you'll need to put in 50 hours if you're earning at an average rate. While you might be able to do that working typical Monday through Friday dayshift hours, you'll have better odds of maximizing your earnings if you work weekends and evenings. Remember to try to take advantage of surge events.
Keep track of how much you're making. If you hit your goal early, take that extra time off. If you're not quite there, you'll have an idea of how many more hours you'll need to work to reach that goal. Hard work paired with clear daily targets can significantly bolster your success. However, remember that the key to long-term prosperity is ensuring you don't burn out.
Make Your Money Work Better for You
Final Take
The gig economy offers excellent ways to supplement your earnings due to the flexibility of the jobs and the variety of apps available. However, it's unrealistic to expect to be able to rake in thousands of dollars a month, even if you're dedicating a significant part of the week as a driver for apps like Uber Eats.
While it may require some dedication, making $1,000 a week driving for Uber Eats is within reach. Focus on what you can do to increase your odds of getting better tips, like informing customers about delays and ensuring food orders are correct. Also, consider driving on Fridays and weekends when order volumes are high and surge pricing is more likely to kick in.
Minimize your work-related expenses like gas and maintenance and track all costs. Having measurable goals also helps so that you can determine how many hours you need to reach your target each week.
FAQ
Here are the answers to some of the most frequently asked questions about being an Uber Eats driver.
Is being a driver for Uber Eats worth it?

This is largely a question of your personal needs and goals. On a typical eight-hour day, you can expect to earn around $160 with Uber Eats. It all depends on your location, your average tips, how fast you can make deliveries and, of course, a little luck.
It's wise to adjust your delivery hours to cater to the lunch and dinner rushes and consider doing some late-night deliveries. Morning hours usually aren't as lucrative.

Can you work full-time as an Uber Eats driver?

There are no limits to the number of hours you're allowed to work. Pulling in $2,000 to $3,000 a month with Uber Eats could be a possibility if you don't have other obligations that would keep you from being able to work the necessary hours. It's worth noting that most people tend to consider Uber Eats a source of supplementary income rather than their sole day job.

Can you make a living off of Uber Eats?

On average, Uber Eats pays around $20 per hour, including tips, per salary reviews on sites like Glassdoor and Indeed. With this number in mind, you could take home around $800 after a standard 40-hour week. However, by working more hours and driving during prime times, you could potentially earn over $1,000 a week in busier marketplaces.

Is making $200 a day with Uber Eats possible?

To make $200 a day with Uber Eats, you'd need to drive around 10 hours, earning an average of $20 per hour. Realistically, achieving this figure often takes 10 to 12 hours due to the potential for lower-paying orders and variable tip amounts.

Can you earn $2,000 a week with Uber Eats?

Pulling in $2,000 a week with Uber Eats is quite a stretch, requiring a little over 100 hours of work at an average rate of $18 to $21 per hour. That's not a good idea -- there are very real safety implications involved in driving 10 to 12 hours a day non-stop for an entire week.
Instead, set a realistic goal, such as $1,000 a week for 40 to 50 hours of driving, ensuring you're always well-rested before getting behind the wheel.
Make Your Money Work Better for You
Data is accurate as of Sept. 22, 2023, and is subject to change.
Editorial Note: This content is not provided by any entity covered in this article. Any opinions, analyses, reviews, ratings or recommendations expressed in this article are those of the author alone and have not been reviewed, approved or otherwise endorsed by any entity named in this article.