I'm a Self-Made Millionaire and Professional Money Coach: Here's How You Can Get Rich Working Only 20 Hours Per Week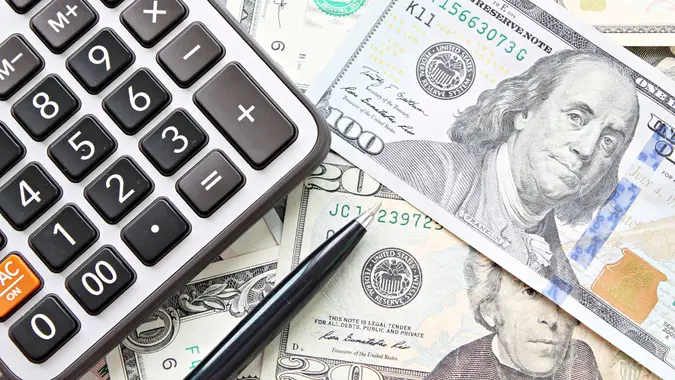 sureeporn / Getty Images/iStockphoto
We often associate entrepreneurship with working 60-hour-plus weeks and always being "on."
But Bernadette Joy, money coach and founder of Crush Your Money Goals, has been able to scale her business to six figures working just 20 hours a week.
Here's how she did it, and her best advice for scaling up while working less.
Don't Expect Overnight Success
While Joy has been able to scale her business to six figures, she said that it took a while for her to get to that point, during which she did work more than 20 hours per week.
"I am not an overnight success story by any means," she said. "I've been doing this for seven years now, and I really only got traction the last three years. The first four years were — like [it is for] a lot of entrepreneurs — like I don't know what I'm doing, I'm just trying to figure this out."
Joy started a local dress rental business before launching her money coaching business but made a pivot after realizing that her initial business idea was taking up too much of her time.
"I realized for me, the idea of working 50, 60 hours a week [wasn't what I wanted]," she said. "I didn't leave my day job just to go create a monster, which I did in that business, especially because it was retail so I was working weekends and nights."
Make Your Money Work Better for You
When she decided to step away from her initial business, she wasn't sure what she would do next.
"I realized that the thing that I liked the most about that business was helping women save money," Joy said. "In tandem, that's also when I had started to pay off my student loans and I started learning more [about money] for my own personal finances."
Joy began sharing what she knew on a podcast she launched, which then evolved into her current company, Crush Your Money Goals.
Be Prepared To Pivot
Joy launched Crush Your Money Goals in January 2020. As a professional money coach, Joy planned to make the bulk of her income doing large-scale speaking engagements.
"What I didn't anticipate, of course, was the pandemic in 2020," she said. "I had to very quickly figure out another business model. That's when I started doing online education and classes. Obviously, the pandemic wasn't a great time for most people in a lot of businesses, but it forced me to think more creatively about how I can deliver valuable education [remotely]."
Create Systems That Allow You To Do More Work in Less Time
When Joy launched Crush Your Money Goals, she knew she did not want to work the 50- and 60-hour weeks she was working at her previous business venture.
"I always had the mindset of, if I can do the same amount of work in fewer hours, then I will try to figure out how to do it," she said. "In terms of specific things that helped me, one is having a systems mindset versus a task mindset."
Make Your Money Work Better for You
Instead of focusing on daily tasks and to-do lists, Joy focuses on her overarching business goals.
"Then [I figure out], how do I build a system to accomplish that goal versus me having to do it?" she said. "When I transferred into what is now Crush Your Money Goals, I started out with the mindset of, how can I do this doing it 20 hours a week?"
During Joy's first year or two, she was working full-time but kept her goal in mind of only working 20-hour weeks.
"Have that as the end goal, and then start building your business that way versus just always relying on your own energy," Joy said.
Joy first ended up scaling back her hours by necessity due to a tragic personal event.
"Two years ago my father passed away and I had to take almost a month off of work," she said. "That's what forced me to start thinking about how I can still serve people without me physically having to show up to meetings.
"That's when I started really putting more things into play, like creating courses, setting up email sequences so that people will still feel like they're connected to me even though I'm not physically sending the email, and having simple things like scheduling tools so that people wouldn't have to wait to get on my calendar," Joy continued. "Building those systems really helped."
Automate as Much as Possible
Joy recommends automating as much as you can — but don't feel like you need to automate everything at once.
Make Your Money Work Better for You
"When people try to automate the entire process, it's so overwhelming that you just don't end up doing any of it," she said. "For example, I have a 90-day boot camp, and when I thought about trying to automate every email that goes out to every student every week, that would be at least 20 emails that I'd have to automate from the beginning."
That idea seemed overwhelming, so Joy focused on taking baby steps and started by automating just the first three emails.
"Even if you're trying to create a whole process, don't get caught up in thinking you have to automate or streamline the whole thing in one go," she said. "You can do it in chunks over time. For myself, this course that I have now has been iterated over the last three years, and every year it gets a little bit better, and it gets a little bit more streamlined. But if I had tried to automate the whole thing from the very beginning, I think I probably wouldn't have started at all."
Remember That Your Non-Working Time Has Value
Joy notes that while it's very possible to be financially successful working only 20 hours a week, you can sometimes get caught up in thinking about how much more success you might be able to achieve if you work more hours. It's at these moments that you need to remember that there is a tradeoff.
"At a certain point, you're starting to sacrifice your mental health," Joy said. "The other reason to really aim towards working very streamlined on 20 hours a week is because it creates more room for you to focus on other things to maintain your mental health. That helps you stay on this road longer than burning out really quickly."
Make Your Money Work Better for You
This is a lesson that Joy said she often has to remind herself of.
"I might not grow as fast as some other people," she said, "but for me, I know that I can probably stay on this path longer."
More From GOBankingRates