Stop Doing This With ChatGPT To Make More Money Each Month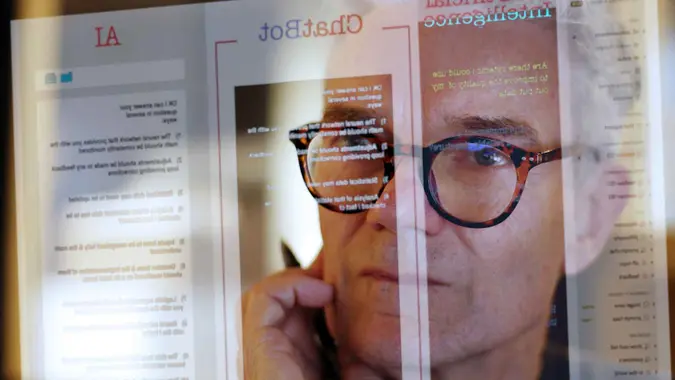 Laurence Dutton / Getty Images
Since ChatGPT emerged, there has been a flurry of TikTok videos and social media posts on how the artificial intelligence tool can help make you more money. From making work more efficient and more rapid to helping workers free up time and take on additional gigs, there are countless ways ChatGPT is helping in the workplace.
But experts say that if you really want to use the tool to its full capacity and unleash its full potential, it's all about the prompts.
"The basic idea is treating the tool as a partially informed impatient human," said Phil Siegel, founder of CAPTRS. "The vaguer the prompt, the less valuable the response and the more likely it will misunderstand what you want and maybe even make things up to make the answer richer and/or to please you."
So to make more money with ChatGPT, you need to stop giving it vague prompts — and learn how to give it clear instructions, instead.
Be Specific and Use Context
Greg Batista, founder of G. Batista Engineering & Construction, explained that the more specific you are about what you are looking for, the better. "Remember, you are talking to a computer, and it has no context of the request that it is being given," he said.
For example, Batista said he wanted to write a blog post to help his high-rise condominium clients understand how to purchase windows for their property. He did not write in the prompt, "Tell me how to purchase windows."
"If I write this, ChatGPT will probably give me directions to Home Depot or will tell me how to purchase windows for a car I just bought," he said.
Make Your Money Work Better for You
Instead, he said the prompt he actually used for this was as follows:
"I am an engineer that wants a 1,000-word blog that will explain in simple, easy-to-understand language the process of purchasing replacement windows in a 30-year-old condominium. The blog should start in steps, beginning with a 4 sentence introduction and the advantages of installing new window replacements, then go on to best purchasing practices for buying new windows, then finally onto tips on finding the best contractor. The audience is a resident of a high-rise condominium in Florida."
Give a Specific Point of View
Joe Karasin, CMO and founder of Karasin PPC, said that since he started using ChatGPT, he has had more time to prospect for clients and more time to allocate to his current clients. As a result, his monthly revenue has increased by 75%.
One thing he suggests is being specific enough about the perspective you want ChatGPT to take with whatever content you want it to generate.
"For example, if I want to create content from the perspective of a client that is a veterinarian, I simply let it know to speak from a veterinarian's point of view. This way, it knows to source the answer from various scholarly sources as opposed to simply a 'pet enthusiast's' perspective," said Karasin.
Another tip is to give specific requirements, he added. "One way I use it is to say 'give me the top 20 keywords for a blog about [the topic].' It knows to then limit the number to the best ones as opposed to simply spitting back a list of keywords that may or may not be the best-performing ones for that topic," Karasin said.
Make Your Money Work Better for You
Rowan Cheung, founder of AI newsletter The Rundown — which has gained a following of more than 170,000 subscribers, according to Forbes — compiled a list of efficient prompts for various jobs. In one of his guides, "5-Best ChatGPT Prompts," Cheung provides a list of targeted ones.
Examples of Very Detailed and Specific Prompts for Media Influencers/Marketing
"I'm looking for an influencer marketing campaign outline that will target my [ideal customer persona] with [specific type of content] from [influencer type] who can provide valuable and relevant information about our [product/service] and encourage them to take [desired action]."
"I need an influencer marketing campaign outline that will use the authenticity and relatability of [influencer type] to engage my [ideal customer persona] and persuade them to take [desired action] on our [product/service]."
Email Marketing
Some of Cheung's examples include: 
"I need a [type of email] that will persuade my [ideal customer persona] to purchase my [product/service] by highlighting its unique benefits and addressing any potential objections."
 "I'm looking for a [type of email] that will convince my [ideal customer persona] to sign up for my [program/subscription] by explaining the value it brings and the benefits they'll receive.
For YouTube Videos
Some of his examples include: 
"I need a YouTube video idea that will demonstrate how my [product/service] can solve the specific pain points and needs of my [ideal customer persona] in a relatable and engaging way."
"I'm looking for a YouTube video idea that will showcase the unique selling points of my [product/service] and persuade my [ideal customer persona] to make a purchase with a sense of urgency and exclusive offers."
Make Your Money Work Better for You
More From GOBankingRates