8 Most Common and Dangerous Zelle Scams Out There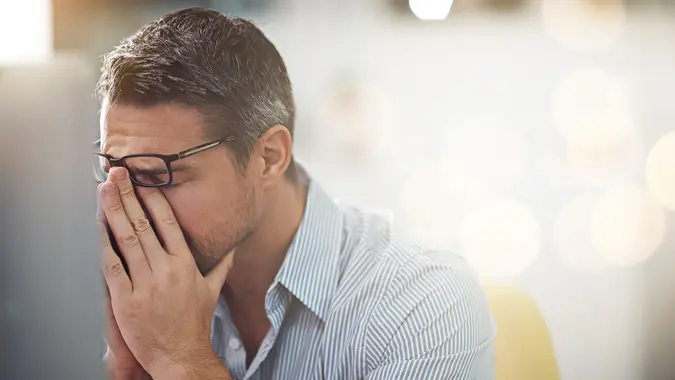 PeopleImages / Getty Images
Consumer fraud is on the rise. 
"The FTC recently released data that shows consumers lost $8.8 billion last year to fraud, a 30% increase from the year prior," said Debt.com chairman Howard Dvorkin, CPA. 
Dvorkin also said that this rise in fraud is a downside of our reliance on digital technology, and as a result, Zelle fraud cases have exploded in the last year due to thieves either hacking into consumer devices or using phishing techniques to gain personal financial information.
I'm a Self-Made Millionaire: These Are the 6 Investments Everyone Should Make During an Economic Downturn
Find Out: How To Build a Financial Plan From Zero
"With many major banks using this tech, and its likelihood to expand, consumers should know how to respond to a fraud attempt fast," Dvorkin advised. "After alerting their bank, consumers should report Zelle fraud to law enforcement and file a complaint with the CFPB."
Unfortunately, if you authorize a payment through Zelle, the digital payment network says that you may not be able to get your money back. In the event that you are scammed into making a payment, Zelle recommends contacting your financial institution immediately to find out what recourse you may have.
Make Your Money Work Better for You
In order to never to that point, however, here are nine most common and dangerous Zelle scams out there — and how you can avoid them.
Vacation Rental Scam
As part of a Zelle vacation rental scam, someone advertises a fake vacation rental on a platform like Airbnb or Vrbo, and when you express interest in renting it, they ask for an upfront refundable deposit via Zelle for damages. Once you send the money, you never hear from the person again.
How To Avoid This Scam: 
Know the terms and conditions of the rental platform. Don't agree to make a payment to someone advertising a vacation rental outside of the vacation rental platform for any reason. In other words, make your payments through Airbnb or Vrbo, not Zelle or Venmo or PayPal.
Pet Scam
The Zelle pet scam involves scammers posing as legitimate pet sellers on online marketplaces, like Craigslist and Facebook, or on a website they've created strictly for scamming purposes. The fake sellers offer pets, such as puppies, at lower prices than normal and use stolen photos to entice buyers.
Make Your Money Work Better for You
Once a buyer shows interest, the scammers request payment for the pet via Zelle and then disappear, leaving the buyer without a pet and no way to recover the money.
How To Avoid This Scam: 
Ask to see the pet in person if possible. Ask plenty of detailed questions about the pet to see the type of answers you receive. Drop the photos of the pet being advertised in Google image search to see if those photos are posted elsewhere online, such as the real seller's webpage, which means that the photos are not legitimate. Ask for proof of vaccinations or medical care of the pet and research the veterinarian. If the seller lives far away, research the company that will transport the pet to see if it is a reputable company. If you encounter any red flags at all, do not proceed with payment.
Ticket Purchasing Scam
Scammers will advertise non-existent tickets for sale to popular events and request payment via  Zelle. Once a ticket purchase is made, the scammer will vanish, leaving victims with less money in their wallet and no tickets.
How To Avoid This Scam: 
Purchase tickets only from trusted sources, such as the official ticket seller or a reputable ticket broker. Additionally, when buying tickets, always use a secure payment method that offers protection, like a credit card.
Fake Job Scam
A fake job scam can play out like this: You reply to a job ad and are offered the job. The scammer tells you that you will need certain equipment to do the job, such as a laptop, but that you will receive a check to cover the costs. Once you receive the check, you're instructed to deposit it in your bank account and then make a Zelle payment to another party to pay for the equipment you need. Later, you can't get in touch with your new employer and you learn that the check you received was fake and you owe your bank the money to cover it.
Make Your Money Work Better for You
How To Avoid This Scam: 
Cross check any job ads on third-party sites by going to the actual company's website that's supposedly offering the job. If no company name is listed on the job ad, ask the person who replies to you for the company's name and then check the company's website. Be very wary of any employer asking you to deposit a check from it and then make payments back via Zelle.
Bank Impersonation Scam 
As part of this scam, you'll receive a text (or possibly an email) saying there's been a large Zelle transaction made from your account. Once you refute the transaction, you'll receive a call from someone claiming to be from your bank. The number the person is calling from might even appear to be legitimate due to what's called "spoofing."
The fake bank representative will ask you to log into your Zelle account to reverse the transaction while giving you instructions. However, what you'll actually be doing is transferring money to the scammer.
How To Avoid This Scam: 
Don't click on any links in texts or emails sent to you to confirm or deny a transaction. Don't give your personal information to anyone who calls you claiming to be from a bank. Instead, hang up, look up the bank's customer service number and call to ask if its fraud department was trying to reach you.
Make Your Money Work Better for You
Facebook Marketplace Scam 
This scam most often happens if you are selling an item on Facebook Marketplace. A scammer pretending to be a potential buyer contacts you and asks to pay for the item through Zelle. Once you agree, the scammer will then repeatedly ask you if you've received the payment.
When you say you haven't, the scammer will tell you to check your spam folder. You'll find an email in your spam folder appearing to be from Zelle with a link confirming the payment. Once you click on it, the scammer can gain access to your personal information. Another version of this scam may include a fake Zelle email that shows the fake buyer overpaid you for the item. The scammer will ask for the overpayment money back, even though they haven't paid you anything in reality.
How To Avoid This Scam: 
Don't click on any links in texts or emails, especially if they are in your junk folder. If a buyer actually pays you through Zelle, you'll be able to receive the payment and confirm it in your actual account — not in emails.
Overdue Payment Scam
Zelle scammers will send you a text that states that you need to click a link to pay your overdue bill right away or your service will be interrupted. Some people have also reported receiving calls from scammers stating that their utility bill is overdue and to avoid disconnection, a payment via Zelle is required immediately.
Make Your Money Work Better for You
How To Avoid This Scam:
Don't allow yourself to get caught up in the scammer's sense of urgency. Don't click on any links or send any money via Zelle for a payment to one of your supposed creditors or service providers. Instead, call the creditor or company directly and ask if you owe money.
Romance Scam 
The romance scam starts by meeting someone on social media or through a dating app. You exchange a large volume of messages with this person who seems to tell you everything you want to hear. Then, the person starts asking you to send money to their Zelle account, which was their intention from the beginning.
How To Avoid This Scam:
Don't send money to anyone you met online who claims to love you but you haven't actually met in-person.
More From GOBankingRates
Make Your Money Work Better for You