11 Best Real Estate Side Gigs To Increase Your Income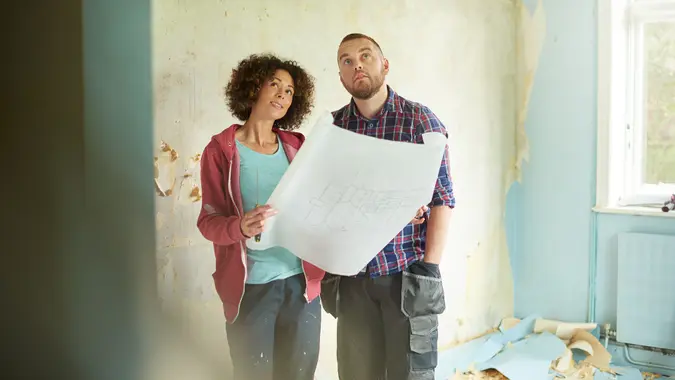 sturti / Getty Images/iStockphoto
If you've been considering making money in real estate, there are plenty of ways to get started. Many real estate side gigs out there can help introduce you to the investment opportunity while increasing your income. If you enjoy any of these side hustles, then you can then decide if going full-time is right for you.
Here are the 11 best real estate side gigs to bring in more money.
1. House Hacking
House hacking may be one of the more accessible real estate side hustles to get into — because you need somewhere to live. The goal with house hacking is to purchase a multi-family property where you live in one of the units.
For example, if you purchase a duplex or a home with multiple rooms, you can live in one unit while renting out the others and become a live-in landlord.
This is a relatively passive income stream since you're essentially just taking on roommates to make money. It could get tricky if any conflict arises with your tenants however, or if any repairs are needed around the property.
2. Invest in Real Estate Crowdfunding Projects
When you traditionally think of investing in real estate, you may believe that you have to purchase a property and become a landlord. There are various new ways to bring money in from real estate that don't require purchasing property on your own. One great way to make money in real estate is to invest in crowdfunding projects by pooling your resources with other investors to purchase properties. 
Make Your Money Work Better for You
Many of these crowdfunded projects will give you access to properties and investments that have been traditionally reserved for the wealthy. You have a few options like Fundrise, RealtyMogul and DiversyFund to get started. It's worth mentioning that some investments are reserved for accredited investors, which is another topic for another day. Fortunately, there are real estate crowdfunding sites for every level of investor.
No expertise is needed, nor do you have to stress about a significant financial investment, as you can start with a small commitment.
3. Invest in Farmland
Similar to crowdfunding projects, you can also invest in America's farmland with sites like AcreTrader and Farmtogether. 
You can make money from these platforms through land appreciation or annual rent payments from the farmers. The best part is that you don't have to put in much effort aside from investing your funds, as these companies take care of everything else for you. These platforms are transparent regarding listing holdings, average returns and other details about your investment.  
4. Invest in Traditional REITs
As popular as real estate crowdfunding projects are becoming, you can keep it simple by investing in a traditional real estate investment trust if you want to be a passive investor. You can purchase shares of publicly traded REITs through any online brokerage. You don't have to worry about becoming a landlord.
5. Property Management
There's potential to make money in real estate through property management. You could handle administrative work for property owners who don't want to deal with tenants. 
What kind of work is involved in property management?
Screening potential tenants.
Dealing with tenants and any issues that may arise.
Ensuring that the property is rented out.
Make Your Money Work Better for You
The trick to making money from property management is to be proficient in screening tenants so you find the right person for the property to avoid future issues.
6. Manage Airbnb Units
If you want to profit from the short-term real estate market, you can manage Airbnb units. There's money to be made from the administrative side of Airbnb since many property owners don't have the time to get into the nitty-gritty of management.
What kind of services can you offer here as a side hustle with Airbnb?
Listing units on Airbnb for property owners.
Setting units up from the furniture to the basic amenities. 
Managing the guests and handling the customer service side of the business. 
Organizing the cleaning of units between guests. 
7. House Flipping
You can start a real estate side hustle as a house flipper. The goal is to find a rundown property that you could renovate and fix up for a substantial profit. You can also try house hacking and live in the property as you work on fixing it up.
You may have to have some handy skills or have others help you upgrade this property, as the level of work needed will vary depending on the condition of the place when you get the keys. 
8. Rent Out a Room on Airbnb
While there's a lot that goes into being a successful Airbnb host, the good news is that you don't have to go all in on the platform to make money. Due to the current state of the economy, Airbnb has emphasized individual rooms for rent. This means that you could rent out that spare room for extra cash. All you would have to do is set up an account with Airbnb and screen potential guests. 
Make Your Money Work Better for You
9. Rent Arbitrage
You could lease out a unit and then sublet it to short-term rentals. The goal is to find a unit you can lease from someone and then make more money from short-term guests. You would have to understand the short-term rental market to get into this, but there's money to be made. 
10. Start a Real Estate Social Media Channel
As you progress with your real estate side hustles, you can document the journey on a social media platform. You can monetize your social media channel by working with affiliates, advertisers and other real estate professionals.
With millions of users on platforms like YouTube and Instagram, you could become a real estate influencer if your content is engaging. While monetizing this side hustle could take some time, it would be a fun way to stay accountable on your real estate journey. 
11. Create Real Estate Content
Aside from starting your own channel, there are multiple ways that you can monetize real estate content. You could offer to take videos for real estate agents, create social media content for real estate influencers or help Airbnb hosts with marketing. 
Final Thoughts
There are various strategies for making money through real estate. There are passive side hustles that won't require much effort on your behalf, and then there are ventures like Airbnb management that could become a full-time gig for you one day. It's best to decide which route to take based on your experience, lifestyle and intentions.
More From GOBankingRates
Make Your Money Work Better for You