Have Spare Change Lying Around? These Coins Can Earn You Big Bucks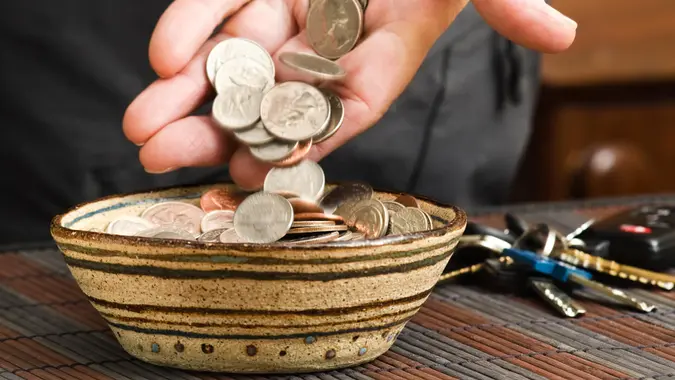 KenTannenbaum / Getty Images/iStockphoto
If you come across an old jar of pocket change while decluttering your house, take a close look before you head to your local Coinstar kiosk. There might be some hidden gems that look just like the rest at a glance, but are actually worth more than the money in your wallet — or, if you're really lucky, your retirement account.
Explore: GOBankingRates' Best Credit Cards for 2023
Read: 9 Costco Brand Items That Aren't Worth the Money
Coins don't have to come from a shipwrecked Spanish galleon to be valuable. In fact, many of the priciest coins on the market were in circulation as legal tender right here in America not so long ago.
Keep a lookout for the following penny, nickel, quarter and dollar the next time you find some change between the couch cushions.
1969-S Doubled Die Lincoln Cent
An old saying goes, "If you find a penny, pick it up, and all day long you'll have good luck."
If that penny happens to be a 1969-S Lincoln doubled die penny, your luck will last a whole lot more than a day.
According to the Professional Coin Grading Service (PCGS), California coin dealer Sam Lukes sold one that he acquired from a New York collector for $10,000 in 1994. Five years later in 1999, he rebought it and resold it for $25,000. He sold another one in 2001 for $35,000, then another in 2002 for $59,500.
Make Your Money Work Better for You
It could happen to you.
In 2007, a collector bought two rolls of 1969-S cents and found one Lincoln doubled die in each roll. In 2010, a 60-year-old military veteran found a high-grade example. According to PCGS, many other examples have turned up in the ensuing years.
Take Our Poll: Are You Struggling To Keep Up With Your Utility Bills?
1937-D 3-Legged Buffalo Nickel
According to PCGS, the Denver Mint used a worn reverse die to strike the 1937 Buffalo nickel, and the result was a phantom fourth leg. That error made the three-legged Buffalo nickel one of the most famous coins of the 20th century. And, with nearly 18 million of them struck, you might find one in your old piggy bank.
Although perfect gems are a rare find, mint condition examples aren't particularly hard to come by — and certainly not those in circulated condition. But because it's such a fun and famous coin, even the riff-raff commands over $1,000 each, with pristine examples selling for well into the five figures.
1901-S Barber Quarter
Only 72,664 1901-S Barber quarters were ever struck, which makes it one of the 20th century's rarest regular-issue silver coins. According to PCGS, high-grade specimens are rare, and mint examples — which can fetch six figures — are incredibly scarce, but you very well might be sitting on one of the many surviving low-grade specimens.
Make Your Money Work Better for You
Because it's considered the key coin in the regular-strike Barber series, "Even in the lowest grades, it commands thousands of dollars," coin expert Jaime Hernandez wrote for PCGS.
1893-S Morgan Dollar
PCGS calls the 1893-S $1 coin the "true king of the Morgan dollar series," and in Mint State condition, it's "absolutely the rarest Morgan dollar."
You probably won't find one unless you're really lucky, but scour those old shoe boxes in your attic, because a particularly pristine example sold for $1.86 million in 2021 — $2.09 million with buyer's fees. Another fetched $735,000 at a Sotheby's auction in 2018.
It's believed that fewer than 10,000 survive from the original 100,000 that were minted, but only a few dozen are in mint condition and gems are even rarer. Most come from a collection of 28 that were found in an original mint bag discovered in a bank in Great Falls, Montana in the early 1960s.
More From GOBankingRates
Make Your Money Work Better for You
Make Your Money Work Better for You