10 Most Expensive Vinyl Records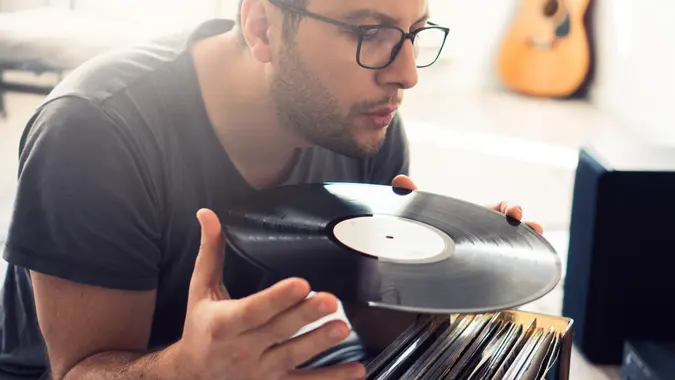 Georgijevic / Getty Images
The Wu-Tang Clan created the most valuable music recording in history — and the story behind it is as outrageous as its price tag. The Staten Island, N.Y., rap group spent six years secretly recording its seventh album, "Once Upon a Time in Shaolin" — but there's a good chance no one will ever hear it.
Inflation Relief Checks: When Will You Get Yours?
See: Here's How Much Cash You Need Stashed If a National Emergency Happens
In an artistic statement with no equal, the group pressed just one copy of the album and encased it in a hand-carved silver nickel box. That box — and the album within — fetched a record-smashing $2.4 million at auction in 2015. Its anonymous buyer turned out to be "the most hated man in America," "pharma bro" Martin Shkreli, a hedge-fund manager turned drug-industry price gouger who went on to serve prison time for a variety of white-collar crimes.
The federal government seized Shkreli's assets, including the album, which it then sold to a 74-member decentralized autonomous organization (DAO) known as PleasrDAO for a new record high of $4 million in 2021. The group minted the album's ownership deed as an NFT and stored the nickel box in a vault in an undisclosed location in New York.
Make Your Money Work Better for You
But Wu-Tang pressed the only copy of history's most exclusive album as a double CD, not a vinyl record. Since it's not on wax, it's not on this list, which is dedicated only to the most expensive vinyl records, each of which has an incredible story and price tag of its own.
Down Home Boys: 'Original Stack O' Lee Blues'
Before he passed away at the age of 86 on Sept. 26, 2022, Joe Bussard assembled what is probably the most significant collection of pre-war 78-rpm records outside of the Library of Congress. According to the New York Times, he had 15,000 of them at the time of his death.
Among them was the original version of a song later popularized as "Stagger Lee" by the Grateful Dead and many others who went on to cover it. Bussard's collection included the only known copy of the Down Home Boys' 1927 recording of "Original Stack O' Lee Blues."
Bussard said he turned down $30,000 for it at one point. Garden & Gun estimates it's worth "upwards of $50,000 today."
Take Our Poll: Do You Have an Emergency Fund Established?
The Beatles: 'Till There Was You'
Sale price: Roughly $105,000.
Make Your Money Work Better for You
"Till There Was You" was the record that convinced music producer George Martin to sign The Beatles. In 2016, AFP reported that an anonymous British collector paid 77,500 pounds for the original vinyl demo record. Known as the "holy grail" of rock records, the 10-inch 78 rpm acetate record featured the namesake single on one side and the single "Hello Little Girl" on the other.
In 2016, the average pound-to-dollar exchange rate was $1.36, meaning that the collector paid around $105,400.
Frank Wilson: 'Do I Love You (Indeed I Do)'
Sale price: Roughly $112,000
A man named Lee Jeffries had quite the run of spending in 2020. The British multi-millionaire got married, bought a Ferrari and dropped six figures on one of the world's rarest records all in the same two-week period. According to the Harborough Mail, he spent 100,000 pounds — the equivalent of more than $112,000 — on a seven-inch 45 that was the only Frank Wilson record ever pressed by Motown Records through its subsidiary company Soul.
'Do I Love You' is known as the world's most valuable Motown record, and Wilson himself remains a hero of Britain's northern soul movement.
Make Your Money Work Better for You
The Beatles: 'Yesterday and Today'
On June 14, 1966, The Beatles got a letter from the president of Capitol Records informing them that he was changing the cover art of their latest album, "Yesterday and Today." The original cover, which depicted the band members in white butcher's coats holding raw meat and decapitated baby dolls, had proved far too controversial for mainstream audiences.
In 2016, a first-state sealed stereo copy of the "Butcher Cover" version of the album — which was meant as an artistic protest of the Vietnam War — sold for $125,000 at auction.
The Beatles: 'Sgt. Pepper's Lonely Hearts Club Band'
'Sgt. Pepper's' is the defining album of the counterculture era, so few eyebrows were raised when estimators predicted that a rare autographed copy would command $30,000 at auction in 2013. An anonymous bidder ended up paying nearly 10 times that amount, crushing not only analyst expectations, but all previous records for a similar item.
All four members of the Beatles are believed to have signed the cover right around the album's release in June 1967, according to The Hollywood Reporter.
Elvis Presley: 'My Happiness'
The King's career began with "My Happiness," the first song that Elvis Presley ever recorded. In 1953, an 18-year-old Presley paid $4 for the recording at Sun Records in Memphis, according to the Christian Science Monitor. That $4 would have been worth about $35.50 in 2015 when it sold at auction at Elvis' former home of Graceland, but The King outpaced inflation.
An undisclosed internet buyer paid $240,000 for the 78-rpm record — plus a 25% premium that made Graceland Auctions $60,000 richer.
The Quarrymen: 'That'll Be the Day'/'In Spite of All the Danger'
Estimated value: roughly $410,000
Before The Beatles, there were the Quarrymen, which consisted of John Lennon, Paul McCartney, George Harrison and a couple of guys most people have never heard of named John 'Duff' Lowe and Colin Hanlon. It was Lowe, however, who wound up in possession of a 1958 Quarrymen recording that Record Collector named the rarest record in Britain in 2012.
The publication estimated the record's value at 200,000 pounds. At 2012 conversion rates, 200,000 pounds was worth about $318,000 that year. Adjusted for inflation, that's $410,212 in 2022 money.
The Beatles: 'The Beatles' ('White Album')
The Fab Four received the first four copies of an album that routinely finds itself near the top of many best-of-all-time lists. Although its true title is "The Beatles," you're more likely to know it as the White Album, thanks to its plain white cover. According to RadioX, the album sold more than 3 million copies in the U.S. alone within four days of its release.
Most of them weren't worth any more than what they paid at the record store, but the first four copies went to the band members themselves. The very first copy — No.0000001 — went to Ringo Starr. According to The Vinyl Factory, the drummer's fingerprints were still on the vinyl when it sold at auction for $790,000 on Dec. 5, 2015, a record-high price at the time.
John Lennon and Yoko Ono: 'Double Fantasy'
In 2020, Goldin Auctions dropped the hammer on a recording that's notable not only for its price tag, but for its gruesome backstory. Five hours before he killed John Lennon on Dec. 8, 1980, Mark David Chapman got The Beatles frontman to autograph a copy of "Double Fantasy" — which he had recorded with his wife, Yoko Ono — outside Lennon's New York City apartment. Chapman would return that evening to shoot Lennon twice in the back.
Along with Lennon's signature in blue ink, the album cover contains police crime scene markings and original notes from an investigating detective who couldn't have known that the piece of evidence he was handling would one day be worth almost $1 million.
Bob Dylan: 'Blowin' in the Wind'
Sale price: Roughly $1.77 million
Bob Dylan borrowed a page from the Wu-Tang playbook when he pressed a one-off physical recording that wasn't meant for mass consumption — and like Method Man, RZA, ODB and company, his efforts broke auction house records.
Dylan recorded a new version of his 1962 folk classic "Blowin' in the Wind" in 2022. Prospective bidders were among the only people who have ever heard it, and in July, one of them plunked down the equivalent of $1,769,508 at Christie's in London.
Dylan's medium of choice was what Variety calls "a newly invented kind of acetate recording… with reportedly higher fidelity and a coating that is said to make it almost impervious to normal wear-and-tear."
Does that count as vinyl? Well, the 10-inch disc can be played on a standard record player, which is enough to land it the No. 1 spot on this list.
More From GOBankingRates
Make Your Money Work Better for You