Combine Your Love of Investing and Music Into One Passive Income Stream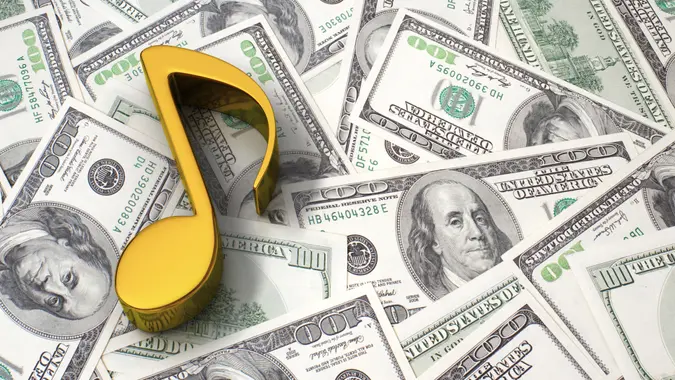 TimArbaev / Getty Images/iStockphoto
Retail investors will soon have the ability to invest in music rights similarly to the way they're able to invest in stocks. Thanks to a recently announced partnership between global trading firm GTS and royalties technology platform JKBX (pronounced Jukebox), retail investors and music lovers will be able to invest in music royalties at scale.
JKBX will work with rights holders to unlock the value of catalog assets by offering them to retail investors in a regulated marketplace, said Jacqueline Ortiz Ramsay, chief communications and public affairs officer. She added that the app and website are slated to be released late 2023.
"Music is a less well-known asset class, but it has existed for a long time," said Ortiz Ramsay. "A handful of private equity firms, multinational corporations and major labels control the most valuable music rights in the world. JKBX's platform will allow these entities and other significant rights holders to unlock the true value of these assets by offering them to retail investors to buy and sell in a regulated marketplace. We believe everyone should be able to have access."
She said that this approach enhances current global music business revenue streams.
"The same way someone today can buy stock in Apple, they should be able to invest in their favorite song," she added.
JKBX Holds Massive Music Catalog Assets
JKBX currently has nearly $2 billion in catalog assets and anticipates launching with more than $4 billion in catalog assets — making it the only music stock trading platform of this scale, according to Ortiz Ramsay.
"JKBX will offer access to songs from chart-topping artists and to thousands of globally-recognized songs spanning multiple genres and decades," she said, adding that the company will "be revealing the names of artists and songs in the coming months."
The way it works will be rather straightforward: Customers will register on the platform (via website or an app) and will then be able to invest in fractional shares of song royalties on the JKBX platform.
"Customers will go through traditional regulatory KYC (Know your customer) processes as required by the SEC [Securities and Exchange Commission]," Ortiz Ramsay added.
The platform is different from other similar models in that it will offer to invest at scale — it is expected to be the largest music rights platform at launch — and it will be a regulated platform.
"Some companies are trying to do it but they are not taking into account the regulatory needs," said Ortiz Ramsay. "As we launch in the U.S., we're focused on working with the SEC to create a fully regulated marketplace."
As for GTS, it will serve as a market maker.
"GTS excels in making markets for every major financial asset class and providing enhanced liquidity through sophisticated, real-time pricing," said Ari Rubenstein, co-founder and CEO of GTS, in a press release. "This same expertise can be applied to music royalties, which represent the next exciting tradeable asset class. JKBX, with its music royalties platform and extensive catalog rights, is an ideal partner for us."
Interested fans and investors can already join the waiting list on the JKBX website.
More From GOBankingRates