45% of Americans Do Not Expect To Receive Generational Wealth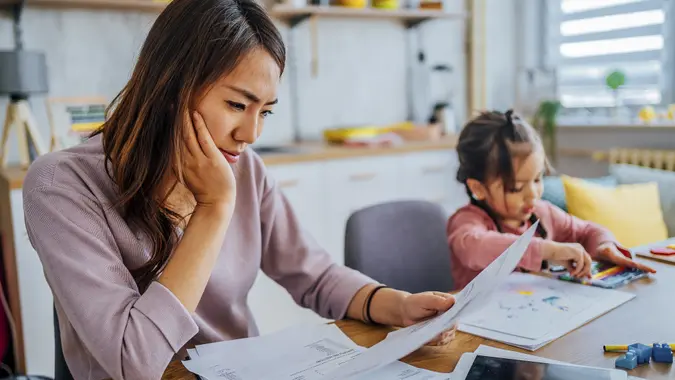 LordHenriVoton / iStock.com
The Silent Generation and baby boomers will hand down $84.4 trillion in assets through 2045, according to financial industry market data firm Cerulli Associates. They'll give some to charity, but most will go to their heirs.
It's come to be known as the Great Wealth Transfer, and over the next two decades, parents will pass down more money to their children than at any time in history — but not everyone will get a piece of the pie.
A new GOBankingRates survey of more than 1,000 people found that nearly half the country isn't banking on receiving any inheritance from their parents or other relatives.
With such a fortune changing hands, how could so many people be left out and what should they do now to achieve financial security on their own? GOBankingRates asked the experts.
Most Middle-Aged People Are on Their Own
The study showed that about 46% of people expect no inheritance, with women more likely to be left out than men by a margin of 50% to 41%. But the greater disparity was age-based.
Naturally, the oldest respondents age 65 and up were the least likely to expect an inheritance  — only one in three do.
On the other end of the spectrum, Gen Zers ages 18-24 are the most likely to anticipate legacy assets. About three out of four are banking on a generational windfall, as are more than two out of three young millennials ages 25-34.
Make Your Money Work Better for You
But most older millennials and Gen Xers — the children of the baby boomers who are handing down the lion's share of the wealth — don't plan on inheriting assets from their parents. Between 54%-58% of middle-aged adults will be left out of the greatest generational wealth transfer in history.
The Haves Will Do Most of the Giving
You might assume that with an $84.4 trillion pot, there would be enough to go around. But according to the Cerulli report, "$35.8 trillion (42%) of the overall total volume of transfers is expected to come from high-net-worth and ultra-high-net-worth households, which together only make up 1.5% of all households."
That leaves just 58% of the pie for the lower 98.5% to divvy up among their children.
"The distribution of wealth in the United States is uneven, which means there is a big gap between the richest and poorest individuals," said Baruch Silvermann, financial expert and CEO of The Smart Investor. "Many people come from families that didn't have a lot of accumulated wealth, so they have less chance of receiving an inheritance. Many families simply don't have many valuable assets or resources to pass on to their children or other heirs."
Most People Had To Spend the Money They Might Have Passed Down
Plenty of families would have liked to have handed down money to give their kids and grandkids a head start, but they've been grappling with obstacles familiar to anyone who has been trying to get ahead over the last few decades.
Make Your Money Work Better for You
"This includes things like housing, education, healthcare, and other basic needs," said Silvermann. "These rising expenses make it harder for families to save money for future generations. For example, the price of homes in the United States has doubled from 2000 to 2020, according to data from the Federal Housing Finance Agency. Also, healthcare costs have been on a consistent rise due to factors like medical inflation, advancements in technology, and increasing demand for services. These escalating expenses can leave individuals with less financial capacity for inheritance."
Not Everyone Builds Wealth With Their Children in Mind
While most people aren't leaving money to their kids because of a lack of resources, others have it, but would rather spend it themselves or give it to charity. There's also a common mentality that views inherited money not as a blessing, but as a detriment that incentivizes mediocrity. Some of the richest and most successful celebrities and tycoons are on record as saying they don't plan to hand off their fortunes to their kids.
"Many people I know, including some relatives, are not pro-generational wealth," said Samantha Hawrylack, a personal finance expert, retirement mentor and co-founder of the personal finance site How To FIRE. "They pretty much have the mindset that they will spend it all before the end."
If You're Not an Heir, Start Planning — And if You Are, Don't Bank on It
Hawrylack agrees with Silvermann that financial disparity, rising costs and stagnating wages are why so many people will miss out on so much affluence. But she also worries that too many younger people are betting on bequeathed fortunes that could be lost to the same economic forces that precluded so many from acquiring them in the first place.
Make Your Money Work Better for You
"How much of that generational wealth will be eroded by rising health and aged care costs as they live longer and are forced to sell their principal asset, their house, to fund elderly care?" she said.
For example, only around 15% of the study's respondents expect to inherit more than $100,000. Yet according to SeniorLiving, the average room in a nursing home costs $8,000-$9,000 per month, enough to evaporate that entire haul in less than a year.
That means those who don't anticipate an inheritance might be better off than those who do — at least they won't be disappointed. Either way, both groups should strive for self-reliance.
"The answer lies, in part, in taking ownership of one's own financial future," said Scott Allen, co-founder and licensed agent at Seniors Life Insurance Finder. "This can be done through proper planning and preparation for retirement, as well as disciplined saving and investing. Working with a qualified financial advisor to create a comprehensive plan for life-long wealth management is a smart option that will help individuals make the most of their money."
More From GOBankingRates