A $6,000 Phone Bill and 2 Other Times Autopay Would Have Been Terrible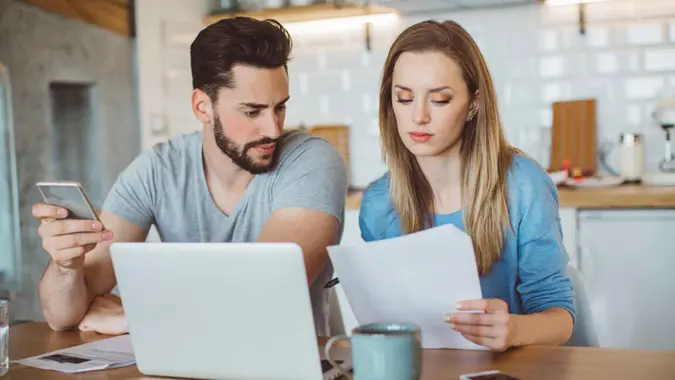 svetikd / Getty Images
Setting up recurring automatic bill payments, or autopay, is an easy and convenient way to ensure your bills are paid on schedule while freeing up time for other tasks. Automated loan and credit card payments can simplify your monthly finances, prevent late fees and help build a history of timely payments that lead to credit score improvement.
However, there are drawbacks to autopay for individuals. Automated payments could put you at risk of an overdraft of your account and having a payment returned for non-sufficient funds could lead to steep fees. Anyone who has varying monthly income and no cash buffer in their account should probably avoid autopay options.
Autopay can be a convenient option for managing recurring payments, but there are situations where it could potentially cause major problems for your finances. Here are some real-world scenarios where the use of autopay could have had (or already has had) terrible consequences for American households.
A $6,000 Phone Bill Is Better Than…
Unless you have an unlimited cellphone plan and the same charges every month, autopay isn't the greatest for phone billing. Charges and billing cycles can vary if your don't use an unlimited plan. Not having a consistent payment or date can catch a user off guard — or in the case of Lulú Tovar, could have put her finances in definite danger if she was a registered AT&T autopay customer.
Make Your Money Work Better for You
Back in September 2022, Tovar took to TikTok to express her frustration with an AT&T bill blunder and its subsequent customer support. Posting a screenshot of her $5,973.98 bill, she claimed that the company assured her several times that her bill was only $120, but also that it took weeks of follow up conversations to finally get the proper bill officially verified and changed.
Tovar didn't forget about any extraordinary cell usage and the administrative mishap was eventually fixed. However, financial distress (and dealing with customer support) can overwhelm a person and it's no wonder Tovar had such a strong reaction. "I wish this was a joke. AT&T really making me want to KMS today," she posted.
…A $13,000 Utility Bill!
Administrative or overbilling errors happen all the time, but as NBC affiliate News10NBC reported, the billing snafu charged to Wayne County resident Cooper Campbell could have been much worse if he had been enrolled in autopay for his New York Electric & Gas bill.
News10NBC has been following up on a number of Rochester Gas & Electric and New York Electric & Gas customer complaints for months, but Campbell didn't think he would be added to the pile. "I just honestly didn't think it was going to hit us," he said in February.
When Campbell's girlfriend opened their electric bill for the previous month, she was shocked to see a three-day usage of 100,000 kilowatts and an outstanding bill balance of $13,456.14. While the billing error was rectified by the utility, Campbell is thankful to not have signed up for autopay. "I'm glad we don't have autopay because we wouldn't have a penny in our account," Campbell said.
Make Your Money Work Better for You
Texas TxTag Autopay Troubles
KXAN, an NBC affiliate in Austin, Texas, has been busy investigating a host of complaints related to the state's Department of Transportation toll road and TxTag service. Concerning autopay of the service, there have been numerous complaints about higher rate fees, duplicate bills or late fees coming in the mail.
In the last three years, records show as many as 184 customers had problems related to automatic payment, accounting for more than 20% of the total complaints sent to the Texas Department of Transportation (TxDOT) in that timeframe, per KXAN.
For Joe Hanson, a screen printer technician, his decision to use autopay for his monthly toll cost him a lot of extra money after numerous TxTag errors caused his account and bills to fluctuate wildly.
"None of this adds up," Hanson told KXAN. "I don't know if any of the money I gave them — over $1,000 — went towards any of this. It doesn't kind of look that way. Being a person that wants to stay on top of their life and their bills and everything else, and having some entity take that away from you? That's very, very frustrating."
While Texas' DOT previously blamed complaints on customers and their shoddy account management, it eventually admitted to underperforming vendors. The KXAN investigation found the state DOT has rejected "hundreds of thousands" of toll transactions, including many customers being billed by mail — even when they were signed up for automated toll billing.
Make Your Money Work Better for You
More From GOBankingRates