AI Side Hustle: How 2 Friends Turned $185 Into $150,000 — And How You Can, Too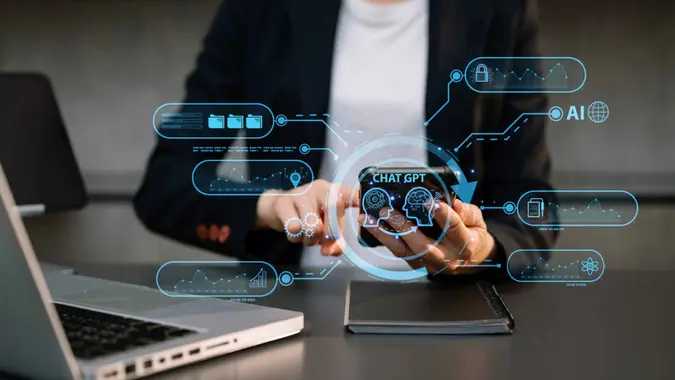 nuttapong punna / Getty Images
The rapid surge of artificial intelligence is not only changing the workplace, but enabling some savvy users to make a lot of money. While much has been said about one of the technology's potential threats — replacing jobs — two individuals, Sal Aiello and Monica Powers, launched a profitable side hustle in four days. Shockingly, they spent less than $200 to get it started, CNBC reported.
The two friends used ChatGPT to start running their ideas past the AI tool, using it as a market research tool.
"Then, they realized they knew how to ask ChatGPT the exact right questions to get useful answers — and other people probably didn't," CNBC reported.
Enter DimeADozen, which they launched a few days later.
"We're living in a new era of AI where we now have the ability to reduce the risk of starting a new business. Using decades of business expertise and the power of GPT-4 we can now help small businesses learn about their market and customers before they even start," DimeADozen claims.
DimeADozen helps entrepreneurs "pressure-test their business ideas," and charges $39 for a comprehensive report, according to CNBC.
AI Tools Can Seriously Reduce Research Time
According to a blog post on the website, AI tools such as this one "can significantly reduce the amount of time spent researching markets and customer segments" — both of which are crucial for success.
Make Your Money Work Better for You
So far, the service has helped more than 75,000 businesses, according to the website. One testimonial reads: "It's like a roadmap for success."
Last month, Aiello and Power struck a deal to sell the side hustle for $150,000. The side hustle originally cost them a grand total of $150 for the web domain and $35 on hosting and a database, according to CNBC.
How feasible is it to launch a similar, successful business using AI?
According to Scott Lieberman, founder of Touchdown Money, the key to this kind of business is that you're saving people time and money.
"Potentially, you can create a particular recipe of prompts and instructions to solve a problem using AI. Then package that recipe as a stand-alone product," said Lieberman.
For instance, he said that if you've created a way to use AI graphic design tools to make product labels based on inputs, you could package that as a product.
"Busy business owners would pay for the convenience of using your complete solution as opposed to them having to learn how to use AI," he added.
More From GOBankingRates