Here's the Average Age of First-Time Investors in 2023 for Men vs. Women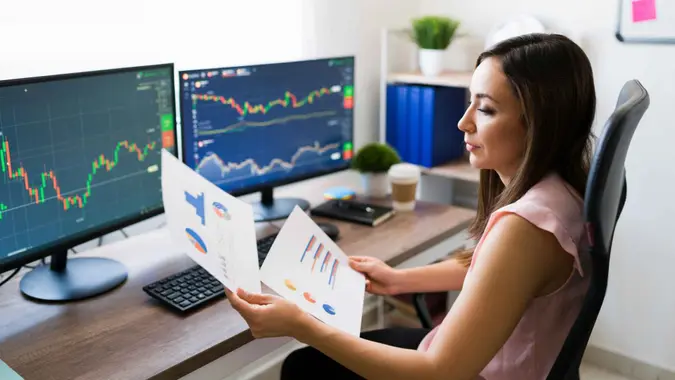 Antonio_Diaz / Getty Images/iStockphoto
In 2023, the landscape of first-time investors is seeing a notable shift, with women stepping into the investment world earlier than men. This change is not just a statistical anomaly but a reflection of evolving financial behaviors and priorities among both genders.
A Shift in Investment Dynamics
According to research from Janus Henderson, as reported by FT Adviser, women are starting to invest at an average age of 32, three years younger than their male counterparts who start at 35. This is a significant revelation, considering the longstanding gender investing gap, with women traditionally investing less than men. As FemaleInvest detailed, a study by Fidelity found that 67% of women are now investing outside of their retirement accounts, a substantial increase from 44% in 2018.
The Gender Investing Gap
The gender investing gap is a well-documented phenomenon, with women statistically proven to invest less than men. This gap is attributed to various factors, including differences in financial priorities and confidence levels in investing. As FemaleInvest revealed, just 48% of women have money in investments within the stock market, compared to 66% of men. Additionally, BNY Mellon disclosed that only one in 10 women globally felt they fully understood investing.
The Confidence Factor
Confidence, or the lack thereof, plays a pivotal role in investment behaviors. Only 33% of women reported feeling confident handling their own investments, per Fidelity's 2021 survey. This lack of confidence is also reflected in the perception of risk, with 45% of women viewing the stock market as too risky. However, this aversion to potential risk appears to diminish with age — 62% of women from the silent generation feel equipped to handle investments, compared to 46% of millennial women, per FemaleInvest.
Make Your Money Work Better for You
The Impact of Early Investing
Starting to invest earlier has profound implications for financial stability and wealth accumulation. James de Sausmarez, head of investment trusts at Janus Henderson, emphasized the importance of starting the investment process as early as possible, regardless of the amount involved.
"It's great to see that women are making the decision to invest earlier than men, and it certainly gives hope that the industry is making some headway in helping close the gender savings gap… At the heart of the issue is financial education, it's crucial that first-time investors understand that the first pound invested is in many ways the most important one because starting that process as early as possible, regardless of how much or how little money it involves, is the first step towards achieving that goal of ensuring a comfortable retirement."
Early investments are crucial steps towards ensuring a comfortable retirement, especially in the context of rising living costs and uncertainties regarding state pensions — and the solvency of Social Security.
The Bottom Line
The trend of women investing earlier than men is a positive sign towards closing the gender investing gap. It's vital that both men and women be financially educated and aware of the importance of investing from an early age. The industry is showing signs of progress, but continuous efforts are needed to encourage more women to invest and to feel sure in their investment decisions.
Editor's note: This article was produced via automated technology and then fine-tuned and verified for accuracy by a member of GOBankingRates' editorial team.
Make Your Money Work Better for You
More From GOBankingRates