Bill Gates: 7 Things He Won't Waste Money On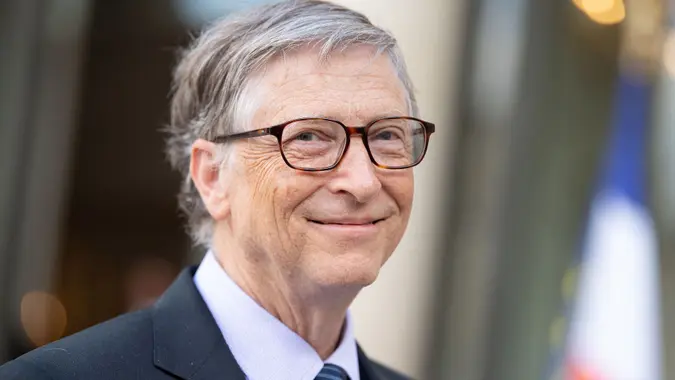 ©David Niviere/Sipa/Shutterstock
In the world of billionaires, frugality may seem like an alien concept. However, for Microsoft co-founder Bill Gates, one of the richest individuals globally, a cautious approach to spending has been a defining characteristic. Here are seven things that Gates refrains from splurging on, each reflecting his unique perspective on money, philanthropy, and life.
1. Accumulating Wealth
Bill Gates has long distanced himself from the pursuit of wealth accumulation. He has committed to donating the vast majority of his wealth to philanthropy, expressing his intention to move down and eventually off the list of the world's richest people, per a CNN Business report. Gates' perspective on wealth is not about hoarding but about giving back, a principle he stands by firmly.
2. Lavish Spending
Gates has been notably meticulous with his expenditures, emphasizing the importance of being careful with money as opposed to spending it lavishly. His unique policy when it comes to money and spending reflects a philosophy of moderation and prudence, even with his billionaire status. Snapreads Magazine detailed that, as early as 1998, Gates was exhibiting signs of financial foresight and relative frugality.
3. Luxury Items for Children
Believing in the value of education and charity, Gates emphasizes investing in these areas over lavish spending on luxury items for his children. According to Snapreads Magazine, "Gates has spoken about how it's not the best idea 'for your kids to give them a whole ton of money.'"
Make Your Money Work Better for You
4. Extravagant Food
"How much food can you eat?" Gates once remarked, per CNBC. For Gates, the practicality and necessity of food — particularly the provision of food security in developing nations — are more important.
5. Yachts and Lamborghinis
Gates has a reputation for not owning ultra-luxurious items like yachts and Lamborghinis, as Luxury Launches detailed. However, according to Observer, that didn't stop Gates from hosting his 66th birthday party on a rented superyacht in 2021, with Amazon's Jeff Bezos in tow. He's also the proud owner of a Porsche 959, so it can't be said that he doesn't splurge at least a little.
6. High-End Watches
Gates has no interest in flaunting his wealth on flashy jewelry or high-end watches. He even proudly shared that he was wearing a $10 Casio timepiece during an event in 2014. His wardrobe is also modest, reflecting his overall approach to life and wealth.
7. Colonizing Mars
Gates has expressed skepticism about Elon Musk's ambition to colonize Mars, questioning whether it is a good use of money. He believes that funding vaccine development is a better use of cash than putting people on the red planet. "It's actually quite expensive to go to Mars," he said, per CNBC. "You can buy measles vaccines and save lives for a thousand dollars per life saved. It just kind of grounds you; don't go to Mars." Gates has famously sparred with Musk in the past, particularly on Twitter.
Make Your Money Work Better for You
A Complex Philanthropist
Bill Gates' relative frugality and focus on philanthropy over excessive personal indulgence provide a unique perspective in a world often captivated by extravagance. Whether it's avoiding overly lavish spending or questioning the value of colonizing Mars, Gates remains grounded in his beliefs, emphasizing the impact one can make on Earth over the allure of luxury and the unknown.
Editor's note: This article was produced via automated technology and then fine-tuned and verified for accuracy by a member of GOBankingRates' editorial team.
More From GOBankingRates