Collect Wheat Pennies? These Variations Could be Worth Up To $7,500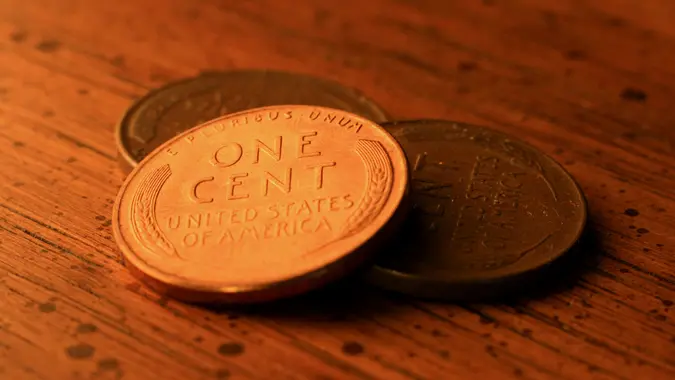 Jitalia17 / iStock.com
Rare coin dealing can bring in a pretty penny, and it's relatively easy to do. All you really need is ironclad patience and a keen eye for detail. Seasoned coin collectors are already well familiar with Wheat Pennies, a U.S. one cent coin issued from 1909 to 1958that has an image of Abraham Lincoln on the obverse side and two stalks of wheat on the reverse side.
How You Can Make Up To $100,000 From 'Coin Roll Hunting': Here Are 5 Tips for Making Money From This Hobby
But do they know exactly which variations could be worth $3,000 or even more, potentially? Let's explore. 
1909-S VDB
Wheat pennies are, well not exactly a dime a dozen, but they're pretty common. They go for about three to five cents a pop because they're just nothing special in the world of rare coins. But the 1909-S VDB is a standout example of where things start to get quite interesting for Wheat Pennies. 
In 1909, the U.S. Mint halted production of Indian Head pennies and began producing Lincoln cents. Victor David Brenner designed the new penny and put his initials "V.D.B." to the reverse of the coin between the stalks of wheat. Only 484,000 coins were produced, which is what makes it so rare. You can easily spot this coin by making out the "S" (for San Francisco) under the date on the obverse and Brenner's initials "V.D.B." on the other side.
According to The Spruce Crafts, the 1909-S VDB sells from between $500 and $1,600.  
Make Your Money Work Better for You
1909-S
Another example of things getting interesting for little old Wheat Pennies. The 1909-S. Here's the story with this one: After the Mint's Chief Engraver Charles Barber saw Victor D. Brenner's initials on the 1909-S VDB, he petitioned the Mint Director to have them removed. 
His request was met, in Philadelphia, but there was only enough time remaining in the year to mint 1,825,000 coins, aka,1909-S coins. These coins aren't as rare as 1909-S VDB coins, so they do not sell for as much. According to The Spruce Crafts, they go for between $70 and $370. 
1909-S Over Horizontal S
This valuable coin is the result of an error. Until 1990, mint workers used a small letter punch to apply the mint mark to the working die by hand. They could only be so precise. Dies that had mintmark mistakes on them were not scrapped but repaired, and errors were not always completely erased. That's what happened with this coin. You can see faint remnants of the "S" that was punched horizontally instead of vertically. 
The Spruce Crafts estimates that this coin goes from between $80 and $400.
1914-D 
Sometimes you don't have to be that rare to be that exquisite. You just have to have barely made it out alive. That's the case with the 1914-D Wheat Penny. It has a mintage of 1,193,000 coins, so, not very rare, but it has one of the lowest survival rates. Much publicity surrounded this coin, as it was launched on the 100th anniversary of Lincoln's birth. Many people saved them, which took them out of circulation. 
According to The Spruce Crafts, this coin has an estimated average value of between $150 and $3,000.  
1917 Double Died Reverse 
Here's where you can start making some serious money if your coin is in good enough shape. This coin is also the lucky result of an error in the manufacturing process when the mint craftsman made two impressions that were just slightly offset from one another. You can tell because both doubled images are raised when only one should be. 
Make Your Money Work Better for You
Look for deep doubling in the word "trust" and on the date. Using magnifying glass is recommended. According to The Spruce Crafts, this coin fetches anywhere from $160 all the way up to $7,500. 
More From GOBankingRates