Do You Own a US Peace Dollar Coin? It Could Be Worth Up to $132,000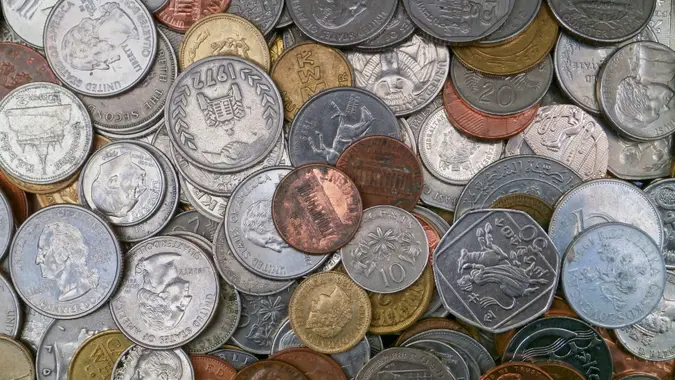 Gwengoat / iStock.com
It seems quaint now, but a century ago World War I was known as the "war to end all wars" because of its vicious and deadly battles. Obviously, that prediction fell short of the mark — a bigger world war arrived a couple decades later, and it was followed by a steady string of smaller wars. But the end of World War I was greeted with such optimism that the U.S. Mint released a series of "Peace" coins that today command very high prices.
The Peace silver dollar was designed to commemorate peacetime following the end of World War I in 1918, according to a blog on the Atlanta Gold & Coin Buyers website. The coin features a crowned Lady Liberty on the front and an American eagle overlooking a sunrise on the back. The Peace dollar was minted from 1921 to 1928 and in 1934 and 1935.
Most Peace silver dollars were placed directly into circulation, Atlanta Gold & Coin Buyers noted, and most of the coins today "show evidence of regular use" and have "somewhat nominal value" outside of their silver content.
The rarest and most valuable Peace silver dollar in circulated condition is the 1928-P (Philadelphia-issued) variety with a mintage of 360,000 coins. Prices can vary anywhere from $150 to $300, depending on the coin's condition.  
But some individual Peace dollars fetch a whole lot more than that. A 1921 "high relief" Peace silver dollar set an auction record for the series of $132,000, according to the Gainesville Coins website.
"Like many other new coin designs at the turn of the 20th century, the initial Peace dollar had very high relief features," Gainsville Coins noted in a blog. "This led to there not being enough silver in the blank to completely fill the highest point in the design when struck under normal pressure. For this reason, fully struck Mint State coins command a premium."
Make Your Money Work Better for You
Even so, the $132,000 coin was an outlier. Although some of the most valuable Peace dollars fetch a lot of money, the vast majority don't come near that figure. Here's a list of 10 of the most valuable Peace dollars as cited by Coin Trackers:
1928 S Peace Dollar: $16,500
1925 S Peace Dollar: $15,000
1924 S Peace Dollar: $8,200
1934 S Peace Dollar: $8,000
1927 S Peace Dollar: $6,200
1927 D Peace Dollar: $4,250
1928 Peace Dollar: $3,500
1923 S Peace Dollar: $2,800
1921 Peace Dollar: $1,600
1934 D Peace Dollar: $1,320
More From GOBankingRates