Check out This $1.5 Million Half Dollar Coin and Others Worth Well Over 50 Cents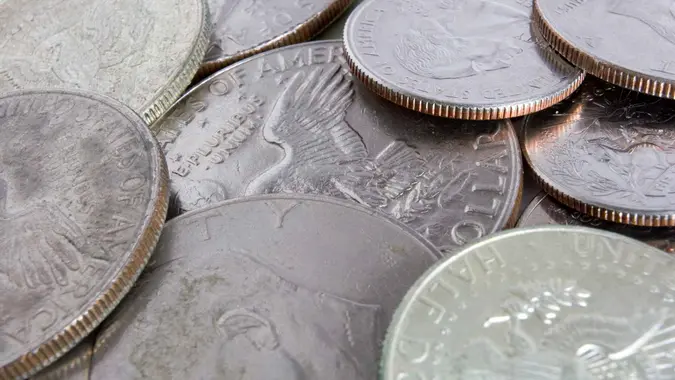 SorenP / Getty Images/iStockphoto
The half dollar is one of the most popular U.S. coins to collect. Many aren't worth more than their face value — though older half dollars often hold value due to the silver in their composition — and the value of any coin is subject to its rarity, condition and demand, per CNBC Make It. However, some of the most valuable 50-cent pieces sell to coin collectors for thousands or even millions of dollars. Before you spend your coins, look out for some of these valuable half-dollars worth up to $1.5 million.
1797 Draped Bust Half Dollar
The 1797 draped bust half dollar coin was the final draped bust design on the half dollar and only ran for two years, according to CoinCollecting.com. Fewer than 3,000 were minted, and it's estimated that less than 200 coins exist today. In 2015, an MS66-graded coin sold for $1,527,500.
1796 Draped Bust Half Dollar 16 Stars
The 1796 draped bust half dollar earned its sixteenth star when Tennessee entered the union, and CoinCollecting.com estimated that only 40 coins still survive. In 2015, an MS66-graded coin sold for $822,500, but USA Coin Book indicated a coin in average condition could be worth over $47,000. Even the coin's melt value is worth something — approximately $9.75.
1838-O Capped Bust Half Dollar (Proof)
This is an extremely rare coin, and CoinCollecting.com suggested less than 12 are known to exist — and only 20 proofs were ever minted. The 1838-O capped bust half dollar was the first coin minted at the New Orleans Mint and an SP64-graded coin sold for $763,750 in 2014.
Make Your Money Work Better for You
1853-O Seated Liberty Half Dollar
This is another rare coin, and USA Coin Book said the rarest is the Type 1 1853-O seated liberty half dollar (without arrowheads at the date and no rays on the reverse). Only four exist; the most recent was discovered by accident in 2012 in very good (VG-8) condition. This coin sold for $218,500 at auction.
1796 Draped Bust Half Dollar 15 Stars
The 1796 draped bust half dollar with 15 stars is one of the most famous collectible coins in the U.S. When Tennessee was added to the Union, the sixteenth star was added halfway through the year. In 2008, CoinCollecting.com said, an MS63-graded coin sold for $373,750. However, USA Coin Book noted that an example could be worth $1.6 million or more in uncirculated mint condition.
More From GOBankingRates