7 Electric Vehicles Only the Rich Can Afford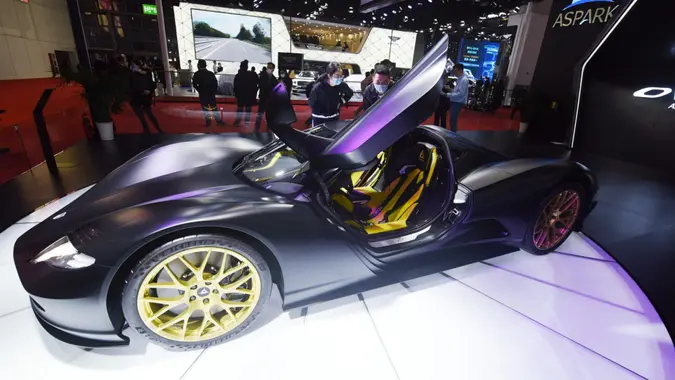 In recent years, electric vehicles (EVs) have made remarkable strides in terms of performance, luxury and innovation. The automotive industry has witnessed the emergence of high-end EVs that cater to the tastes and preferences of the world's wealthiest individuals. This list explores seven of the most exclusive EVs currently available.
The vehicles on this list range from luxury to supercars to hypercars. While luxury vehicles are often high-performance, the primary focus is on comfort and driver experience. Supercars go beyond that to offer performance levels usually only seen on a race track. In fact, many are so powerful that they aren't very practical to drive in normal traffic. Hypercars take it one step further — usually produced in very limited quantities, they perform at the highest levels of currently available technology, and typically have price tags in the millions. Check out our list of seven EVs only the rich can afford.
Porsche Taycan
The Porsche Taycan is an electric sports car that combines the brand's legendary performance with eco-friendliness. With multiple variants, including the high-performance Taycan Turbo S, it offers up to 750 horsepower and a range of around 200 miles. The Taycan is known for its precise handling and luxurious interior.
"The Taycan is an electric car with a wide range of four-door models, offering rapid acceleration, poised handling, and a high-zoot interior," said Steve Feiner, founder and CEO of Auto Almanac. "Porsche has tweaked the car's tech for efficiency, increasing its EPA-estimated electric range. The Taycan is all-wheel-drive and offers impressive electric-car handling."
Lucid Air Dream Edition
Make Your Money Work Better for You
The Lucid Air Dream Edition is another more "accessible" option among these exclusive electric vehicles. It offers a blend of performance, luxury, and cutting-edge technology, with a range of up to 503 miles. Its spacious and meticulously crafted interior rivals the best in the luxury segment.
"Lucid entered the market with a bang," said Patryk Doornebos, owner of Car Triple. "Their Dream Edition brings 1,111 horsepower to the table. This isn't just about raw power; the Air boasts a spacious interior and features like a 34-inch curved Glass Cockpit 5K display that merges the instrument cluster and infotainment system."
Cadillac CELESTIQ
The Cadillac CELESTIQ is a luxury electric sedan that aims to redefine GM's image in the electric vehicle market. It's expected to offer advanced technology, a spacious and opulent interior, and a range of over 300 miles on a single charge.
"While a four-zone microclimate system and customizable smart glass catering to every passenger certainly sound fancy, it's the 'bespoke' aspect of the CELESTIQ that really sends its price into the stars its name conjures up," said Steve Birkett, senior EV editor at Find The Best Car Price. "The individually designed, hand-built approach to this EV means that only a handful will be produced in any given week, with a maximum of 500 cited by GM as their annual cap."
Rolls-Royce Spectre
The Rolls-Royce Spectre, the first all-electric offering from the legendary luxury automaker, promises an opulent driving experience. After over 100 years of building high-end cars, luxury and elegance have become synonymous with Rolls-Royce, and the Spectre looks to be no exception.
Make Your Money Work Better for You
"Touted as the brand's first full-electric offering, the Spectre retains the luxury one expects from Rolls-Royce. Owners are treated to a silent and serene driving experience, bespoke customization options, and world-class craftsmanship," Doornebos added.
Drako GTE
The Drako GTE is a limited-edition electric supercar that focuses on delivering an exceptional driving experience. Its four electric motors have a combined output of 1,200 horsepower, and its adaptive torque-vectoring system ensures precision handling.
"The GTE has a modern appearance, can reach 60 mph from 0 in less than 2 seconds, and can reach a top speed of 206 mph. It is making a comeback, reinforcing its legacy as an engineering marvel and a powerful hyper sedan despite a low production run and a premium price tag," said Ankit Dhadwal, founder and CEO of Mount Shine.
Lotus Evija
The Lotus Evija is a limited-production electric hypercar that boasts a breathtaking design and cutting-edge technology. Despite it being one of the most powerful production EVs ever, it offers a range of approximately 250 miles, adding a bit of practicality to its over-the-top performance.
"This hypercar has a power output of 2,000 horsepower and is limited to just 130 units globally. With a 0-60 mph time of under 3 seconds and aerodynamic design, it stands as a pinnacle of performance EVs," said Anup Kayastha, founder of AutoLoanCalculator.
Aspark Owl
By far the most expensive vehicle on this list, the Aspark Owl is a hypercar designed to deliver an electrifying performance. With a top speed of 248 mph and a 0-60 mph time of just 1.69 seconds, it's one of the fastest EVs on the planet. 
Make Your Money Work Better for You
"Aspark Owl is an amazing electric vehicle from Japan. Only 50 of these extremely pricey cars were produced. Its carbon fiber body and striking exterior design make it a true collector's item," Dhadwal said.
More From GOBankingRates