Undefeated Boxing Champ Floyd Mayweather's Top Payouts in the Ring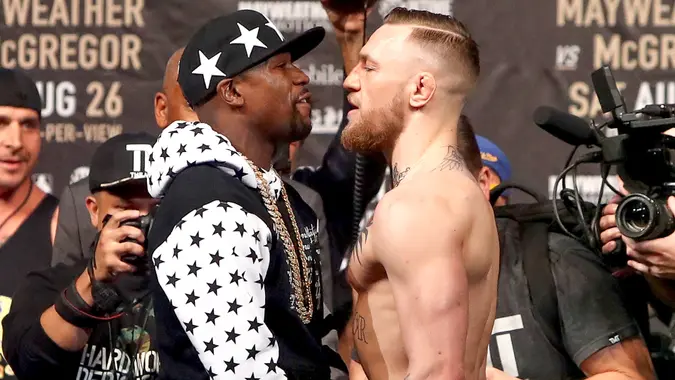 Mike Lawrie / Getty Images
Boxing great Floyd Mayweather Jr. claimed his most recent victory on Saturday against MMA fighter Conor McGregor after 10 rounds of hard-fought boxing.
Here's a look at a few of Mayweather's top paydays in the ring.
Conor McGregor
Date: August 26, 2017Payout for Mayweather: Estimated $390 million
Prior to the headline event that captivated the globe, Mayweather was comfortable in his retirement — he touted a perfect record up until that point — but was lured back to the ring with a unique competitor. McGregor, a 29-year-old Irishman who is more familiar with the octagon than the boxing ring, came from the world of Mixed Martial Arts (MMA) and provided Mayweather with a chance to put his nickname — Money — where his mouth was.
According to CBS Sports, UFC President Dana White was calling the match-up "the biggest fight ever," estimating it to be the largest Pay-Per-View sale in history with estimates putting the fight at over 4.9 million purchases. Plus, with a guaranteed payday over $100 million for Mayweather from the get-go, people far and wide knew they were in for a show.
The two fighters tangoed for 10 rounds, with the younger McGregor looking much like the stronger fighter for the first few rounds in the ring. Mayweather gained confidence towards the back end of the match, however, and experience proved dominance — resulting in a TKO for Money in the tenth round, adding another win to his flawless record.
Make Your Money Work Better for You
Manny Pacquiao
Date: May 2, 2015Payout for Mayweather: $240 million
Mayweather and Pacquiao were rising champs in the early 2000s, and they were among the highest-paid athletes after their wins over Oscar De La Hoya (in 2007 and 2008, respectively). Soon after, boxing fans started clamoring for the sport's top draws to fight, but negotiations between the Mayweather and Pacquiao camps stalled for six years.
Shortly after the two fighters spoke face to face at an NBA game in Miami, it was announced that a showdown would take place at the MGM Grand in Las Vegas in May 2015. The event — which Mayweather won with a unanimous decision — crushed all records for PPV buys (4.4 million) and revenue generated (more than $500 million).
Pacquiao fought with an injured shoulder and didn't give Mayweather the challenge fans expected. Despite Mayweather's 2015 retirement, rumors continue to swirl about a future rematch — particularly after the McGregor match.
Related: 19 Athletes Who Lost Their Huge Endorsement Deals
Saul 'Canelo' Alvarez
Date: Sept. 14, 2013Payout for Mayweather: $80 million
When Mayweather signed on to fight Saul Alvarez, the latter was a 23-year-old superstar in his native Mexico. At the time, Alvarez — who goes by "Canelo," the Spanish word for cinnamon — was undefeated with a record of 42-0-1.
Make Your Money Work Better for You
The Mexican boxing phenom suffered a career hit when he fought Mayweather with their belts on the line. Mayweather won the bout via majority decision, earning a guaranteed $41.5 million for his efforts at the MGM Grand. His percentage of the 2.2 million PPV buys pushed his total up to an estimated $80 million. The fight set a record for the largest gross gate totals, bringing in $20 million in ticket sales. Only Mayweather's 2015 fight with Pacquiao made more money.
After the fight, Alvarez quickly reestablished himself as one of the world's top fighters. Now 26, the boxer has won six straight bouts and currently ranks No. 8 on The Ring's list of the best boxers on a pound-for-pound basis.
Miguel Cotto
Date: May 5, 2012Payout for Mayweather: $45 million
In the final bout of his HBO contract, Mayweather moved up in weight to take on WBA world super welterweight then-champion, Miguel Cotto (154 pounds). The event, which was held at the MGM Grand in Las Vegas, saw Mayweather beat the Puerto Rican star by decision in one of the toughest fights of his career.
"You're the toughest guy I ever fought," Mayweather told Cotto after the bout.
Mayweather's guaranteed purse for the fight was $32 million, besting the $30 million record that Mike Tyson earned three times in his career. Mayweather's share of the PPV revenue pushed his total for the Cotto fight up to an impressive $45 million.
Make Your Money Work Better for You
Where Are They Now? Celebrities Who Got Their Start in the WWE
Shane Mosley
Date: May 1, 2010Payout for Mayweather: $40 million
At the age of 38, Shane Mosley was a five-time champion heading into his matchup with Floyd Mayweather Jr. However, youth trumped experience in this bout, and the 33-year-old Mayweather cruised to a lopsided unanimous decision over the veteran Mosley at MGM Grand in Las Vegas.
Mayweather was guaranteed $22.5 million for the Mosley battle, which ended up being one of the top-grossing PPV fights in history. The event sold 1.4 million views, trailing only Mayweather's fight with Oscar De La Hoya among non-heavyweight pay-per-view battles and upping Mayweather's payout significantly.
Victor Ortiz
Date: Sept. 17, 2011Payout for Mayweather: $40 million
After winning the WBC welterweight belt in a previous bout with Berto, Victor Ortiz lost it to Mayweather in the biggest fight of Ortiz's career.
Ortiz said he complained to referee Joe Cortez about repeated elbows from Mayweather during the fourth round of the pair's MGM Grand bout. When Cortez did nothing to stop the alleged blows, Ortiz attempted to head butt the other boxer in retaliation. After, Ortiz said he felt bad and walked over to Mayweather to apologize. While Ortiz's hands were at his sides, Mayweather delivered a controversial combo that sent Ortiz to the canvas for good.
Make Your Money Work Better for You
Mayweather made $25 million guaranteed for the fight, but PPV percentages upped his total earnings to $40 million. The New York Times reported that Mayweather paid Ortiz more than $2 million from his own pocket for the fight.
Up Next: Michael Jordan, LeBron James and 10 of the Biggest Sports Endorsement Deals