How Much Does It Cost To Rent a Private Mansion?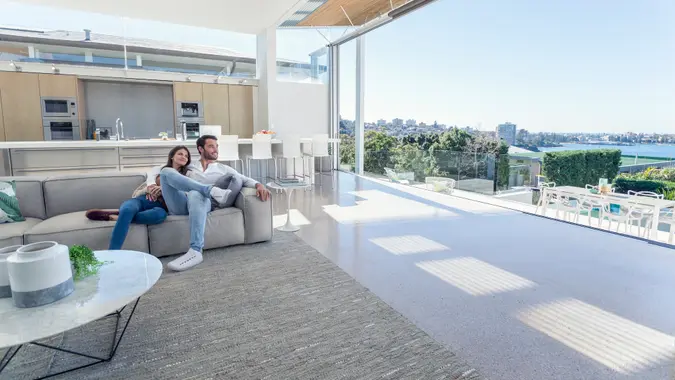 courtneyk / Getty Images
Nothing says luxury quite like a private mansion. Grand entrances, gorgeous views, poolside bars — a mansion could be the perfect backdrop for your photoshoot or a stunning getaway. But how much does it cost?
Renting a private mansion could be more affordable than you think. Some sites offer rentals on a daily or hourly basis, and you can save money by splitting the costs with a big group or renting in the offseason. Here's what you need to know about renting your own luxurious private mansion.
The Costs and Other Factors
The average cost to rent a mansion is around $1,000 to $5,000 per night, but some mansions rentals offer hourly rates for photo and video shoots. 
Mansion rentals are generally more expensive in big cities and popular destinations, so you can save money by carefully choosing your rental dates. 
Where To Find Your Mansion
Whether you want to rent a private mansion for a wedding, party, video shoot or just a fun trip with friends, the first step is to do your research. Compare costs and availability on short-term rental sites such as VRBO and Airbnb. If you're looking for an hourly rental, you might also want to consider Giggster or Peerspace.
Make Your Money Work Better for You
When you start shopping for rentals, ask yourself these questions: 
How long do you need the mansion? Are you looking for a weekend rental or just one day? Some mansions on Airbnb have a minimum stay requirement, generally 3-5 days. 
Where do you want to stay? You might get a better deal on a mansion in a rural or suburban area, instead of a big city or near an expensive tourist destination.  
How many people are coming? The bigger the group, the larger your budget (if everyone is splitting the costs).
What will you be doing there? Look for mansions that fit your intended use. For example, if you're planning a photo or video shoot, you might want to prioritize great views over other amenities like hot tubs. 
Take Our Poll: Are You Concerned About the Safety of Your Money in Your Bank Accounts?
Popular Mansions for Rent
Here are a few examples of private mansions available for rent right now: 
Make Your Money Work Better for You
How To Afford a Private Mansion Rental
Renting a private mansion for your day or weekend trip might seem impossible. But there are a few ways you can cut costs to make your luxury getaway more affordable. Here are a couple of tips. 
Split the Costs
Chances are you aren't planning on staying in that 14-bedroom mansion by yourself. Invite friends or family members to rent the mansion with you and split the costs. For example, $2,500 per night split among 12 people comes out to a little over $200 each — not too bad for a high-end vacation. 
Rent During the Offseason
If you compare costs on Airbnb and VRBO, you'll notice that prices can change drastically depending on the dates you choose. That's because some dates are busier than others — and a higher demand for vacation rentals means higher costs. 
To save money, consider renting your mansion on off-peak dates. January and February tend to be the cheapest months for most travel destinations, but there are other off-peak times you might want to consider depending on your location. Those dates might include: 
Weekdays
Just after a major holiday
Just after spring break or summer vacation
Make Your Money Work Better for You
If you can't avoid booking your trip during popular travel times, be sure to book in advance to save money. 
Look Outside Popular Areas
Consider renting a mansion outside major travel destinations, even if you live in one. Lake Tahoe, for example, is a popular location full of expensive mansion rentals — but you might find a more affordable mansion in nearby Reno. 
You Can Rent a Private Mansion 
Here's the bottom line: Renting a private mansion for a few days or hours is totally possible. It all comes down to doing your research. Compare listings on vacation rental sites, consider your priorities, invite your friends and look for off-peak dates. A private mansion might not be a must-have for your vacation; but, if it's what you want, why not go for it?
More From GOBankingRates
Make Your Money Work Better for You