How This Travel Expert Plans A Luxury Weekend Trip for Less Than $250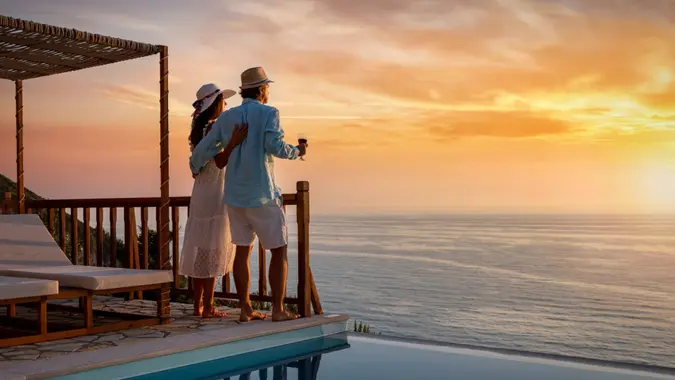 SHansche / Getty Images/iStockphoto
Thanks to two years of punishing inflation, $250 doesn't go as far as you might remember from your last vacation — and for many, that's their travel budget's limit.
According to a new GOBankingRates survey of more than 1,000 adults, 28% of people spent $250 or less on their last trip. Considering today's rising prices, can they pull it off again if they have a luxury trip in mind, even if it's just a weekend getaway?
With a little bit of planning and box-checking, the experts think they can.
Cut Your Stay — and Your Costs — In Half
First, reconsider the costs and benefits of squeezing in the weeknight that launches most weekend getaways.
"I often find that a Friday night stay, especially if you are rushing after a work day, can be a bit of a waste of money," said Tara Cannon, owner of the travel blog The Better Beyond. "Why pay big hotel dollars just to arrive in a rush and go straight to dinner?"
Make Your Money Work for You
The solution? Make your weekend getaway one night and two long days.
"Arrive early in the day at your destination and stay late the following day," said Cannon. "Call ahead to your hotel and request an early check-in. Most hotels do not mind if they are not fully booked. Likewise, request a late check-out the following morning, or ask the property to store your luggage for the day."
Points, Miles and Rewards Can Go Farther Than Cash
If you don't have a bank account full of cash, the right credit card can keep your expenses under $250, even for a top-shelf trip.
"Miles cards and rewards programs are the golden ticket to grabbing high-end hotel rooms and cheap flights," said Zach Lazzari, owner of Cross Border Coverage.
According to Forbes, most travelers can leverage miles and points to double or triple the return of every dollar charged, far outpacing even the best cash-back rewards.
"I will wait for a big purchase to arrive in my life before signing up for a new card," said Lazzari. "Then I sign on, make the spend requirements for the bonus payouts and typically have enough to cover a flight or really nice hotel for a weekend."
Make Your Money Work for You
While big sign-on bonuses can buy you a luxury trip on a budget, remember that most travel cards have annual fees that can run deep into the hundreds.
"The long game on rewards is generally not great but the upfront payoff is excellent," said Lazzari.
Take Our Poll: Are You Concerned About the Safety of Your Money in Your Bank Accounts?
Loyalty to One Chain or Airline Can Also Cut Costs to Near-Zero
Another strategy is to target a single brand for its loyalty perks instead of choosing a general travel rewards card.
"For instance, I recently used 35,000 Hyatt points per night to book a three-night all-inclusive stay at Rawah Ranch, a luxury rustic ranch experience in Colorado," said Genni Franklin of Traveling Franklins. "The cash rate was $1,700 per night, but since I used points and there are no resort fees, I paid nothing for the stay. It will include food, drinks, and activities like fly fishing and horseback riding."
The same premise applies to airfare.
"For flights, sign up for a travel credit card when the airline is offering a sign-up bonus," said Kelly Johnson, owner and founder of Snap Travel Magic.
Make Your Money Work for You
Johnson suggested Delta, which is currently offering up to 50,000 bonus miles plus 10,000 Medallion Qualification Miles.
Set Alerts To Cash In On Errors
Companies sometimes make mistakes that you can cash in on if you're ready to act when opportunity knocks. 
"A mistake fare is when an airline to travel agency sells an airline ticket for far below the normal cost by mistake," said Samantha Pearsall, travel and lifestyle blogger and founder of TheRamblingRenegade. "Mistake airfares are not super common but they happen. By setting up travel alerts through flight deal finders like Scott's Cheap Flights or Thrifty Traveler Premium, you will be notified when mistake airfares pop up. You will have to act fast. These errors only last for a few hours at a time."
Be Flexible and Avoid Peak Times For Your Destination
Prepare for a weekend getaway just as you would a full-fledged vacation — start planning well in advance, be willing to compromise on specific dates, and don't go when everyone else wants to.
"This may seem obvious but it is much easier to find flight deals, hotel sales and cheap rental cars when you have multiple months to look through and multiple destinations to choose from," said Pearsall. "Be flexible on when your vacation will be. In order to avoid the normally high price tag of a luxury vacation, you will most likely need to travel in the off-season of your destination, which will vary depending on the location."
Make Your Money Work for You
Pick Somewhere Close and Focus on What's Free
If you're only hitting the road for the weekend, consider actually hitting the road — after all, the best way to save on flights is to avoid them.
"First, choose a destination within driving distance to eliminate airfare costs," said Sebastian Fitzpatrick of The Route Planner. "To elevate your experience, explore free or low-cost activities like hiking in nature reserves, touring art galleries, or attending wine tastings. Lastly, indulge in local cuisine at affordable prices by visiting hidden gems or taking advantage of happy hour specials. A luxurious weekend getaway doesn't have to be expensive. It just takes a bit of ingenuity."
More From GOBankingRates
Make Your Money Work for You