Vrbo vs. Airbnb: Which Is Best for Travelers?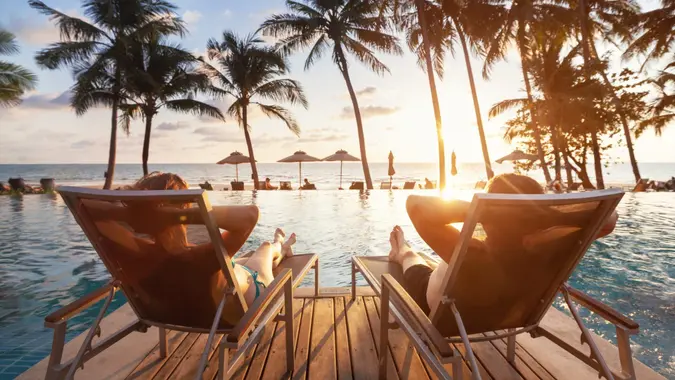 anyaberkut / Getty Images/iStockphoto
Travelers frequently use Airbnb or Vrbo — two of the most popular vacation rental websites — to book short-term vacation rentals. Deciding which of these options to use for booking a place to stay can be challenging. Keep reading to learn about Vrbo vs. Airbnb and which one typically works better for travelers.
Read: 3 Easy Tips to Turn Your Credit Woes into Wows
Vrbo vs. Airbnb at a Glance
Originally called Vacation Rentals by Owner, Vrbo was launched in 1995 and is owned by Expedia Group. Airbnb came along in 2007.
Vacationers often use Airbnb and Vrbo for travel accommodations instead of staying in hotels. The platforms offer some similar features and experiences for guests. While Airbnb has more listings, Vrbo typically offers more traditional accommodation choices, including property and room types.
Here's a quick comparison of the two platforms' features, including their similarities and differences.
Feature
Airbnb
Vrbo
Instant booking
Available
Available
Number of listings
6 million global listings
2 million global listings
Typical guest profiles
Travelers with flexible schedules looking for adventurous getaways
Families with children
Types of vacation rentals
– Shared rooms and spaces
– Entire properties
– Large variety
– Entire properties
– Family vacation homes
– Traditional properties
Cancellation policy
– Guests must log in to cancel or make changes to reservations
– Policies vary by property
– Guests must log in to cancel or make changes to reservations
– Policies may be relaxed, moderate, firm, strict or offer no refund
– It typically varies by property
Fees
– Split fee: Hosts pay 3% and guests pay 14.2% of booking costs
– Hosts may charge additional fees, such as cleaning or pet fees
A percentage of total reservation cost; excludes taxes
Guest reviews
Up to 14 days after a stay to leave a review
Up to one year after a stay to leave a review
Make Your Money Work for You
Flexibility With Booking Cancellations
Both Airbnb and Vrbo allow property owners and managers to choose the type of cancellation policies they would like to have on their properties. The range of options means that Airbnb and Vrbo have very similar flexibility. However, while Vrbo has five types of cancellation policies to choose from, Airbnb has nine.
Vrbo allows property owners to make custom refund policies. This may make it harder for Vrbo customers to know what to expect without reading every listing's policies carefully. 
Which Is Safer To Use — Vrbo or Airbnb?
Safety is a common concern when using websites and mobile apps to search for travel accommodations. Here is how Airbnb and Vrbo address some of the safety concerns their users may have.
Airbnb Safety Concerns
Many travelers are wary about staying in a stranger's home, regardless of whether the host is present on the property or not. In this case, booking a hotel room may be preferable. To do this, simply select "Hotel room" when filtering Airbnb accommodations.
Make Your Money Work for You
Another safety concern involves the sharing of personal information. Airbnb guest and host profiles contain personal details that users might not want to be disclosed to other site users, such as addresses and contact information. Fortunately, this information remains concealed from both parties until a booking is confirmed.
It should be noted that Airbnb only processes debit and credit card payments. Hosts are not privy to guests' bank card information and aren't allowed to request money from guests outside of the Airbnb platform.
Airbnb also offers a 24-Hour Safety Line that offers assistance with quick re-bookings for guests who feel unsafe in their current Airbnb booking.
Vrbo Safety Concerns 
On Vrbo, vacation rentals are booked as contractual agreements between guests and property owners or managers. A property owner is ultimately responsible for resolving any safety issue during a guest's stay. Guests are entitled to a refund of their booking payment and may include a security deposit refund if one was collected at the time of booking.
Make Your Money Work for You
To further prevent travelers' risk and ensure safety when booking a stay, Vrbo recommends that travelers take the following precautions:
Before sending payment for a booking, ask to speak to the property owner or manager by phone.
Ask the property owner or manager to provide references from previous renters.
Only send payment using authorized electronic payment methods.
Ask for additional photos of the property if the ones provided do not sufficiently represent the property.
Request and carefully review a signed rental agreement.
Which Is Less Expensive — Airbnb or Vrbo?
Airbnb's guest service fees are typically more expensive than Vrbo's fees. Guest service fees on Airbnb average between 14.2% to 16%. Vrbo's booking fee is 3% for payment processing and 5% for the commission of the total cost of the rental. These fees do not include taxes.
There are a few things that could drive the cost of Vrbo rentals higher than those from Airbnb. Some of these include:
Smaller inventory
Renting entire properties rather than single rooms or shared spaces
Damage deposit may be charged when property is booked
Additional Trip Board perk for making notes and collaborating with travel companions.
Vrbo also offers a payment plan to travelers who qualify with a "buy at your own pace" payment provider, Affirm. Users pay between 10% and 30% APR based on their credit profile to use the Affirm payment plan. Airbnb does not offer this plan.
Which App Is Better?
The Vrbo and Airbnb apps are pretty similar. Users can search their vacation destination, their planned travel dates and the number of guests that will be staying. Users first see the search results in a split-screen list and map format. The results can be further filtered by different features, including house rules, host language, what's nearby and property amenities.
One difference between the two apps is that users can minimize the map on Airbnb to browse by list view only. In Airbnb's map browser view, the nightly rate for accommodations is shown to help users compare prices at a high level.
Airbnb also recently rolled out its Categories search function, which allows users to search by type of accommodation — such as surfing, farms, iconic cities or vineyards — in addition to location, dates and number of guests.
Final Take
Travelers who prefer city life and experiencing new adventures may consider Airbnb the better choice. Airbnb offers a wide variety of low-, mid- and high-priced vacation rental properties and accommodations, from single rooms to shared spaces.
Because Vrbo travelers tend to vacation in large groups, it might be a better option for big families and friends. Guests can only book entire private spaces. However, Vrbo offers fewer listings, meaning less variety and fewer choices for guests.
FAQ
Do more people use Airbnb or Vrbo?

Vrbo currently has around 48 million active users. However, Airbnb is much larger in comparison, with over 150 million active users. 

How do you spot fake listings on Vrbo and Airbnb?

Some property listings on Vrbo and Airbnb are from scammers. A few red flags to look for when spotting fake listings include:

-Urgency
-Overly polished images of the property
-Extremely cheap prices
-Attempts to move the transaction off the app.

What do Airbnb and Vrbo do to counter scammers?

Airbnb provides safety information on its website, including details on what it does to prevent fake listings, such as using machine learning to check listings and safeguarding contact and payment information. Vrbo, unfortunately, does not seem to have such information available on its site, though it does provide information to help property managers avoid scam bookings.

Why do people use Vrbo instead of Airbnb?

Someone might select Vrbo over Airbnb if they are looking for a selection of private residences or a whole-home rental.
Chris Ozarowski contributed to the reporting for this article.
Data is accurate as of Dec. 28, 2022, and is subject to change.
Our in-house research team and on-site financial experts work together to create content that's accurate, impartial, and up to date. We fact-check every single statistic, quote and fact using trusted primary resources to make sure the information we provide is correct. You can learn more about GOBankingRates' processes and standards in our editorial policy.
Make Your Money Work for You