I Don't Have Enough Money for a Security Deposit: What Should I Do?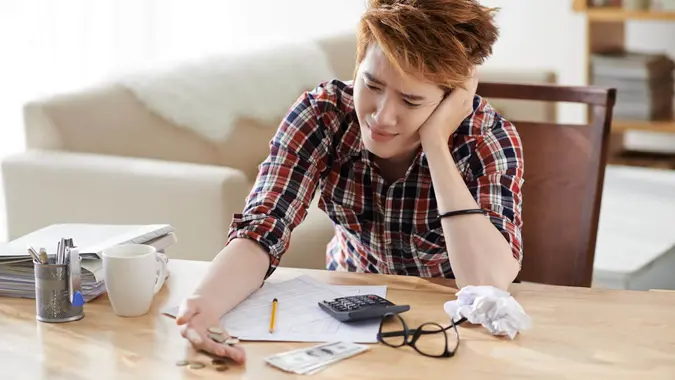 Moving out on your own can be a big step. If you intend to get your own place, you'll have more freedom — and there's just something about having a space you can call your own. Plus, when you rent, there's no long-term commitment and you don't have any responsibility to make major repairs.
While the upfront costs to rent tend to be much lower than those of buying, there are still certain expenses you will have to consider. For instance, renting requires a security deposit. The security deposit is typically equal to one month's rent or less, but it can sometimes be more.
If you can't cover that amount yet, you'll have to save up some cash first. And, of course, you will have to pay rent every month, along with other monthly costs. If you can't cover that yet, here are some steps you should take now so you can move out on your own.
Negotiate With the Landlord
One option is to negotiate your security deposit with your potential future landlord. While not all landlords will be willing to do this, it can never hurt to ask. The worst they can say is no.
"Still, it's also possible to make the landlord believe in your character by placing your personal belongings on the line in a formal letter stating your commitment to following through on the agreement and completing the security deposit," says Johnathan Merry, founder at Moneytransfers.com.
Some landlords will be willing to break the deposit up into monthly installments, so you only pay a little bit each month. If you don't have much cash saved, this can be a great way to start renting sooner.
Start a Savings Fund
If you aren't able to negotiate your security deposit, you should start a savings fund right away. As mentioned earlier, you probably won't need nearly as much for a security deposit as you would need for a down payment on a house. Hence, even setting aside $50 or $100 each month will go a long way.
To make this work, you should have a separate savings account meant just for your security deposit. You can also use this account for other short-term savings goals as they crop up, such as saving for a vacation. However, the important thing is to have an account that is separate from your main bank account. Not only does this help you avoid spending the money on other things, but it also makes it easier to track your progress toward your goal.
As an added bonus, you can open a high-yield online savings account so your money earns some interest every month.
Set Up a Budget
Setting up a budget is a good idea regardless of your situation, but it's especially important when working toward a specific savings goal. Creating a budget will allow you to see exactly how much you spend every month and how much (if any) you have left after covering essentials.
For instance, imagine you run through your budget and you have $200 left over at the end of the month. Maybe you would normally spend this on clothes, going out, or other wants. You could put $50 of that into a savings account every month and probably not notice a difference. If you have $500 left over, you can set aside $100 or more.
If you aren't already budgeting, there are several budgeting apps that can help. Some of them are free, too, so you don't have to worry about cutting into your margins.
Don't Forget Utilities
Although your main goal right now is saving for a security deposit, you should also account for utilities. In addition to rent, you will have to cover some or all of these expenses:
Water
Heat
Gas
Insurance
Internet
The total price you pay every month can vary widely. Still, depending on how many of these you have to cover on your own, the amount could easily be several hundred dollars every month. If you want to have some idea of how much you'll be paying every month, a cost-of-living calculator can give you a rough estimate.
Consider Living With Roommates
If your goal is to strike out on your own, the idea of living with roommates may not be very appealing. Plus, there can also be safety concerns and Craigslist scams out there, so it's best if you can room with a friend or someone you trust.
That said, the obvious benefit of living with a roommate (or multiple roommates) is lower costs. Not only will your rent and any utilities be lower, but your security deposit will also be less. Remember that the security deposit is typically pegged to the price of rent, so lower rent means the security deposit will also require less upfront.
Again, this may not sound like the best option if you have your mind set on living alone. But, perhaps you are living with your parents and want nothing more than to leave the nest. In that case, it's not a bad option for a year or two until you can increase your income and save a bit more.
More From GOBankingRates