I'm a Self-Made Millennial Millionaire: 2 Money Traps I Almost Fell For (and How I Avoided Them)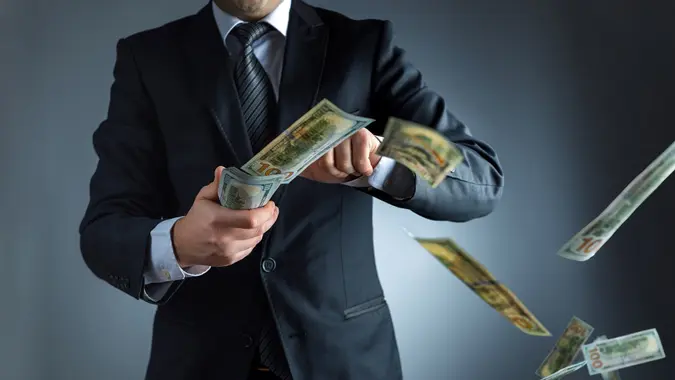 turk_stock_photographer / iStock.com
Millennials are now in their late 20s to early 40s — and the brightest, most ambitious and luckiest among them have already amassed seven-figure wealth.
Like anyone who built their own fortune, millennial millionaires got rich partly because of what they did — but also because of what they didn't do.
GOBankingRates spoke with two self-made millennial millionaires. They're from vastly different worlds and professional backgrounds, but they both share one trait that helped propel them to wealth — they had the foresight to sidestep dangerous hidden money traps that could have derailed their journey to financial freedom.
A Veteran of Silicon Valley Makes Dollar-Based Career Choices
Will Zhao, founder of tech and business services company SoftGist, is a 35-year-old millennial and tech industry veteran. A graduate of the prestigious Carnegie Mellon University, he's spent the last five years working as a senior engineering manager at Airbnb, but his resume is peppered with some of the biggest names in Silicon Valley. Former roles include time as a software engineer at Facebook and an engineering manager at Snapchat.
Those are all high-paying jobs that could have made him rich on salary alone if he had lived modestly and invested well — but Zhao didn't rely on just his paycheck. He took the fast lane to millionaire status through his equity stakes in those companies, which he leveraged as an employee shareholder.
Make Your Money Work Better for You
"I cleared millions after taxes," said Zhao. "First from Snap's 2017 IPO when I was 29 and later from Airbnb's 2020 IPO."
But he might have missed the boat if he hadn't had the foresight to sidestep two big money traps.
Choosing the Wrong Career Because It Has a Nice Ring to It
The biggest mistake Zhao avoided making was choosing a career that didn't match his talents and ambitions because it pays well and sounds good at cocktail parties.
"While in graduate school in 2012, I found myself at a pivotal crossroads," said Zhao. "I was intrigued by trading, a field I had a strong passion for but knew little about. I almost missed the tech boom because of it. It's a common mistake to be drawn to glamorous fields without fully understanding them, and I almost fell into that trap. After careful research and conversations with industry insiders, I realized tech aligned better with my long-term goals and ambitions. I joined Facebook that year, which was a defining moment that shaped my career trajectory."
Pursuing a Company That Might Not Deliver the Best ROI
Like career fields, illustrious companies draw legions of hopefuls looking to join because of the prestige they exude — but prestige should only be part of your job search criteria if you're working toward financial security.
"Before joining Snap and Airbnb, I nearly opted for other companies," said Zhao. "Many tech professionals spend countless hours mastering their craft but barely scratch the surface when it comes to understanding the business side of their potential employers. This is a critical oversight, especially in the tech industry, where a large portion of your compensation — and, therefore, your financial future — is tied to stock. I did my due diligence, researching not just the technology but also the business model and market potential. As a result, both choices turned out to be not just good for my career but also financially rewarding."
Make Your Money Work Better for You
A Poker Pro Refuses To Rely on Luck or Shy Away From Risk
Like Zhao, Eelis Pärssinen is a millennial — but his path to seven-figure wealth was a bit more unorthodox than stocks and software.
A Beasts of Poker Pro Team member, Pärssinen's name is "known by every high stakes online regular," according to his professional player profile. "As the biggest winner in PLO cash games on PokerStars in 2018-2019 and the winner of PLO Poker Masters in 2020, Eelis belongs to the crème de la crème of high stakes Pot-Limit Omaha."
In 2021, he won his first World Series of Poker bracelet and, according to PokerNews, his total live earnings are $3,044,145.
The high-stress, high-stakes world of professional poker is littered with money traps, and Pärssinen became one of the game's top earners by avoiding them.
Taking Shortcuts in the Pursuit of Fast Money While Leaning on Luck
Going all-in is a term that supersedes its poker-table origins as a life metaphor for betting everything on a high-risk gamble — but all-or-nothing pursuits can often be money traps in disguise.
"During my poker career, I've dodged the allure of trying to get ahead too quickly," said Pärssinen, "I've played over 15 million hands of online poker to overcome the luck factor by using my skills. Mastering high-stakes poker cash games wasn't about luck. It was a relentless pursuit of excellence over a long period of time. I dedicated thousands of hours to studying opponents, refining strategies and understanding every nuance of the game. While others sought shortcuts, I embraced the grind, ensuring that every move on the table was a product of preparation and precision. That's how I turned online poker into a lucrative career."
Make Your Money Work Better for You
Placing Safe Bets When the Situation Calls for Big Risks
To succeed in professional poker, all risks must be calculated — but in cards and in life, the greatest risk is often not taking one.
"The real gamble I had to make was turning down 'guaranteed' ventures outside poker," said Pärssinen. "Like keeping my job at a warehouse or becoming an airplane pilot, which I trained for. My wealth, built on the virtual felts of online poker rooms, has taught me that in poker and life, the most tempting plays might not have the best odds."
More From GOBankingRates