Is It Harder for Gen Z and Millennials To Get Rich?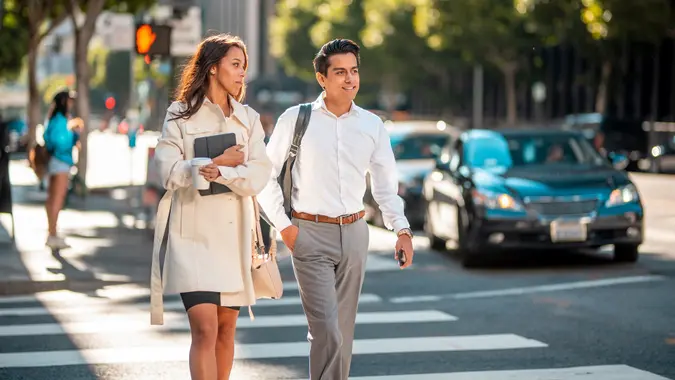 AzmanL / iStock.com
Today's young adults missed the boat on cheap loans. The bull market is over and inflation is forcing prices up at the fastest rate since the dawn of MTV. On top of that, COVID-19 interrupted Gen Z's nascent rise to maturity and transformed the labor market it had been preparing to enter.
Find Out: 8 Places in California Where Home Prices Have Plummeted
See: With a Recession Looming, Make These 3 Retirement Moves To Stay On Track
But stocks, interest, inflation and economies rise and fall, and every generation weathers one national catastrophe or another.
But Gen Z and young millennials face unique barriers to saving money, buying homes and building wealth that their parents and even older siblings largely dodged. Their living situation alone puts the results of their struggles on display.
As for the cause, it depends on who you ask.
Modern America's Nests Stay Fuller for Longer
At the end of 2022, the Census Bureau reported that nearly half of young adults ages 18-29 are living with their parents, a percentage not seen since the Great Depression.
Make Your Money Work Better for You
The report drew a predictable chorus of common stereotypes — today's young adults are entitled loafers whose over-indulgent parents robbed them of the good-old-days work ethic that made America great.
Personal finance celebrity Dave Ramsey, for example, used his radio show to dress down the modern youth with this scolding: "So, let me get this straight. You live in your momma's basement, but you got a Coach purse. Here's what's going to happen — you cannot avoid life, it's coming for your butt. Momma can't protect you."
It's Easy To Look Down If There Was Still a Ladder When You Wanted To Climb
While it's certainly possible that at least some of them are in it for the ability to buy pricey handbags, Ramsey left out that he's 62 years old. He was a young adult 40 years ago — at precisely the moment when wages began stagnating across the economy.
According to Pew Research and the Economic Policy Institute, wages have grown so slowly since Ramsey first entered the labor market that the average worker's purchasing power hasn't measurably budged in the ensuing four decades. But according to the Congressional Budget Office, the households in the country's top-earning quintile saw their real incomes rise by 111% during that same 40-year period.
Make Your Money Work Better for You
By all credible accounts, Ramsey earned his spot among the second group through hard work and talent. But many hard-working and talented 20-somethings are living with their parents today not because they want free purses, but because they're competing for entry-level pay in a workforce that hasn't gotten a meaningful raise since President Jimmy Carter was in office.
Take Our Poll: What Do You Plan To Use Your Tax Refund For?
Remember When Young Couples Could Still Afford a Home? 
In 1982 — the year Dave Ramsey got married — the median home sold for $69,300, according to HUD. Adjusted for inflation, that's about $215,000 in 2023 dollars.
But for 20-somethings looking to start a family and buy a house today, the median home doesn't sell for $215,000. It sells for $467,700.
While real wages flatlined, housing costs more than doubled — and the outcome is predictable.
"My husband and I are both young adults, and each of us makes six figures on top of our travel blogging business," said Christine Le, CPA and founder of LUXURY under BUDGET. "Despite this income, we have difficulty purchasing a house in California. Soaring housing costs, a competitive market and rising interest rates have forced us to make significant sacrifices to save for a down payment. Despite our hard work and frugal spending, we still face substantial challenges in building wealth and buying a home, contradicting the typical stereotype about young adults having a poor work ethic and frivolous spending habits."
Make Your Money Work Better for You
A House Is More Than a Place To Live
Purely in terms of dollars and cents, Tyler Chacon, MBA, CFP and certified financial planner with Chacon Diaz & Di Virgilio Wealth Management, can think of better ways to grow your money than by buying a house.
"Interestingly, owning a home is not a great investment relative to other investments," Chacon said. "But it has a key advantage that centers around human behavior. A mortgage is essentially a forced savings plan. Without this, a large segment of people is not going to save and invest properly on their own, leaving them in big trouble in the future."
Chacon cited Federal Reserve data that shows the median net worth of homeowners is 80 times higher than that of renters.
"Homeownership has been one of, if not the main way that people have historically built wealth," he said. "But now you have the killer combination of both expensive housing and high interest rates, which locks an entire segment out of the market or forces them to buy something they cannot afford."
So it stands to reason that many boomerang children returned to the nest not to splurge on designer pocketbooks but to save for down payments.
When They Tune Out the Old, There's Plenty of Optimism Among the Young
Manuel Ferro, a finance and economics major in his last year at Bryant University, is not your average Gen Zer. He managed a $1.7 million portfolio through Bryant's student-managed Archway Investment Fund, holds a Bloomberg Market Concepts certificate and spent last summer in Citizen Bank's Commercial Banking division in Underwriting and Portfolio Management.
He's keenly aware of the Coach purse assumptions that are so popular among his demographic's older critics.
"While it seems like our generation demands instant gratification, we actually have a hunger to strive for better opportunities," Ferro said. "Gen Z's spending habits have shifted from spender to saver due to financial insecurity in the markets. As our generation becomes more financially literate, we are learning more about the economy and its effects on consumer spending. This has made our generation more frugal when it comes to spending on consumer goods and services, and Gen Z is starting to investigate different ways to invest their money."
More From GOBankingRates
Make Your Money Work Better for You