'Shark Tank' Star Lori Greiner's 5 Most Successful Retail Deals That Made Her a Millionaire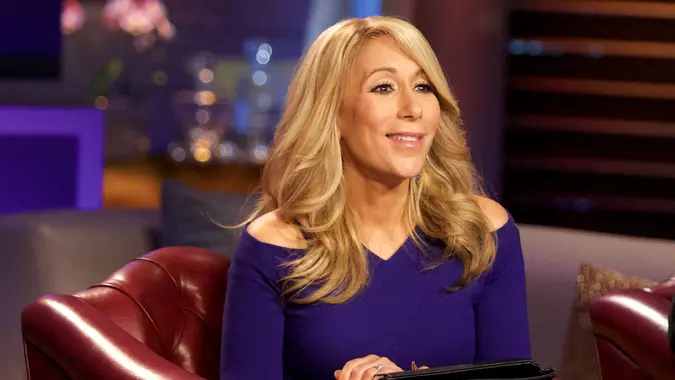 Tyler Golden / ABC
Lori Greiner, best known for her role as a Shark on the long-running hit TV show "Shark Tank," has razor sharp instincts and an incredible eye for products that are worth backing. The 53-year-old self-made inventor, entrepreneur, producer and humanitarian sports a net worth of $150 million, according to Celebrity Net Worth. She certainly didn't accidentally fall into her fortune, but instead strategically built it through a number of retail deals.
Let's explore some of Greiner's most successful retail deals that helped make her a millionaire.
Scrub Daddy
Lauded as the most successful product that has ever appeared on "Shark Tank," Scrub Daddy is a reusable sponge created by Aaron Krause. The gadget gets firm in cold water and soft in warm water, to make for a more intuitive and comprehensive dish scrubbing experience that will leave no scratches behind.
Greiner jumped on the product and invested $200,000 for a 20% stake in the company. Today, a decade after it debuted on "Shark Tank," Scrub Daddy is present in over 30,000 retail stores and is sold in 17 countries.
Squatty Potty
Bathroom products — particularly those focused on going "number two" — are not typically the easiest to market and generate excitement over, but the Squatty Potty is a fine example of an exception. This footstool for toilets, pitched on episode 610 of "Shark Tank" by entrepreneurial duo Bobby and Judy Edwards, was zealously backed by Greiner.
She first invested $300,000 for a 10% share in Squatty Potty, but then later invested $600,000 more for an additional 10% stake in the company — making her ownership 20%. It was a lucrative move — in just seven years on the market, Squatty Potty raked in $222 million in retail sales.
Make Your Money Work Better for You
PhoneSoap
We take our phones everywhere with us — possibly even to the Squatty Potty. Clearly these devices need a good, regular cleaning, but how do you do that without risking damaging them? Enter PhoneSoap, a UV Phone Sanitizer & Charger all in one, invented by Dan Barnes and Wes LaPorte.
When this product appeared on "Shark Tank" in season 6, Greiner was ready to clean up: she offered $300,000 for a 15% ask, so she could sell the units on QVC. They ended up settling on 10% for $300,000. PhoneSoap has gone on to amass $150 million in retail sales since airing on "Shark Tank."
Bantam Bagels/Bagels Stuffins
Bantam Bagels (aka Bagels Stuffins) is a company founded by Nick and Elyse Oleksak in 2013. Their NYC location sold mini stuffed bagels that could be sold in other stores, to bring a taste of classic New York to consumers all over the map.
When the entrepreneurial duo pitched the product on "Shark Tank," Greiner invested $275,000 in exchange for a 25% share of their business. Now considered one of the most successful food items ever pitched on "Shark Tank," the company behind it sold for $34 million in 2018, dishing up a nice payday for Greiner.
Qball
What is Qball? It's a wireless microphone that is made of durable foam — made to tolerate a tough throw. While moving, it shuts off so that you don't get any awkward thumping noises over the speakers. It also conserves battery, making it a great choice for presenters and performers who need to get a lot of mileage out of a mic without having a lot of time to charge it up.
Make Your Money Work Better for You
The inventor of Qball, Shane Cox, landed a $300,000 investment from three "Shark Tank" moguls — Rohan Oza, Mark Cuban and Greiner — for a 30% stake in the business. In only two years since it first came to the world stage on "Shark Tank," Qball sold $3.9 million in retail sales.
The Lori Greiner Method: What Makes Her So Good?
Greiner doesn't just have a good sense of what will sell well — though she certainly has that — she also has intricate vision and a highly skilled approach to her deals. If you want to become a successful retail deal maker like Greiner, take a few notes from her method and mindset.
"Good deals aren't found, they're made," said Lori Greymont, founder of Funding Faceoff. "Greiner takes a formulaic approach to her deals, which means she's able to create more consistent results, and, more importantly, it also enables her to more effectively improve her success rate."
Greymont explained that Greiner begins by setting a very specific criteria for the deals she'll consider.
"The vast majority of the deals she's gotten involved in are products that appeal to a very wide section of the consumer market — low cost products with mass market appeal," Greymont said. "Many are also consumables, meaning customers will need to replace them regularly and often. When you know exactly what your investing criteria are, you can quickly reject deals that aren't a fit, and this means more time for the deals that are a better fit for you. We all know how frustrating it can be to try cramming a square peg into a round hole."
Make Your Money Work Better for You
"Next, she always starts with the end in mind," Greymont continued. "Too often, people will add extra steps in their path, whether it's because they think they need to follow a certain progression of events or because they just ended up as a result of the day to day life of entrepreneurship. Anyone who has never been an entrepreneur doesn't realize how easy it is to get off course while your head is buried in the trenches.
"Instead, Greiner decides what she wants the end result to look like, and then reverse engineers a direct path from A to B. This saves time and resources while helping you achieve your goals more efficiently."
Finally, Greiner seeks ways to increase the value of a product that she's mulling over.
"Even the best products can be improved upon, but the hard part is identifying what to improve, because it's not just a better product, but a better product in your customer's eyes," Greymont said. "This is an important distinction, because customers can often be fickle, irrational and wrong. The key here is to ask them what they want so you're not guessing. When you can make a product more valuable — by offering more in some way and/or reducing cost to customers — your product will stand out dramatically from competitors."
We have a lot we can learn from Greiner, while also marveling at the apparent fact that she can do such deep and involved thinking on the fly — building up her millions fast and often on multiple deals in one sitting.
Make Your Money Work Better for You
More From GOBankingRates