Mark Cuban: Here's Why I Don't Spend Money on a Chauffeur or Cleaning Services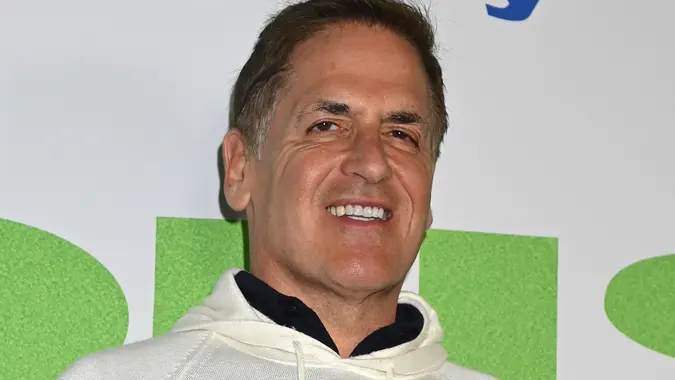 Tammie Arroyo / AFF-USA / Shutterstock.com
World-famous entrepreneur, investor and philanthropist Mark Cuban has a net worth of $4.7 billion, but even he doesn't spend money on a chauffeur or cleaning services.
On The Really Good Podcast, the billionaire told host Bobbi Althoff that he doesn't have a butler, prefers to drive himself everywhere, and does his own laundry. While Cuban does have a personal chef in Dallas, he and his wife cook most of their meals. The video currently has over 2.5 million views on YouTube.
Cuban said he drives himself because he enjoys the privacy when asked if he has a chauffeur.
"I like the privacy. I've been around people who have hired somebody to do everything for them, and that's just like no privacy," he explained. "It's hard enough to have privacy."
Cuban does own several houses and enjoys his private jets, which he says helps him save time.
Cuban also said he tries to be the same person as when he was poor and rich and has kept most of the same friends. "When I was poor, I had a blast. I loved my life," he explained. "I could wake up smiling and back then, you just had not to answer the phone because it could be a bill collector."
Earlier this year, Cuban told CBS's Sunday Morning that he worked hard to keep his wealth from changing his personality and would be happy with 1% of his net worth.
Make Your Money Work Better for You
Born to working-class parents in Pittsburgh, Cuban didn't grow up with the wealth he has today. When Althoff asked when he stopped being poor, Cuban said it was when he was 28 or 29 years old.
"But when I was 27, I won't forget it," Cuban said. "I went to the ATM, and it showed me a big old zero. So that's when I was 27. And then got past that, and then bam, bam, bam, bam, bam."
More From GOBankingRates