Martha Stewart: 4 Financial Lessons From America's First Self-Made Female Billionaire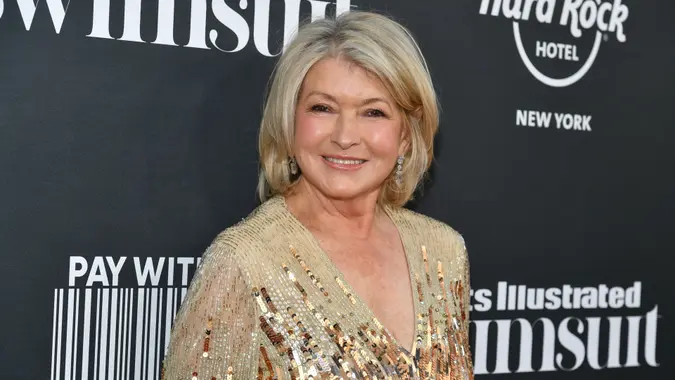 Erik Pendzich/Shutterstock / Erik Pendzich/Shutterstock
Martha Stewart has been making waves since the 1970s when she first started as a stockbroker in New York City. By 1976, she made a pivotal career shift by leaving her job as a stockbroker to launch her own catering business right from her kitchen. Her journey has since led her to achieve remarkable fame as a prominent celebrity chef. 
Stewart has had successful home decor and furniture ventures, publishing bestselling cookbooks and establishing a vast media empire. In 1999, she became the first self-made female billionaire in the United States.
All to say, she knows a thing or two about money. Below are some financial lessons she's imparted over the years.
1. Become an Authority by Doing
"If I was to teach the art of quilling, for example, I researched the subject thoroughly to find out what quilling was and why it existed in the first place, and to discover why anyone would create veritable works of exquisite art using tiny strips of paper carefully rolled and glued into amazing shapes and forms," Stewart says she applies this same level of rigor to everything she does.
2. Find Opportunity in the Simplest Things
On speaking to how she established a thriving catering business and published her best-selling book Entertaining less than a decade later: "I loved ideas. I loved building. I loved creating. I loved making things that would enhance everyday living. And I loved making money as a result."
Make Your Money Work Better for You
3. Build up Your Kids' Self-worth From a Young Age
Stewart notes that the best advice she ever received came from her father at 12 years old. "He told me that with my personal characteristics, I could, if I set my mind to it, do anything I chose." She says it was this advice that instilled in her a sense of confidence to pursue what she most wanted. "I think it really often is up to the parents to help build confidence in their children. It is a very necessary part of growing up."
4. Always Diversify
Stewart has dabbled in a wide variety of industries, ranging from her involvement in a CBD gummy brand to a wine collaboration with 19 Crimes, as well as the creation of numerous home accessories, improvement products, and furniture lines with major retailers like Sears, Kmart, Home Depot, and others. Forbes even reported that Martha Stewart Kitchen (acquired by Marquee in 2019) is estimated to bring in as much as $1 billion by 2025.
More From GOBankingRates