Most Expensive Jordans Ever and What They Cost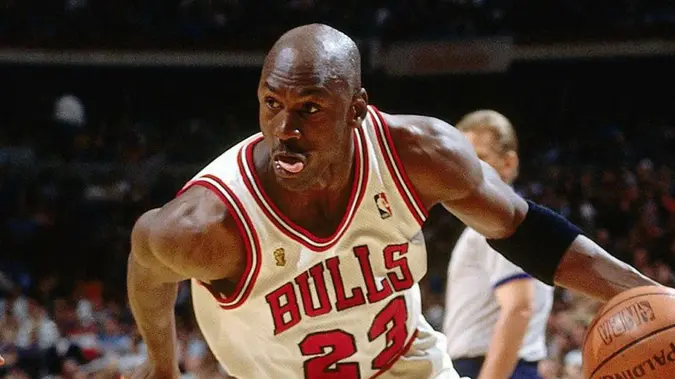 ©iStock.com
He's considered the greatest NBA player of all time, but Michael Jordan is also a savvy businessman with a massive shoe empire. The basketball legend entered a partnership with Nike at the beginning of his career that has turned him into a billionaire.
Jordan's net worth is $1.7 billion — as of March 8, 2023 — and just $90 million of that is career earnings, according to Forbes. In addition to Nike, partnerships with companies like Hanes and Gatorade have contributed to his fortune. However, the partnership he's most famous for is his eponymous Nike shoe brand. If you're a fan, there's a good chance you have at least few pairs in your closet.
Wondering what are the most expensive Jordans? Keep reading to find out.
10 Most Expensive Jordans Ever and What They Cost
Wondering which Jordans are the most expensive? Here's a look at the ten pairs that top the list.
10. 2005 Nike Air Jordan IV Retro Eminem 'Encore' With Marshall Mathers Signed Card — $44,100
Rapper Eminem joined forces with Nike in 2005 to create a special blue, red and black version of the Air Jordan IV, in honor of his "Encore" album. The original release was rumored to contain only 50 pairs, which were given to friends and family, according to Sotheby's, which sold this pair at auction in 2021.
9. 1995 Air Jordan 11 "Concord" Player Exclusive, Game-Worn Signed Sneakers — $56,250
These size 13 mid-top sneakers were sold with the original laces, Upper Deck Authentication on the signatures and a Chicago Bulls Letter of Authenticity. They were auctioned by Christie's in 2020.
Make Your Money Work Better for You
8. 1985 Air Jordan 1 TYPS Player Exclusive Signed Sneaker — $62,500
Sold by Christie's in 2020, these high-top sneakers are unworn. The original laces were intact and they came with a JSA letter of authenticity. In standard Jordan style, the left shoe is a size 13 and the right shoe is a size 13.5.
7. 1997 Air Jordan 12 'Flu Game' — $104,765
No true Jordan fan could forget Game 5 of the 1997 NBA Finals, where he scored 38 points for the Chicago Bulls, despite displaying flu-like symptoms. In 2013, this pair of sneakers broke the previous record for Jordan game-worn sneakers, which was $31,070, according to Sole Collector.
6. 1992 Air Jordan 7 Olympic Player Exclusive, Game-Worn Sneaker — $112,500
A fan's delight, this pair of shoes was sold with a letter of authenticity from Jordan himself. Auctioned by Christie's in 2020, the unknown buyer also received a Team USA t-shirt designed by Magic Johnson Tees, which was gifted by Johnson at the same time Jordan gifted the shoes.
5. 1995 Air Jordan 11 'Space Jam' Sample — $176,400
Sold at auction in 2021, these "Player Sample" Jordans were sold in deadstock condition and never used. They were signed by the basketball great and offered for sale in a custom wood and velvet box, according to Sotheby's.
4. 1984 Michael Jordan Olympic Converses — $190,373
Before his partnership with Nike began, Jordan wore a pair of Converse sneakers at the 1984 Olympics. Sold at auction in 2017, they're considered the last pair he wore in a game as an amateur — and the last time he wore Converse in an official game — the shoes are autographed and came with his orthotic inserts intact.
3. 1985 Nike Air Jordan 1S — $560,000
Worn in a game and autographed by Jordan, these sneakers sold for more than three times their original estimate in 2020. The pair of red-and-white shoes consists of a classic Jordan mismatch, with a left size 13 and a right size 13.5. These shoes are also unique, as they're signed with a black permanent marker, which held up better than his standard ballpoint pen signature.
Make Your Money Work Better for You
2. 1985 Nike Air Jordan 1 High Sneakers — $615,000
What is the most expensive Jordan 1? In 2020, this pair of Nikes became the priciest sneakers ever sold at auction — at least for a while. Worn by the basketball legend during an exhibition game played in Trieste, Italy, Jordan scored 30 points, but the most memorable part was his slam dunk that shattered the glass of the backboard, according to Christie's.
1. 1984 Nike Air Ships — $1.5 Million
Worn during Jordan's rookie season in his fifth game with the Chicago Bulls, collector Nick Fiorella scored these sneakers for $1.47 million at an October 2021 Sotheby's auction. The size 13 red and white Nike Air Ships are the earliest known regular season pair of Nikes worn by the basketball great, according to Sotheby's.
History of Air Jordans
In 1984, Jordan debuted the sneakers that would eventually grow to become a multi-billion-dollar brand. First marketed by Nike as the Air Jordan 1 in 1985, the brand has now evolved into an empire nearly four decades old.
Interestingly, Jordan wasn't actually interested in a partnership with Nike at first, according to the Los Angeles Times. He only took the initial meeting at the urging of his mother and ended up with an incredible 25% royalty on the brand.
First Release
Released in 1985, the original Air Jordan was priced at $65, according to Foot Locker. This sneaker was originally banned by the NBA for not meeting its policy on uniforms and colors. However, Nike opted to capitalize on the marketing opportunity and paid Jordan's fine, which was $5,000 per game.
Make Your Money Work Better for You
Ongoing Success
By 1986, Jordan had become an international sensation, which allowed Nike to increase the price of his namesake sneakers. The Air Jordan II made its debut that year, with a $100 price tag.
Still notably high-priced, several styles of Jordans have been released since August 2022, with prices ranging from $140-$225. Released on Sept. 15, the Air Jordan 2 J Balvin style are the most expensive Jordans in this group, with a $225 price tag.
Today, the Jordan brand is more successful than ever. In fiscal year 2022, revenue totaled $5.1 billion, which accounted for nearly 10% of Nike, Inc.'s total annual revenues.
Why Are Jordan 4s So Expensive?
Typically the most expensive Jordans on the market, you're not alone if you're wondering why Air Jordan 4s tend to cost more than other styles. Unless you're a sneakerhead, you're probably not familiar with the history of this shoe.
The fourth signature sneaker designed for the basketball hero, the Air Jordan 4 made its debut at the February 1989 NBA All-Star Game in Houston, according to SneakerNews. However, they're most recognized for "The Shot" — Jordan's series-winning shot that beat the buzzer during the first round of the 1989 Eastern Conference playoffs against the Cleveland Cavaliers.
That same year, a pair of Air Jordan 4s was featured in the iconic Spike Lee film "Do the Right Thing." If you've seen the movie, you remember that Buggin' Out — played by Giancarlo Esposito — confronts a crazed Celtics fan who scuffed his new "Cement" Air Jordan 4s.
Not surprisingly, the Air Jordan 4, released in four colors, was a huge hit. However, after the initial release, Nike didn't bring the Air Jordan 4 back to stores until 1999. It remained a hot commodity with collectors throughout the 2000s, due to the design and general rarity of the sneaker, according to SneakerNews.
Make Your Money Work Better for You
While the shoe has been in regular circulation for the past decade, its status has remained elite. Adding to the exclusive nature of the shoe, Nike has done several limited-edition celebrity collaborations.
Future Releases
Several new Air Jordans are set for release in the upcoming months.
This includes the Air Jordan 4 "Thunder" style, priced at $210, slated for a May 13 debut. Additionally, the Air Jordan 2 Low "Cherrywood" style will retail for $150 starting in June 2023, followed by the Air Jordan 1 Low, which should be released later in 2023.
Final Take
To most people, it probably seems absolutely wild that the most expensive Jordans ever sold cost significantly more than the average American's house — several times over. However, sneaker collectors likely understand the value of the basketball icon's most expensive shoes, and many would probably pay at least the same amount, if they had the funds to do so.
The fact that sneakers worn by Jordan, autographed by him or both still hold so much value is a true testament to his status as the greatest NBA player of all time.
Cynthia Measom contributed to the reporting for this article.
Information is accurate as of March 8, 2023.
Our in-house research team and on-site financial experts work together to create content that's accurate, impartial, and up to date. We fact-check every single statistic, quote and fact using trusted primary resources to make sure the information we provide is correct. You can learn more about GOBankingRates' processes and standards in our editorial policy.