Pay $25,000 for a 'Million-Dollar Penny' — The Deal Is on the Table (But There's a Huge Catch)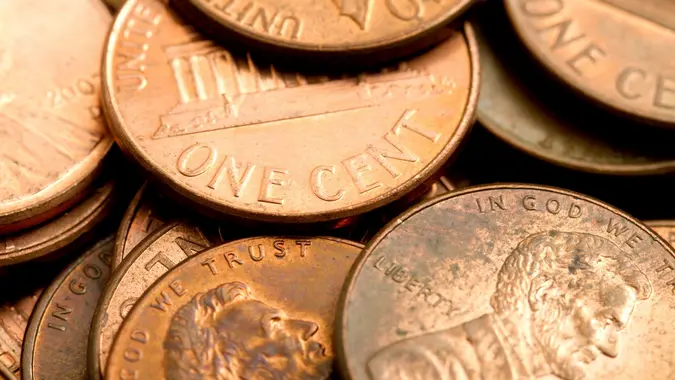 CT757fan / iStock.com
Chances are slim that a penny you find lodged under a couch cushion will net you more than a cent at your local pawn or currency collector shop. However, your chances of cashing in would grow exponentially if you were sitting on 800,000 copper coins.
For an Ontario, California couple, the task of potentially unearthing a million dollar penny among hundreds of thousands was too daunting. For more patient treasure hunters, however, you can search for yourself (if you have $25,000 to spare).
While deep-cleaning her late father's home, Elizabeth Reyes and her husband John came across loose coins, crates, boxes and bags full of pennies stashed in the crawlspace. The load consists of around 800,000 pennies from before 1982, when the base metal for manufacturing pennies was changed from 95% copper to 97.5% zinc.
"Literally bag-by-bag, we had to take them out of the basement, up the stairs, and into the trucks…it took hours," John Reyes told KTLA. "It took a whole day just to get them out of the crawlspace."
After half-jokingly suggesting depositing the pennies into Coinstar kiosks, the Reyes' approached a nearby Wells Fargo Bank branch, who told them it didn't have the room in its vault to house them.
Trying another branch, a stunned manager refused the deposit, telling John he should go through the load to see if there were any rare and valuable pennies among the 800,000. "You probably have a million-dollar penny in there," she said.
The Reyes' gave up on their search fairly quickly and, instead of holding on to the basement booty, have decided to field offers from collectors and list the pennies on OfferUp for $25,000, more than three times the $8,000 that the stash is worth in actual currency value.
Make Your Money Work Better for You
"We did try and attempt to go through and to search through the pennies, and we bought the glasses with the magnifiers on them, lights and everything," Reyes explained to KTLA. "I mean, that lasted about 20 minutes, maybe 30 minutes, and we were like, 'You know what, it's time for a beer. This is way too much work.'"
Despite being the lowest currency denomination in the U.S., there are surprisingly valuable pennies discovered and sold all the time. In 2010, a 1943-D Lincoln Bronze Wheat Penny sold for $1.7 million, but it's real value is around $2.3 million. Finding just one mint condition 1793 Strawberry Leaf Cent, a 1944-S Steel Wheat Penny or a 1943-S Lincoln Cent Struck on Bronze Penny would bring in hundreds of thousands of dollars.
While it's not known if any prized pennies are hidden among the cache, the Reyes family contended that Elizabeth's father, Fritz, was hoarding older, pre-1982 copper pennies in the belief that they would be worth much more to his family over time, reported The Washington Post.
More From GOBankingRates
Make Your Money Work Better for You