If You Find a Rare 'Doubled Die' Penny, It Could Be Worth $1.14 Million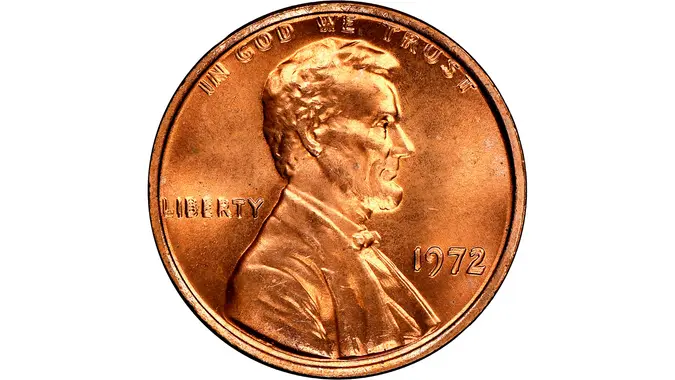 A childhood rhyme goes a little something like this: "Find a penny, pick it up, all day long you'll have good luck!" But what if you found a penny, picked it up, and it was worth millions of dollars? That might be all the luck you need right there.
An auction run by GreatCollections Coin Auctions, the official auctioneer of the American Numismatic Association, a nonprofit organization that provides educational materials and programming about coins, currency, tokens and medals, sold a rare 1958 batch "doubled die" penny for $1.136 million in January 2023.
What Is a 'Doubled Die' Penny?
According to the Numismatic Guaranty Company (NGC), the world's largest rare coin authentication and grading service, a coin-making die is classified as "a cylindrical shaft of steel that imparts one side of a coin's design." Two dies are used for striking a coin, one for the front — the obverse or "head's" side — design of the coin and the other for the back — the reverse or "tail's" side — of the coin, according to Donn Pearlman, Professional Numismatists Guild affiliate member AF498.
"The most famous doubled die cent is the 1955 Lincoln cent with the doubling error," explained Pearlman. "There also are some more recent examples that possibly could be found in pocket change."
The doubled die coin is "a variety created during the die making process," according to NGC. "As a result, the doubling will appear on every coin struck from that die. If the hub (a steel cylinder bearing one side of a coin's design and used to produce dies) or a die shifted at all during this process, the finished die would feature two distinct impressions with separation between them. The design, letters and digits will be doubled."
Make Your Money Work Better for You
"It is extremely rare that such dramatic doubling would slip through unnoticed at the U.S. Mint," wrote author David W. Lang in his book, "The Complete Guide to Lincoln Cents." "At the time, the Philadelphia Mint was running two 12-hour shifts in order to help alleviate a cent shortage. At least seven people were supposed to have inspected the die before it was put into use, but that clearly was not the case here. Instead, the die was placed in service for a midnight to 8 a.m. shift."
Lang describes that the error was "not discovered until some 20,000-24,000 cents had already been mixed in with the millions of other cents struck that night."
"The Chief Coiner of the Philadelphia Mint, Sydney C. Engel, decided to let the coins through instead of melting a total of approximately 10 million cents to contain them. Those 1955 Doubled Die Obverse Lincoln cents are now one of the most sought-after varieties in coin collecting," Lang wrote.
How Much Is a 'Doubled Die' Penny Worth?
There are a few coins that can make you see double, reports Pearlman, with a few that can have you seeing dollar signs, as well.
1972 Doubled Die Cent
The 1972 Doubled Die cent is worth a pretty penny," said Pearlman, sharing that the Numismatic Guaranty Company Price Guide "estimates the current retail value at $175 in Extremely Fine condition to $650 in Mint State 66."
Make Your Money Work Better for You
1969-S Doubled Die Cent
A handful of Doubled Die Lincoln cents struck in 1969 at the San Francisco Mint have been reported, according to the Numismatic Guaranty Company, which estimates that they could be worth tens of thousands of dollars each.
1955 Doubled Die Cent
One of the most famous Doubled Die cent errors occurred in 1955, according to the Numismatic Guaranty Company. Today, these mistakenly-made pennies have a retail value ranging from $1,000 to $85,000, depending on the coin's condition.
Pearlman used the NGC Price Guide to estimate the current retail value of a 1955 Doubled Die Lincoln cent at a range from $1,000 in worn "About Good" condition to $85,000 in Mint State 66 with original mint red color.
How Can You Spot a 'Doubled Die' Penny?
Pearlman shares that a small number of doubled die cents have been reported that were struck in 1969 at the San Francisco Mint. These rare coins come with a distinctive S mint mark below the date. According to Pearlman, the "NGC estimates a 1969-S doubled die in Mint State 64 condition would have a retail value of about $60,000."
Another example Pearlman shared has the potential to still be found in circulation today. That is the 1972 Doubled Die Lincoln cent with doubling of letters on the front of the coin.
The NGC Price Guide states: "The 1972 Doubled Die obverse Lincoln cent is very popular among collectors. The coins have quite a large spread on the doubling, which is quite evident throughout the mottoes and date on the obverse. While not quite as dramatic as the 1955 Doubled-Die obverse, this coin still commands a healthy premium."
More From GOBankingRates
Make Your Money Work Better for You