If You Find a Lincoln Penny With This Distinctive Mark, It Could Be Worth up to $60,000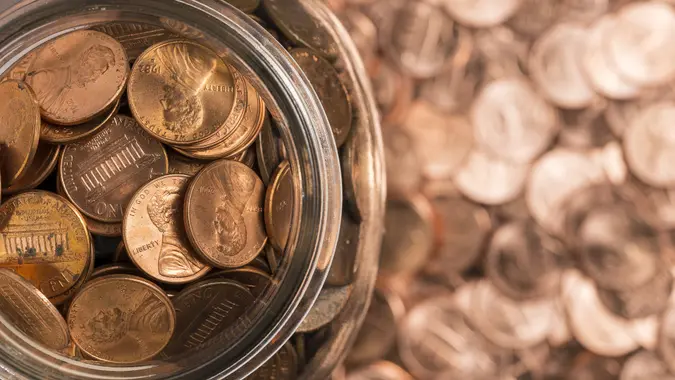 John_Brueske / iStock.com
Pocket change can make you tens of thousands of dollars — if it contains a coin that's deemed rare and valuable. Case in point: The U.S. Sun reported an old penny sold at auction by Heritage Auctions for $60,000 last January. The rare 1909 Lincoln cent attracted 37 bidders, suggesting a heated fight for the prized coin. But what makes this penny so remarkable that it would go for such an incredible sum? What distinctive marks should you look for in your coin collection?
The Lincoln Penny that sold for $60,000 has some key details that set it apart from the crowd: first, it sports the initials "VDB," which stands for Victor David Brenner, a famous sculptor, engraver and medalist. Brenner is a superstar in the world of coins (he's perhaps best known for designing the Lincoln cent), and his initials go a long way in driving up a coin's value. But that's not the only special aspect of this $60,000 cent. What makes it stand out is the color — a deep, voluminous red instead of a burnt copper or dull brown.
Red Lincoln pennies are the cream of the crop for coin collectors, as they are among the hardest to find. Not many were made and such a brilliant shade of red just isn't seen in modern American money. Between the rare color and the verifiable proof of Brenner's design, this cent was destined to score someone a nice pile of cash.
Though $60,000 is an awfully high price for a penny to sell for, antique pennies have sold for much more. Another 1909 Lincoln penny, also inked by Brenner, sold at an auction by Great Collections in 2022 for $365,000. In that same auction, four other pennies from 1909 and 1915 each cost more than $100,000.
Make Your Money Work Better for You
The key takeaway is to carefully examine your coins and scope them out for obscure details, such as Brenner's initials and unusual tints. Additionally, leave no stone unturned. Don't just scour through your couch cushions. Get coins from the bank and peep around on eBay, too. Your future fortune could be hiding in plain sight.
More From GOBankingRates